A massive winter storm will bring up to several feet of snow and nearly a half-inch of ice to large cities in the upper Midwest and Great Lakes regions.
Roughly one-third of the United States will experience effects from the storm as it moves across the country. The storm has already hit some states and will exit New York by the end of the week. Some cities are expecting up to 2 feet of snow with others anticipating a quarter-inch or more of freezing rain and ice.
AccuWeather senior meteorologist Adam Douty told Newsweek that the worst of the snow is expected in the upper Midwest and northern Great Lakes regions, with a swath of heavy snow from Minneapolis, Minnesota, to Green Bay, Wisconsin. The snow will be the heaviest on Wednesday into Thursday morning.
"Both of those cities could see at least a foot of snow," Douty said. "Minneapolis could be closing in on 18 inches by tomorrow."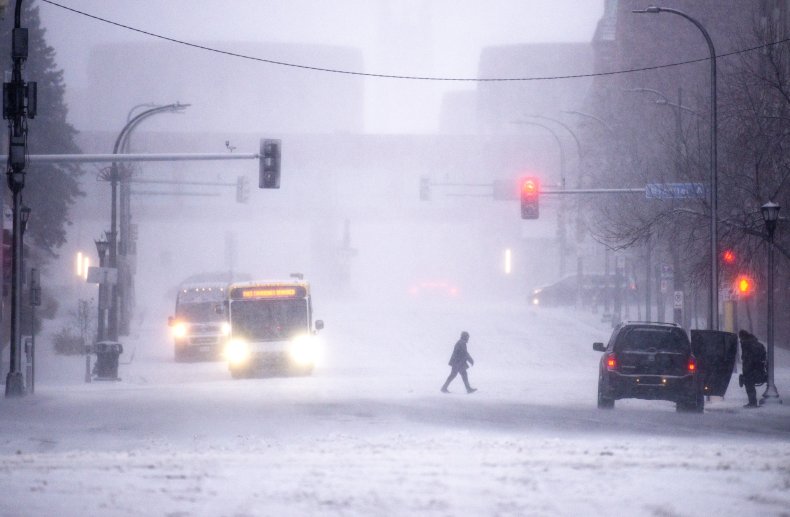 Douty explained that the snowstorm then will cut through southern Canada before re-entering the United States in the Northeast. Caribou, Maine, is forecasted to receive 6 to 12 inches of snow as the storm exits through New England by the end of the week.
Freezing rain and ice will trek in a similar fashion just south of the snow band.
"There is a significant zone of ice across the southern Great Lakes," Douty said. "Northern Illinois, southern Michigan and parts of New York."
The ice will hit the northern suburbs of Chicago. Douty said the forecast for the Windy City could be split in half, with southern suburbs seeing rain instead of ice. The ice is expected to travel east to Detroit, Michigan, and Buffalo, New York.
Douty said Buffalo could "see a good deal of ice." The forecast is predicting up to four-tenths of an inch of freezing rain, which sticks to surfaces and turns to ice. Buffalo has been hit by two other severe winter storms this season, including one that killed 39 people.
The storm is expected to impact travel conditions, and areas that receive ice could see widespread power outages. As freezing rain collects on tree branches and power lines, it adds substantial weight. Newsweek reported that ice accumulation could add up to 30 pounds to tree branches.
When branches break, they can land on power lines and cause damage. Ice also can impact power lines. The Omaha Public Power District (OPPD) reported that over the span of a 920-foot transmission line, a half-inch of snow could cause up to 500 pounds of excess weight on the lines.