Will Bryan Kohberger Face a Grand Jury? What We Know
University of Idaho murders suspect Bryan Kohberger faces a six-month wait until his next scheduled court appearance in Moscow, Idaho.
Earlier in January, the date for Kohberger's preliminary hearing at Latah County Courthouse was set for June 26 after the suspected killer waived his right to a speedy preliminary hearing.
Since the announcement, speculation has grown online around whether the 28-year-old criminology student and Washington State University teaching assistant will face a grand jury.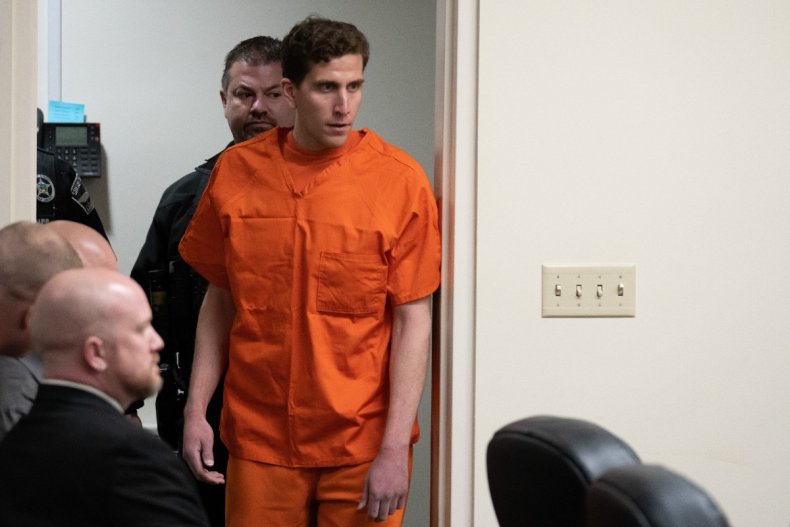 What is a Grand Jury?
In felony cases, a defendant will first have an initial appearance in court, as Bryan Kohberger did earlier in January, J.W. Bond of Idaho-based Bond, Black & Nightingale attorneys told Newsweek.
However, ahead of determining if a trial will take place, the prosecutor must fulfill the obligation of proving probable cause. The prosecutor can do this either through a preliminary hearing or a grand jury.
A federal grand jury is typically made up of between 16 and 23 members of the public, but these jurors are not tasked with determining guilt.
A grand jury is "a body controlled by the prosecution" without a judge, Mark Cohen of New York-based Cohen & Gresser explained to Newsweek. Neither the defendant nor the defendant's team have a right to be present during the grand jury process, he added.
"It's just a room with the prosecutor, the grand jurors, and the witnesses," Igor Litvak of The Litvak Law Firm told Newsweek.
If the grand jury indicts, or finds probable cause, this is not necessarily a unanimous decision, he added. They need only return a majority verdict.
Cohen described the grand jury as intended to be a "check and balance" against law enforcement and federal bodies, that will "determine whether or not there's probable cause to arrest someone."
The grand jurors are "allowed to ask their own questions, but it's really a tool of the prosecution," Cohen added.
From a prosecutor's perspective, he argued, "you're putting forth enough," but the prosecution will not lay out its full case.
Several criminal defense lawyers consulted by Newsweek argued that a defendant rarely appears before a grand jury because, as Cohen commented, "everything that you say can be used against you, and you don't know all the evidence that the government has early on."
"So, why put your client at risk out there to say something that they could say at trial if necessary, when you'll have all of the evidence through the discovery process, and you'll be better informed" of the nuances of the case, Cohen said.
In Idaho specifically, according to Bond, prosecutors choosing a grand jury over a preliminary hearing is "rare." A prosecutor would be more inclined to take a case to a grand jury "when they have witnesses who are petrified of showing up to court," he added, and the prosecution wishes to avoid a witness cross-examination from the defense at that stage.
Idaho Falls-based attorney Jeromy Stafford reiterated to Newsweek that the preliminary hearing gives the defense team the opportunity to question the prosecution's witnesses, whereas a grand jury does not.
Will Bryan Kohberger Face a Grand Jury?
In short, this remains to be seen. Bond stressed that the prosecution, which has opted for a preliminary hearing, can change their mind at any time and set up a grand jury.
"Just because the prosecutor so far has said that they have 'chosen' to go with a preliminary hearing, does not mean they have to stick with that choice," he explained.
But Kohberger will not face both a preliminary hearing and a grand jury, Cohen said. Only one is necessary to determine probable cause.
Should the prosecution switch to a grand jury later on, "then setting the case out until June makes sense because that gives them the breathing room to schedule the grand jury whenever they want," Bond said.
If a grand jury does go ahead, the preliminary hearing scheduled for June will be canceled, Litvak added.
If probable cause is found through either the preliminary hearing or the grand jury, the next step will be an arraignment in district court, according to Stafford. Kohberger will be required to enter a plea, and if this plea is "not guilty," the trial will then be scheduled.