A comment by the president of Croatia that Crimea will never return to Ukraine has jarred with the insistence by Kyiv and some analysts the region must be freed from Russian occupation if there is ever to be peace.
Coming from a NATO member, Zoran Milanovic's words on Tuesday carry weight and raise questions about what role the Black Sea peninsula seized by Vladimir Putin in 2014 might play in the future of the war in Ukraine.
Ukrainian President Volodymyr Zelensky has insisted the ousting of Russian troops from all territory, including Crimea, is essential to end hostilities. Well before the full-scale invasion, Kyiv launched its Crimea Platform in August 2021 aimed at enlisting international help to pressure Moscow to return Crimea.
The view among some is that even if the war ends through negotiations or other means, as long as Russian flags fly on the peninsula, Ukraine will never be secure.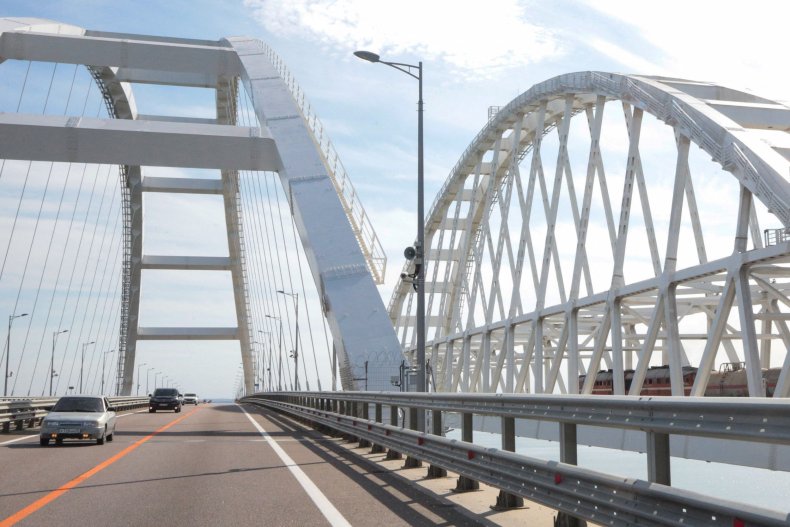 This strengthens the case for the West to give Kyiv F-16 jets, ATACMs (Army Tactical Missile Systems) and armed drones which can reach further into Crimean territory, according to former commander of U.S. Army Europe, Lieutenant General Ben Hodges.
Hodges told Britain's Channel 4 News last week the peninsula will be the "decisive terrain" in the war and will eventually be "untenable" for Russian forces.
However, as United States Chairman of the Joint Chiefs of Staff, General Mark Milley said at a summit of Kyiv's allies in Ramstein, Germany, in January, it would be "very difficult to militarily eject the Russian forces from all…Russian-occupied Ukraine," including Crimea.
With two narrow land approaches likely to be heavily fortified by the Russians making it tricky to attack, there is also the historical significance that Putin has attached to Crimea which has symbolic and strategic value.
"Crimea is for Putin and really for the Russian establishment as a whole, something that they cannot countenance giving to Ukraine," George Beebe, director of grand strategy at the Quincy Institute and a former director of CIA's Russia analysis, told Newsweek.
Putin has tied Russia's war in Ukraine to its imperial past and referred to Crimea, annexed by the Russian Empire under Catherine the Great in 1783, as a "holy land" for Russia. His illegal annexation in 2014 in many ways set the stage for his full-scale invasion on February 24, 2022.
Home to a number of Russia's military bases as well the Black Sea Fleet, Crimea has been a launchpad for Russian aircraft and warships, it has aided Russia's campaign to occupy a chunk of southern Ukraine.
"Because the Black Sea Fleet for the Russians is such a strategic imperative, it's something that they regard is essential to protecting the maritime approaches to Russia's southern flank, they can't afford from a security point of view to lose access to Crimea," said Beebe.
Retired Australian general Mick Ryan wrote in a substack article this week that a fight for Crimea may be "the final campaign of the Russo-Ukraine War" but there would be several precursors.
These included more western production of munitions, armored vehicles and other offensive capabilities for Ukraine. Kyiv must also recapture all its southern territory with the liberation of Kherson and Zaporizhzhia oblasts essential for any advance into the peninsula further south.
Ryan said there would also need to be "100,000 or so Ukrainian troops" backed by a "robust air and sea campaign" which would draw on a large proportion of Ukraine's total combat power.
"It would be bloody on both sides," he added.
Ukraine has dealt some significant blows to Russia in the Crimean region. A strike on the Kerch Bridge linking it to the Russian mainland and a symbol of Moscow's occupation gave Kyiv a significant PR coup in August. The same month, explosions on the peninsula believed to have been carried out by Ukrainian forces hit areas including the Saki military airfield.
Meanwhile, Ukraine's capture of the southern oblast of Kherson has put the country within range of the peninsula. But its recapture could be a bone of contention between Kyiv wanting to fully eject Russia from its territory, and western policymakers keen to avoid escalation which might have a nuclear dimension.
"The Russians would escalate quite significantly rather than countenance a loss of Crimea," said Beebe. "A lot of people regard this escalation as a euphemism for the use of nuclear weapons.
"I don't think the Russians would start out escalating to that level have really felt Crimea were endangered. And I certainly wouldn't rule out that they could go there if they felt it was necessary."