House Democrat Katherine Clark's daughter, Riley Clark, was arrested during a protest at Boston Common on Saturday night after an alleged altercation with a police officer.
According to a report of the incident by the Boston Police Department (BPD), the 23-year-old was allegedly spraying anti-police messages on the park's bandstand when officers arrived at the scene at about 9:30 p.m. The report said that the messages read "NO COP CITY" and "ACAB."
As police were arresting Riley Clark—who's identified in the report by her birth name, Dowell—, a group of 20 protesters surrounded the officers and interfered with the woman's arrest, according to the BPD. During the commotion, an officer was hit in the face "and could be seen bleeding from the nose and mouth," according to the police report.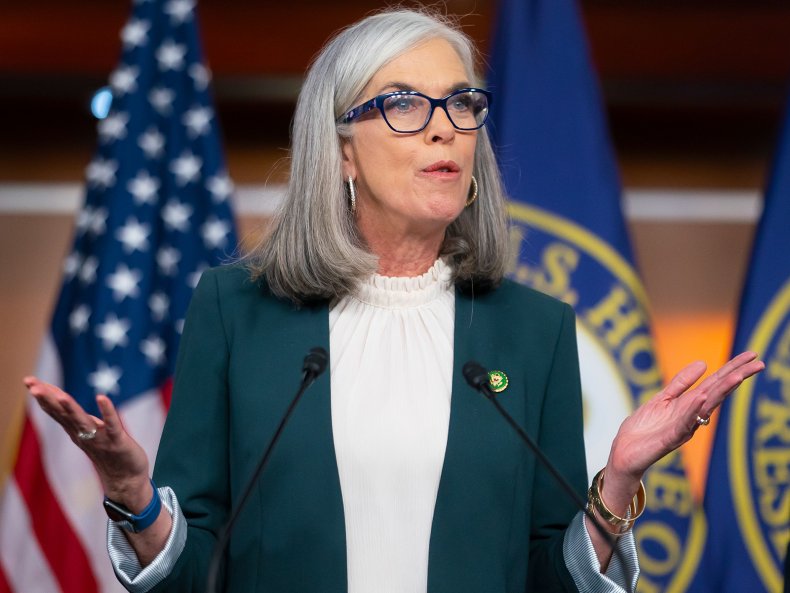 Clark was then arrested and charged with assault by means of a dangerous weapon, destruction or injury of personal property, and damage of property by graffiti/tagging. According to the BPD, she's expected to be arraigned in Boston Municipal Court.
Katherine Clark addressed the arrest on Twitter, where she wrote on Sunday: "Last night, my daughter was arrested in Boston, Massachusetts. I love Riley, and this is a very difficult time in the cycle of joy and pain in parenting.
"This will be evaluated by the legal system, and I am confident in that process."
Katherine Clark has had a long and successful career in the Democratic Party, having served in the Massachusetts House and Senate between 2008 and 2013, and then in Congress since 2013. Between 2021 and 2023, she acted as assistant House speaker. Now in her sixth term in Congress, Clark is also the current House minority whip.
She's known for her strong stance in support of abortion rights and has recently been slamming Republicans' efforts to pass legislation banning abortions, which she called a "crusade against freedom."
She recently criticized the election of Kevin McCarthy as House speaker, calling it "a troubling sign of what's to come from the Republican majority."
In a series of tweets, she wrote that the House GOP in the new Congress "is doubling down on their commitment to extremism, proposing an agenda that eliminates reproductive freedom, undermines our planet, and strips health care from millions of Americans."
Riley Clark is nonbinary, something that her mother has spoken about and celebrated while also raising concerns about bringing up a child amid the rising anti-LGBTQ+ sentiment spread by many conservatives in America.
In a tweet published on July 14, 2021, the congresswoman shared a picture of herself and Riley, writing: "Every person should be celebrated and free to live safely, regardless of their gender expression. Today, Riley and I are celebrating #InternationalNonBinaryPeoplesDay with a reminder that inclusivity and acceptance make our entire community stronger. We see you."
Recent anti-police protests in Boston were sparked by the deadly police shooting in Cambridge last month of 20-year-old University of Massachusetts Boston student Sayed Faisal.