Who Is Chunli Zhao? Man Arrested After Mass Shooting on California Farm
Seven people were killed in two related shootings at agricultural facilities in California, marking the state's third mass killing in eight days.
Officers arrested a suspect, 67-year-old Chunli Zhao, after they found him in his car in the parking lot of a sheriff's substation, San Mateo County Sheriff Christina Corpus said during a news conference.
He is suspected of opening fire at two rural locations about a mile apart in Half Moon Bay on Monday afternoon.
Corpus said the shootings took place inside nurseries, in front of children who had recently been let out of school.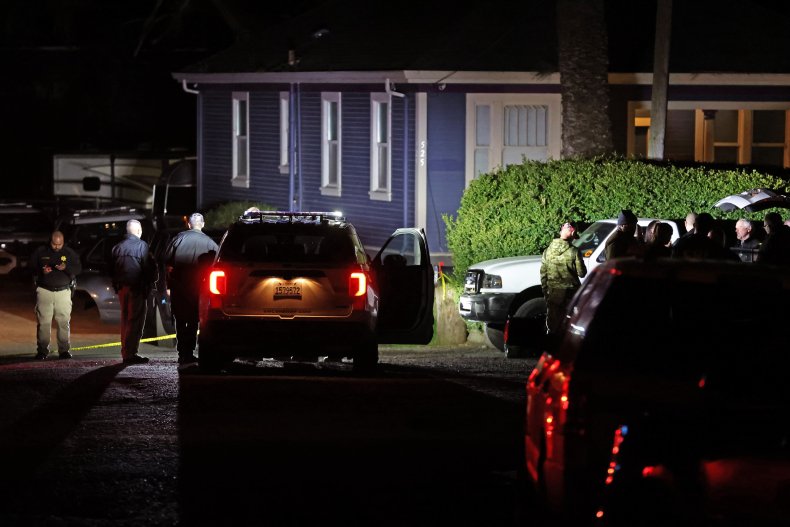 "This kind of shooting is horrific. It's a tragedy we hear about too often, but today it's hit home here in San Mateo County," Corpus said. "For children to witness this is unspeakable."
Sheriff's deputies first responded to a report of a shooting at around 2:20 p.m., Capt. Eamonn Allen said in a statement.
They found four people dead from gunshot wounds and a fifth person injured at the first scene in the 12700 block of San Mateo Road. Shortly thereafter, deputies found three other people killed at another location along Cabrillo Highway.
At about 4:40 p.m., a sheriff's deputy noticed Zhao in his car parked outside a sheriff's substation. He was arrested without incident and a weapon was found in his vehicle, Allen said.
A video that captured Zhao's arrest showed three officers approaching a parked car with their weapons drawn. Zhao got out of the car, and the officers pulled him to the ground face-down and placed him in handcuffs.
Corpus said Zhao is believed to have acted alone, but officials haven't determined a motive for the shootings. He is a resident of Half Moon Bay and believed to be a worker at one of the facilities, she said during a news conference.
The shootings are the the sixth mass killing that the U.S. has seen in less than three weeks, according to the Gun Violence Archive.
California has now seen three massacres since January 16, when a teenage mother and her baby were among six people killed in a shooting at a home in California's Central Valley.
Then, Saturday's attack at a ballroom dance venue in Monterey Park during Lunar New Year celebrations left 11 people dead. The suspect in that incident was found dead of a self-inflicted gunshot wound, officials said.
"The scourge of gun violence has sadly hit home," David Pine, president of the San Mateo County Board of Supervisors, said in a statement following the Half Moon Bay shooting.
"We have not even had time to grieve for those lost in the terrible shooting in Monterey Park," he said. "Gun violence must stop. The State of California has among the strictest gun laws in the United States, which we have strengthened through local action here, but more must be done. The status quo cannot be tolerated."
California Gov. Gavin Newsom tweeted that he was "at the hospital meeting with victims of a mass shooting when I get pulled away to be briefed about another shooting. This time in Half Moon Bay. Tragedy upon tragedy."