Reality TV stars Todd and Julie Chrisley's daughter Savannah broke her silence about her life "falling apart" since her parents reported to jail.
Todd, 53, was sentenced to 12 years, while Julie, 50, received a seven-year prison sentence for tax evasion and bank fraud. Both also received three years of supervised release.
"Last week was extremely difficult for my family as a whole and each of us individually," Savannah said on a recent episode of her podcast, Unlocked with Savannah Chrisley.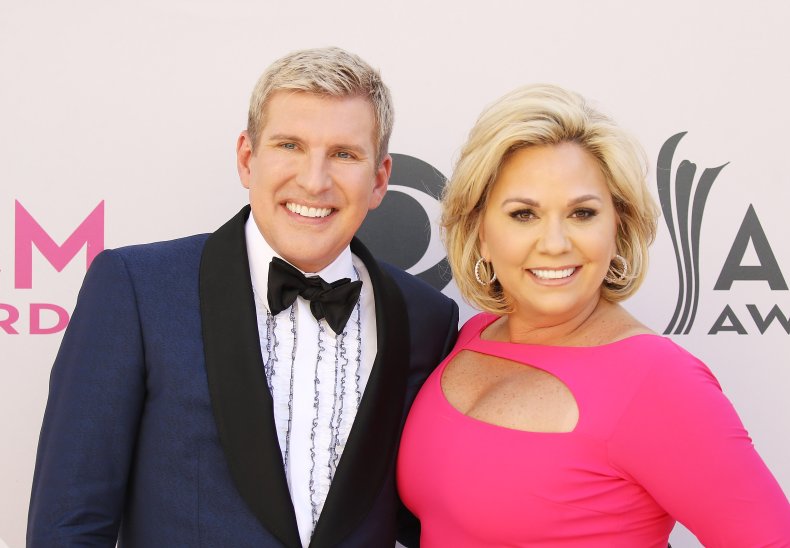 "We kind of had to say goodbye to my parents for somewhat, for a little bit of time for the foreseeable future, and that was really, really, really tough. I haven't filmed a podcast since then."
She explained the episode was recorded five days "prior to my life falling apart" when her parents went to jail, and "it may seem happy-go-lucky and, during that time, I think it's because there was a lot of hope that was had."
Savannah said she "wasn't faced with the reality of the situation," until her parents reported to prison.
"So, I kind of hope that helps you understand things, and next week, I'll have a very intense one-on-one podcast with myself… and give an update on my parents. Because you guys don't have one yet," she said. "I'm really looking forward to giving that update because I've seen God work in the craziest of circumstances."
The stars of USA Network's Chrisley Knows Best reported to different prisons on January 17 after a court found they took more than $36 million in fraudulent bank loans to fund their extravagant lifestyle.
The couple was also found guilty of conspiracy to commit bank fraud and to defraud the U.S., while Julie was also convicted of wire fraud and obstruction of justice charges.
Prior to heading to prison, Todd and Julie recorded an episode of their own podcast, Chrisley Confessions.
"We've intentionally not spoken about the case because we've been told not to," Todd told the listeners, before revealing the couple would soon start giving interviews in the coming week about the case.
But he added of their impending incarceration: "I know that this is not my final destination, and this might be my future for a minute, but I also have faith that the judicial system is going to turn it around. I also have faith the appellate court is going to see this for what it is."
Julie compared their circumstances to the story of Job in The Bible, a faithful family fan who faces a series of devastating disasters, including losing his family, as test of his devotion to God. Julie described this as Job's "stripping down" phase.
"Maybe we're in this 'stripping down' phase? We've got to be stripped down in order to be moved to the next level, to be able to fulfill what our true destiny is," Julie continued on the podcast.
"One thing I have learned is God allows bad things to happen to good people so we make a freewill decision to turn to Him. I really believe that."
Todd added: "It's so hard to think things are going to get better when the worst keeps happening."
Days after they were found guilty, their other daughter, Lindsie, broke her silence on their prison sentences.
"I wanted to take a minute and, first of all, say thank you to all of our listeners that have reached out to me the past few weeks regarding my family. I wanted to take a step back and begin to process everything before speaking and making any statements.
"The past few months have been extremely hard for me and my family, and I am heartbroken over the updates in my parents' case that occurred late last month," Lindsie said in a December 2022 statement.
"I know some of the media has tried to twist my response to this and make it something it's not, but at the end of the day, there is no tea here. I am heartbroken and navigating this process the best way I know how," Lindsie added.
"At the end of the day, this is a real family, and these are real and raw emotions. With that being said, thank you all for your love, support, and prayers. It really means the world to my family and me."
Later that month, the Chrisleys' son Chase sat down with Savannah on her podcast to talk about their family's predicament.
They both admitted to being "weird places," and Chase defended his decision not to speak about the case publicly until that point.
"I don't owe the public an explanation," he told his sister. "I don't need to explain how I feel to anybody, other than the people that I care about and I love. Obviously, what we have been going through is hell. It is a terrible, terrible situation, but I have to try and find the good, even in the darkest time.
"I feel like throughout everything that we have been going through, it has made me appreciate things I did not appreciate as much in the past. It's made me do a lot of reflecting and figure out who I am as a man, and who I wanna be in 10 years, and then 10 years from there, and 10 years from there."
Chase added: "I think… I've come to the conclusion that I'm not going to worry about what everybody else [in] the world is thinking and saying about me.
"I have to make sure that I'm good, so that I can be good for Emmy [Medders, his fiancée]. I have to make sure my family is good emotionally and that I am in a [good] place emotionally, so I can be there for my loved ones.
"That's why I haven't really said anything on Instagram. I feel like I've been doing the work behind the scenes, and I feel like that will pay off and let the work speak for itself."
The couple weren't the only ones convicted. Their former accountant, Peter Tarantino, was found guilty of charges related to filing fraudulent tax returns on their behalf. He was sentenced to three years in prison, followed by three years of supervised release.
"Over the course of a decade, the defendants defrauded banks out of tens of millions of dollars while evading payment of their federal income taxes," said U.S. Attorney Ryan K. Buchanan in a statement shared by the Department of Justice.
"Their lengthy sentences reflect the magnitude of their criminal scheme and should serve as a warning to others tempted to exploit our nation's community banking system for unlawful personal gain."
The Chrisleys' attorney spoke out after the married couple were found guilty in November.
"Yesterday was a difficult day for the Chrisley family. But Todd and Julie are people of faith, and that faith gives them strength as they appeal their convictions," the lawyer told Us in November.
"Their trial was marred by serious and repeated errors, including the government lying to jurors about what taxes the couple paid. Based on these issues, we are optimistic about the road ahead."