What Serena Williams Has Said About Motherhood
Serena Williams has said that becoming a mom is her biggest achievement and also her greatest challenge.
The 41-year-old tennis legend welcomed Alexis Olympia Ohanian Jr. in 2017 with husband Alexis Ohanian, and the 23-time Grand Slam winner has seemingly loved every minute of being a parent.
Williams retired from tennis in September and has thrown herself even more into being a mother, although her plate was pretty full even while competing in major tournaments.
Here is all she has said about being a mom over the past few years, how it has been an emotional and inspirational ride.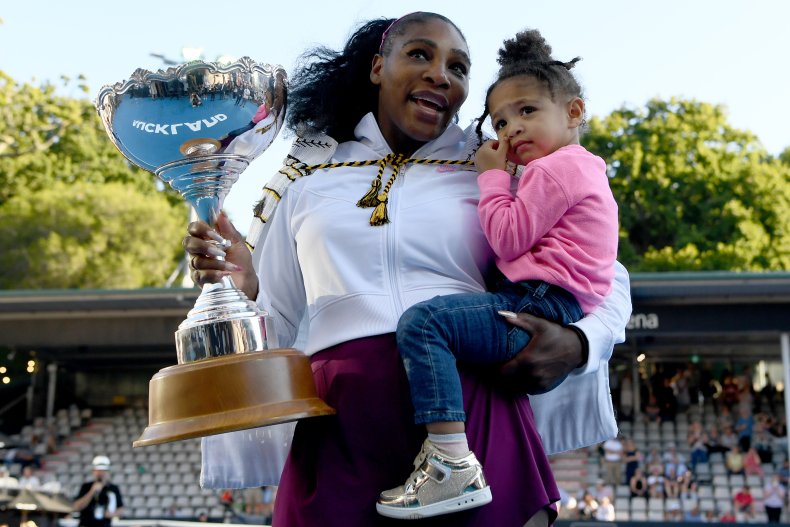 What she has said in interviews
Speaking to Vogue in September, Williams said that it was unfair that she had to choose between being a professional tennis player and being a parent.
She said that this would not be expected of the likes of Tom Brady, for example, who is still playing in the NFL at age 45 despite having three children.
After the interview, Williams announced her retirement from tennis.
"Believe me, I never wanted to have to choose between tennis and a family," she said. "I don't think it's fair. If I were a guy, I wouldn't be writing this because I'd be out there playing and winning while my wife was doing the physical labor of expanding our family.
"Don't get me wrong: I love being a woman, and I loved every second of being pregnant with Olympia. I was one of those annoying women who adored being pregnant and was working until the day I had to report to the hospital, although things got super complicated on the other side.
"And I almost did do the impossible: A lot of people don't realize that I was two months' pregnant when I won the Australian Open in 2017. But I'm turning 41 this month, and something's got to give."
Williams also told Vogue about her thoughts on becoming a mom and how she is "hands-on" with her parenting of Olympia.
"Earlier in my career, I never thought about having kids," she said. "There were times when I've wondered if I should ever bring kids into this world, with all its problems. I was never that confident or comfortable around babies or children, and I figured that if I ever did have a baby, I would have people taking care of it 24/7.
"I'm not going to lie—I definitely have a lot of support. But I'm also an incredibly hands-on mother. My husband will tell you I am too hands-on. In five years, Olympia has only spent one 24-hour period away from me. This past year, while I was recovering from a hamstring injury, I got to pick her up from school four or five days a week, and I always looked forward to seeing her face light up when she walked out of the building and saw me waiting there for her. The fact is that nothing is a sacrifice for me when it comes to Olympia."
Speaking to Allure, Williams revealed how she felt about having a "stomach" after leaving the hospital and how she was going to teach her daughter about beauty.
"When I tell her she's beautiful, I want to teach her that she's beautiful from the inside," she said. "Giving is beauty. Being kind and humble is the ultimate beauty.
"After I came out [of the hospital], I had a stomach, but I thought, this is kind of cool. I have a stomach because the baby was there."
Being separated from Olympia was the subject of Williams' quote to Forbes.
"You know, it's hard," she said. "Sometimes my heart literally aches when I'm not around her. But, you know, it's good for me, I guess, to keep working and just to all moms out there that it's not easy. It's really kind of painful sometimes. Sometimes you just have to do what you have to do."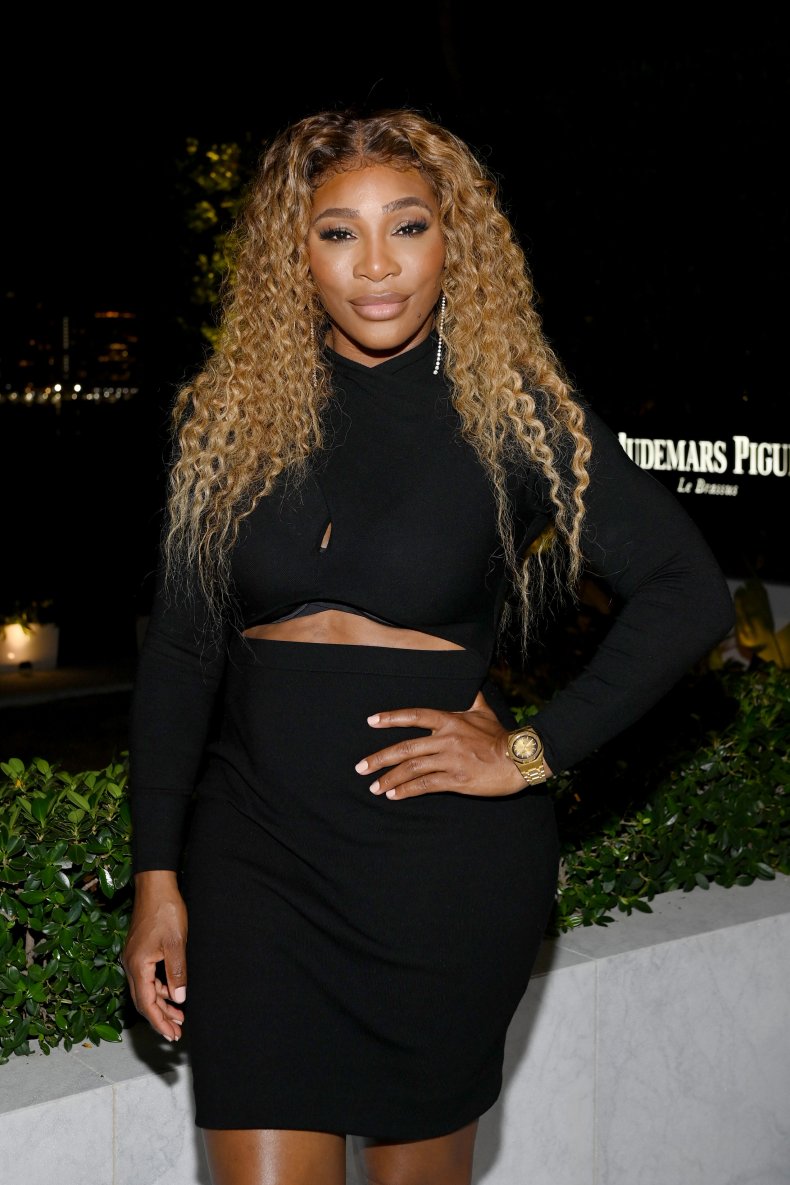 Williams said that she vowed to be the best she could for Olympia and detailed how postpartum depression affected her when speaking to Harper's Bazaar UK.
"I think people need to talk about [postpartum depression] more because it's almost like the fourth trimester, it's part of the pregnancy," she said. "I remember one day, I couldn't find Olympia's bottle and I got so upset I started crying…because I wanted to be perfect for her….I hope I am [a role model], and I'm going to strive to be the best mom I can be."
When speaking to People, Williams said that she was upset when she was unable to give birth naturally.
"I was still devastated," she said. "I think every woman, a part of them, wants to have birth naturally and [to] feel that…when you get a C-section it's different."
What she has said on Instagram
Williams has shared many moments and thoughts about motherhood on Instagram. She said that being a mom is her biggest achievement, writing on the social media site in 2019: "The last 2 years have been my greatest accomplishment."
She cited Olympia as her motivation when she was still a pro player: "She keeps me going especially during tournaments. Although the popcorn machine has her attention here, I know she's watching and learning to see how I persevere in challenging and rewarding moments."
Spreading the word is important as Williams added: "I talk about the struggles all of us moms feel. It's is so important to spread the knowledge."
She said to fellow moms that they should not beat themselves up over anything they think is not working for them.
"It's totally normal to feel like I'm not doing enough for my baby," she said. "We have all been there. I work a lot, I train, and I'm trying to be the best athlete I can be. However, that means although I have been with her every day of my life, I'm not around as much as I would like to be.
"Most of you moms deal with the same thing. Whether stay-at-home or working, finding that balance with kids is a true art. You are the true heroes. I'm here to say: If you are having a rough day or week – it's ok – I am, too!!! There's always tomm!"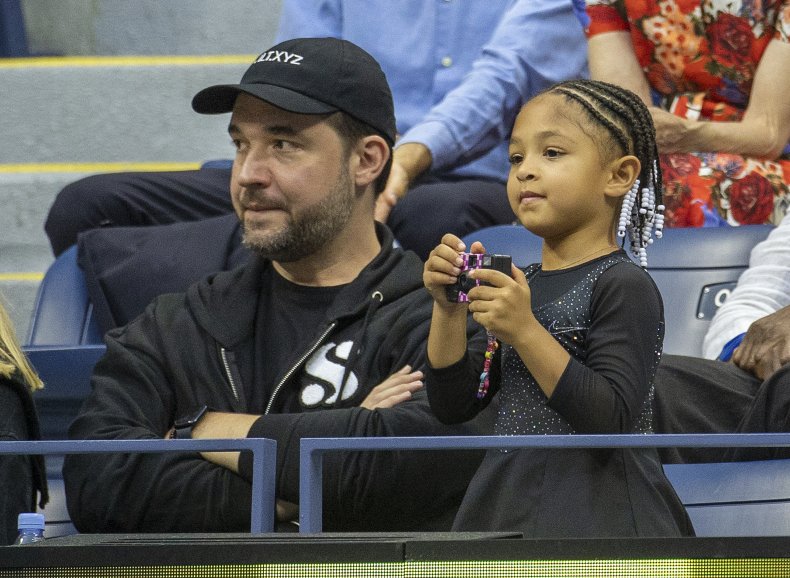 Being without her daughter, even while she sleeps, can be painful for Williams.
"We were watching football together but she got tired and had to take a nap. I miss her. Can't wait till naptime is over," she said. "Not sure what I did to deserve her."
Williams said that other moms are an inspiration.
"I am not sure who took this picture but Working and being a mom is not easy," she said. "I am often exhausted, stressed, and then I go play a professional tennis match. We keep going. I am so proud and inspired by the women who do it day in and day out. I'm proud to be this baby's mama."
What she has said on Twitter
Serena has been quite active on Twitter with her thoughts about being a mom, including sharing that she is having an early bedtime.
"I'm going to go to sleep now cause the sooner I go to sleep the sooner I get to wake up and see @OlympiaOhanian night everyone," she wrote.
On the joys of parenthood: "Kids humble us. The other day on a flight home Olympia insisted on running up and down the aisle and when I finally got her to sit still, she threw up all over me."
On her love of being a mom: "I just put Olympia @OlympiaOhanian to sleep but I can't seem to put her in bed I'm loving holding her in my arms. I want to milk every second!!!"
On what she has learned from her daughter: "Today I say Olympia fall… but she got back up. She fell again almost immediately…. and almost immediately she got back up again. She always had a smile on her face. I learned a lot from Olympia today."
On feeling grateful about her time as a mom: "319 days since I gave birth to this amazing baby @OlympiaOhanian I've spent 319 of those days with her. I'm so fortunate."
On being thankful for the support after being defeated in Wimbledon: "These past 2 weeks was a sound for all moms stay home and working you can do it you really can! I'm not any better or diff than any of you all. Your support has ment so much to me. Let's keep making noise everyday in everything we do."
On early to bed, early to rise: "Goodnight world…. yes it's 8:39pm and I'm going to bed. Because when I wake I'll have a beautiful smart strong sure baby next to me."
On how quickly she misses her daughter: "I just put Olympia to sleep…. and I am already looking at pictures of her missing her."
On the trials and tribulations of bath time: "Last night after bath time with Olympia I had to put on her PJ's We wrestled for 20 mins. She was flipping like a fish fresh out of water. If this was a Olympic sport she would have gotten the Gold and me I would not even place. There's got to be an easier way."
On the persistence of her daughter: "She never quits. And I mean NEVER quits. I love it."
On how the best day of her life is constantly replaced: "Every day is my favorite moment."
On the loneliness of when her daughter sleeps: "I just bathed her and put her I bed. Now I feel lonely and like crying cause I miss her so much. When does that go away? I can't wait until morning."
On the noise when she is sleeping: "Omg Alexis Olympia is snoring. Omg I can't take it it's so cute. Totally perfect small snore."
On the hope she is seen shopping for diapers: "Today I bought my first bag of diapers. I felt so grown picking out the bag. I may have even looked around hoping someone saw me."
On waking in the dead of night: "3:30 in the morning. Not a soul in site. I'm just waiting on Olympia to wake up so I can give her kisses on this fall night."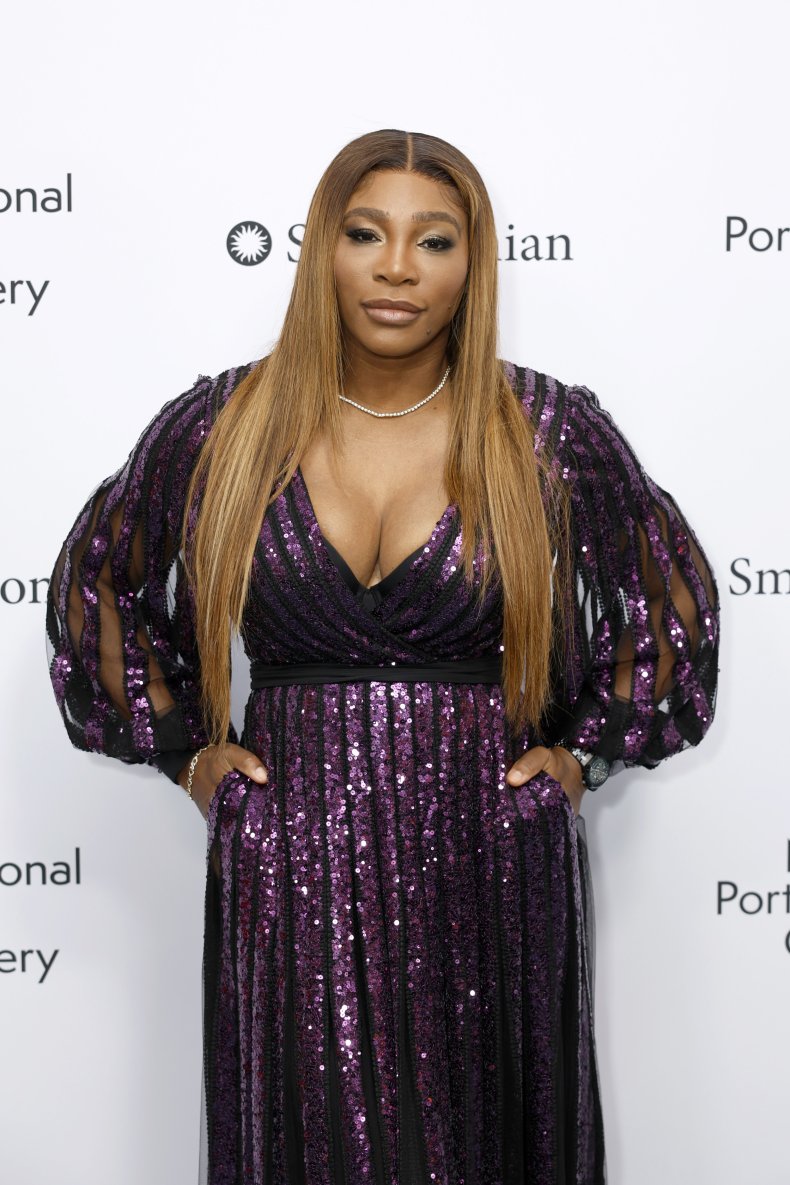 Admitting that her social media posts are dominated by her daughter: "I'm having a hard time posting about anything that does not involve Alexis Olympia or something to do with her."
"With the help of God She's the best thing I have ever been apart of."
On the feeling of responsibility: "It's very weird for me to believe I have a child… a KID. I'm a mom. A real MOM."
Following a defeat at Wimbledon: "To all the moms out there, I was playing for you today and I tried."
On the sadness of missing a milestone moment: "She took her first steps… I was training and missed it. I cried."
What she posted on Facebook
Williams had a special message to mothers across the globe when she posted about motherhood and it was one full of inspiration.
"Let me be clear: EVERY mother, regardless of race, or background deserves to have a healthy pregnancy and childbirth," she wrote. "I personally want all women of all colors to have the best experience they can have. My personal experience was not great but it was MY experience and I'm happy it happened to me. It made me stronger and it made me appreciate women – both women with and without kids – even more. We are powerful!!!"
Do you have a tip on a sports story that Newsweek should be covering? Do you have a question about Serena Williams? Let us know via entertainment@newsweek.com.