Prince Harry's "raw" and "unflinching" new memoir, Spare, has broken records around the world, becoming the fastest-selling nonfiction book of all time following its January 10 release.
The book's numerous bombshell revelations have dominated headlines, with details of his fraught relationship with Prince William and members of his family among the most talked about disclosures. But there also are lighthearted anecdotes, such as his experience with penile frostbite.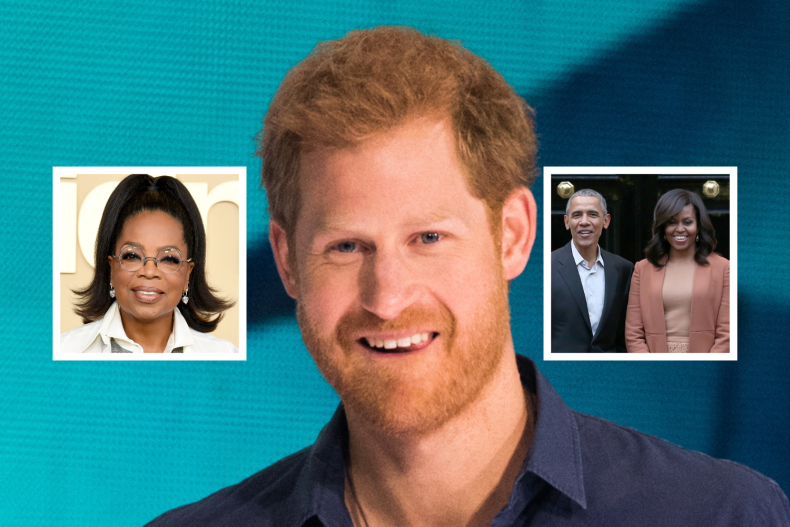 Spare reveals a lot about Harry's personal life, including his friendships. Among those close to him who get a reference are A-list pals such as Oprah Winfrey and Tyler Perry, as well as long-term supporters like Princess Diana's friend Elton John.
Here, Newsweek looks at what Harry wrote about his celebrity pals, from the Obamas to Oprah:
Oprah Winfrey
Harry and Meghan Markle's story after their royal life exit in 2020 has been closely linked to Oprah Winfrey after the couple chose the TV star to conduct their first joint tell-all interview in the U.S., in 2021.
Winfrey was a guest at the Sussexes' 2018 wedding, although it was revealed later that the couple did not meet her in person.
Harry is reserved when describing his celebrity friendships in Spare, but he writes about the fallout from the interview with Winfrey and offers a glowing assessment of her as an interviewer, saying she was "above reproach."
Winfrey is included in a list of names in the acknowledgments at the end of the book.
In Harry's Own Words:
"Several close mates and beloved figures in my life, including one of Hugh and
Emilie's sons, Emilie herself, and even Tiggy, had chastised me for Oprah. How
could you reveal such things? About your family? I told them that I failed to see
how speaking to Oprah was any different from what my family and their staffs,
had done for decades—briefing the press on the sly, planting stories….
"The only difference was that Meg and I were upfront about it. We chose an interviewer who was above reproach, and we didn't once hide behind phrases like 'Palace sources,' we let people see the words coming out of our mouths."
Barack and Michelle Obama
Barack and Michelle Obama are other examples of celebrities who have been closely associated with Harry and Meghan in the press. The presidential couple bonded with the prince before his marriage, and Michelle agreed to an exclusive interview with Meghan for the duchess's guest-edited edition of British Vogue.
Despite the couples' apparently close relationship before the Sussexes moved to the U.S., the Obamas are not featured substantially in Spare and are mentioned only to provide context for an event or time period.
The Obamas are not included in Spare's acknowledgments.
In Harry's Own Words:
"Minutes before my speech at the opening ceremony, I stood in the wings, holding notecards in my hands, which were visibly shaking. Before me, the podium looked like a gallows. I read my cards over and over, while nine Red Arrows did a flypast, streaming smoke colored red, white and blue. Then Idris Elba read 'Invictus,' maybe as well as anyone ever has, and then Michelle Obama, via satellite, said some eloquent words about the meaning of the games. Finally, she introduced me."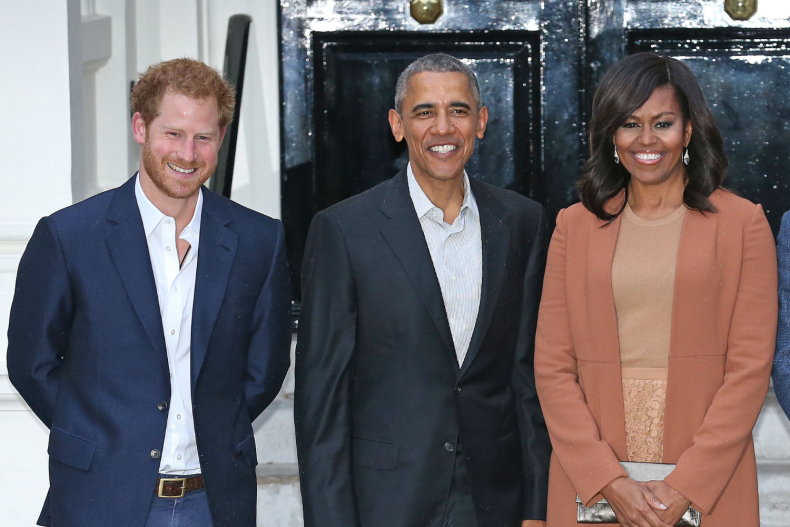 Tyler Perry
Tyler Perry has become one of the Sussexes' closest celebrity confidants. The actor and producer let the couple use his Beverly Hills, California, home in 2020 and paid for their security while there.
In Spare, Harry recounts how Perry saw that the couple were in a low place in 2020 following their move to North America and extended the offer of his home to them.
The recent Netflix docuseries Harry & Meghan revealed that Perry was asked by the couple to be godfather to their daughter, Lilibet, which he said he accepted.
In Harry's Own Words:
"We were having a chat with Tyler Perry, the actor-writer-director. He'd sent a note to Meg before the wedding, out of the blue, telling her that she wasn't alone, that he saw what was happening. Now, FaceTiming with him, Meg and I were trying to put on a brave face, but we were both a mess. Tyler saw. He asked what was up.
"We gave him the highlights, the loss of security, the borders closing. Nowhere
to turn.
"'Whoa. OK, that's a lot. But…just breathe. Breathe.'
"That was the problem. We couldn't breathe.
"'Look…take my house.'
"'What?'
"'My house in Los Angeles. It's gated, it's secure—you'll be safe there. I'll
keep you safe.'"
Elton John
Elton John has been an important figure in Harry's public life, and the pop star's close relationship with Princess Diana was well known.
Elton famously played an altered version of his hit song Candle in the Wind during Diana's 1997 funeral service at Westminster Abbey and has been seen with Princes William and Harry at key events in the years since.
In 2019, it was revealed that Elton had invited Harry and Meghan to spend a vacation with him in the South of France. In Spare, Harry said the vacation was a much-valued break from British media abuse that the couple were facing at home. But he also detailed a frustrating conversation with the rock star when it was disclosed that he was serializing his book with the Daily Mail.
In Harry's Own Words:
"The best part of the visit was watching Elton and David and their two boys
fall in love with Archie. Often I'd catch Elton studying Archie's face and I knew
what he was thinking: Mummy. I knew because it happened so often to me as
well. Time and again I'd see an expression cross Archie's face and it would
bring me up short. I nearly said so to Elton, how much I wished my mother could hold her grandson, how often it happened that, while hugging Archie, I felt her—or wanted to. Every hug tinged with nostalgia; every tuck-in touched with grief."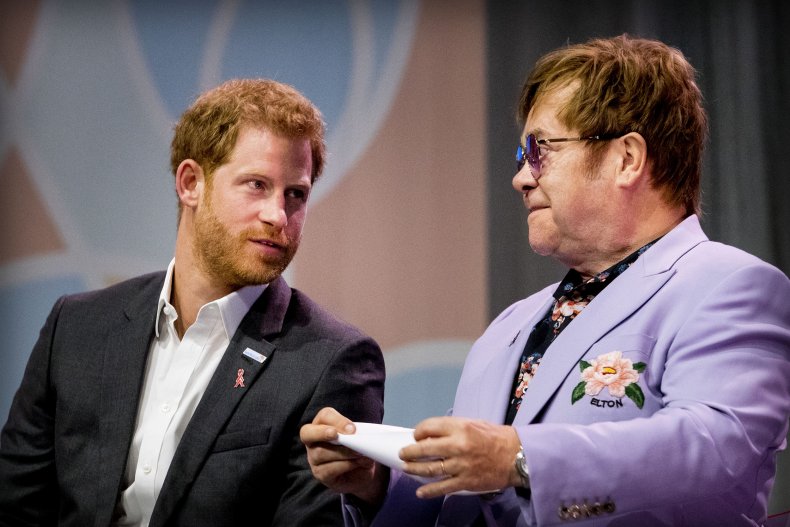 James Cordon, Chris Martin and Others
In the closing pages of Spare, Harry thanks people who helped make the book possible, including his ghostwriter, J.R. Moehringer.
Among these names are some famous faces, including TV host James Cordon and Coldplay frontman Chris Martin.
Harry recorded a 2021 interview with Cordon in which they discussed Harry's motivations for leaving the royal family while traveling around Los Angeles in an open-top bus.
Martin and Harry were previously photographed together in 2016, when the prince asked the singer to perform at a special Kensington Palace concert for his Sentebale charity. The prince joined Coldplay onstage and took the microphone as the concert ended, and Martin and Harry hugged.
The list of celebrities who are thanked in Spare's acknowledgments includes Perry and Argentinian polo player Nacho Figueras. The most heartfelt thanks are reserved for Harry's "incredible wife."
In Harry's Own Words:
"Above all my deepest and adoringest thanks to Archie and Lili, for letting Papa go off to read and think and reflect, to my mother-in-law (a.k.a. Grandma), and to my incredible wife. Love of my life, thank you, thank you, thank you. This book would've been impossible (logistically, physically, emotionally, spiritually) without you. Most things would be impossible without you."
Those Who Didn't Make the Cut
While Harry included a host of famous names and faces in his memoir, royal watchers may be surprised to read that some didn't make the cut.
Chief among these are George and Amal Clooney. They were guests at the Sussexes' wedding and have spoken about the couple positively since then, but they aren't mentioned in the book.
Other celebrities missing from Spare are Ellen DeGeneres, a Montecito, California, neighbor who interviewed Meghan on her daytime talk show, where the pair revealed that they had spent Halloween together; Gayle King, who attended Meghan's baby shower and is close friends with Winfrey; and any member of the British royal family.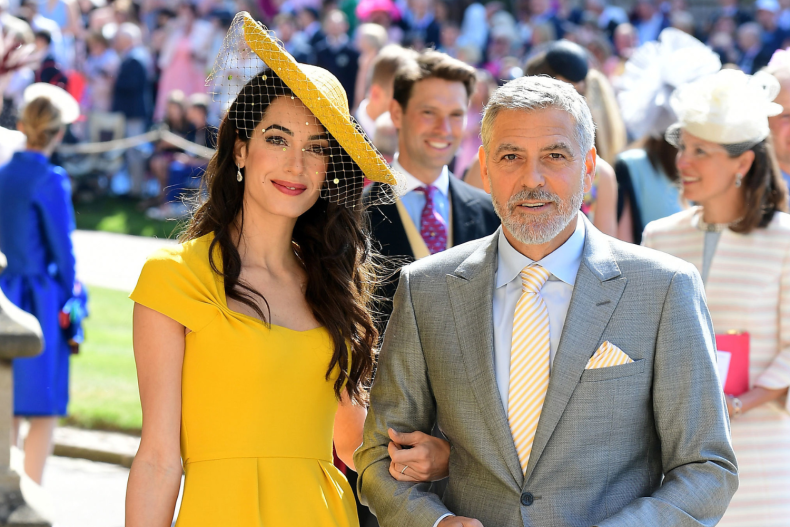 James Crawford-Smith is Newsweek's royal reporter based in London. You can find him on Twitter at @jrcrawfordsmith and read his stories on Newsweek's The Royals Facebook page.
Do you have a question about King Charles III, William and Kate, Meghan and Harry, or their family that you would like our experienced royal correspondents to answer? Email royals@newsweek.com. We'd love to hear from you.