A drought that has gripped the Southwest is creeping the nation's two largest reservoirs toward a dead pool, which would have catastrophic consequences for water users in the Colorado River's lower basin.
Falling water levels at Lake Mead and Lake Powell have been concerning for several years. Both reservoirs have troublingly low water levels at 1,054.79 and 3,524.22 feet above sea level, respectively.
As the drought continues and global warming evaporates water supplying the reservoirs, each reservoir isn't far from dead pool, which is when the water level is too low to flow downstream or power the turbines that provide hydroelectric power.
The Colorado River feeds both reservoirs, then supplies the lower-basin states of California, Arizona, Nevada and New Mexico with water. Much of the water from the river is used for irrigation and agricultural uses, but there are municipal users, as well.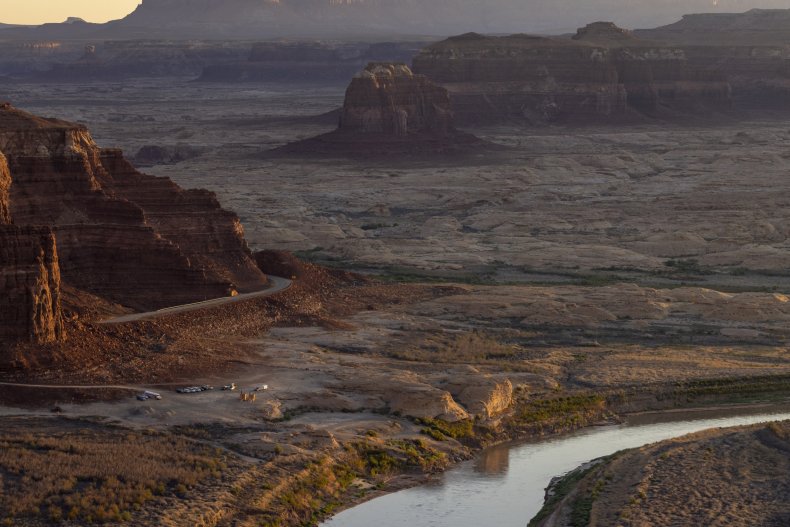 As water levels fall in the reservoirs and river, the U.S. Bureau of Reclamation has implemented a tiered shortage system to reduce the allocated amount certain regions in the lower basin receive from the river to preserve water.
Arizona, which receives 36 percent of its water supply from the river, according to the Arizona Department of Water Resources, has been hit hardest by the cuts. According to nonprofit news organization CalMatters, California, which receives the most water from the river at 4.4 million acre-feet—more than one-third of the river's supply—has not yet been impacted by the cuts.
If the drought and excessive water use continues, Lake Mead could reach dead pool in the next two years and Lake Powell could soon follow. Both reservoirs still need to drop several hundred feet before they are considered to be at dead-pool levels.
Grand Canyon Monitoring and Research Center Economist Lucas Bair previously told Newsweek that hydroelectricity, powered by the water, is a cheaper, cleaner form of energy. If the reservoirs reach dead-pool levels, more than a million people using the electricity could be required to find new power sources. However, he said the biggest impact will be the water.
"We can make up energy through fossil fuels, but if we fall short on water, we have to restrict supply because there are little to no replacements," he said.
Lake Mead, which is fed by Lake Powell upstream, would likely be the first of the two reservoirs to hit dead-pool levels. As of Thursday, Lake Mead was at 1,045.79 feet. Newsweek previously reported that Lake Mead's dead pool level is 895 feet, while Lake Powell's is 3,370.
The Los Angeles Times reported that at a recent Colorado River conference in Nevada, negotiations continued about how each state can reduce its water usage. University of California professor Jay Lund previously told Newsweek that the cuts already implemented aren't enough, and in order to give the reservoirs ample time to recover through rain and snowpack melt, people will need to reduce their consumption even more.
Newsweek reached out to the Central Arizona Project for comment.