What Defunding Planned Parenthood Would Harm—and It Isn't Abortion
Colorado GOP Representative Lauren Boebert introduced a bill Friday that would prohibit federal tax dollars from being allocated to Planned Parenthood Federation of America, the nation's largest provider of abortions.
The Defund Planned Parenthood Act, Boebert's first bill of 2023, would redirect such federal funding to resource community health centers, according to a release from the Republican's office.
"The nation's largest abortion provider has no business receiving taxpayer dollars," Boebert said in the release. "Planned Parenthood claims these funds go to healthcare for women, but last year, Planned Parenthood performed a record number of abortions while also reducing the number of well-woman exams and breast cancer screenings it performed."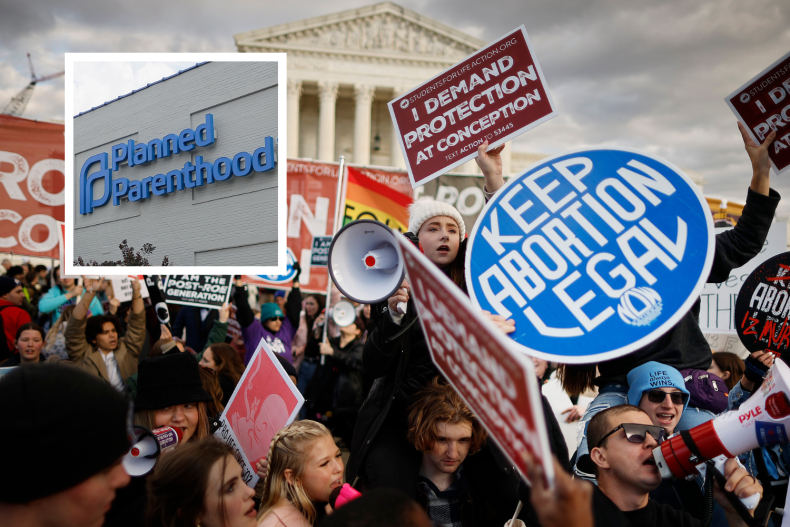 Boebert's bill includes a one-year moratorium on U.S. funding for Planned Parenthood, banning financial assistance for any of the group's affiliates failing to certify that they would not offer abortion funding during that timeframe.
The bill is one of several introduced this week by GOP lawmakers, aiming to restrict abortion care, as opponents of the procedure gathered in Washington, D.C., on Friday for the 50th annual March for Life. This week's rally marks the first since the Supreme Court overturned Roe v. Wade in the summer.
Minnesota Representative Michelle Fischbach, a fellow Republican, introduced legislation similar to Boebert's on Thursday, which would require Planned Parenthood to "certify that they will not perform or support entities that perform abortions" in order to maintain their federal funding, read her release.
This is not the first time Republican lawmakers have called to restrict funding to Planned Parenthood. House leaders introduced a similar provision in 2017, and former Missouri Representative Vicky Hartzler introduced a bill in 2021 that would restrict federal funding to health care facilities that perform abortions for one year.
Are abortions federally funded?
According to its website, Planned Parenthood receives federal funding through reimbursements for patients who rely on Medicaid and other federal programs.
However, under the Hyde Amendment passed by Congress in 1993, federal funding is blocked from being used to pay for abortion services except in cases of rape, incest or if the life of the mother is at risk. This restricts abortion access for patients who rely on programs such as Medicaid, Medicare, the Children's Health Insurance Program or the TRICARE program for military personnel, according to the Kaiser Family Foundation (KFF).
At the moment, 16 states have a policy that directs the use of its own funding to pay for abortion services for women insured by Medicaid, writes KFF, which fills in some of the gaps left by the Hyde Amendment for women with low incomes.
A bill similar to the one Boebert is proposing, then, would take away funding for the several other procedures provided by Planned Parenthood, according to Boston University law professor Jessica Silbey.
"Planned Parenthood is a health care provider, and it provides health care to all kinds of people for all kinds of reasons," Silbey told Newsweek on Friday. "So it's really shortsighted to say that defunding Planned Parenthood is a way to narrow the amount of abortions that would be done in the United States."
According to Planned Parenthood's 2020-2021 annual report, abortion services make up only 4 percent of all the health services provided by the network, totaling around 383,460 procedures.
In contrast, the largest procedure Planned Parenthood offered was testing and treatment for sexually transmitted infections, which made up 51 percent of all services, used by more than 4.4 million patients. The annual report also indicated that the group received roughly $633 million in government health-service reimbursements and grants that same year.
"Planned Parenthood looks like it's being singled out because it is a pro-choice, gender-inclusive health care provider," Silbey said. "Planned Parenthood has been the subject of defunding campaigns forever, in sort of a classic misogynist move, but it really hurts millions and millions and millions of people who depend on these health care centers."
"You know, Boebert suggested that the money go to community clinics instead," she added. "That's what [Planned Parenthood] is."
When asked for comment, Planned Parenthood directed Newsweek to its Planned Parenthood Action Fund site, which previously posted a statement regarding "attacks" by lawmakers against access to the group's health services.
"For years, backward politicians in Congress and statehouses across the country have attacked Planned Parenthood's patients' access to care," reads the site.
"We've got news for them: Planned Parenthood's health centers provide high-quality, affordable reproductive health care, including abortion, to 2.4 million people across the country—and Planned Parenthood is not backing down."
Newsweek has reached out to the National Right to Life Committee for comment.
Update 1/20/23, 9:38 p.m. ET: This story has been updated with comment from Planned Parenthood.