At least two people have been killed after powerful storms battered central and northern parts of California. Heavy rainfall led to some areas receiving more than 1 foot of rain, triggering flooding.
President Joe Biden approved a state-of-emergency request on Friday from state Governor Gavin Newsom, potentially unlocking federal resources to support the clean-up. Videos posted on social media from around the small town of Springville, in central California, show severe flooding, with roads fully submerged and homes invaded by floodwater.
The ongoing storm is the latest in a number of extreme weather events that have befallen California over the past few weeks. The state was badly hit by snow storms in early March, which left communities in the San Gabriel and San Bernardino mountains cut off for days.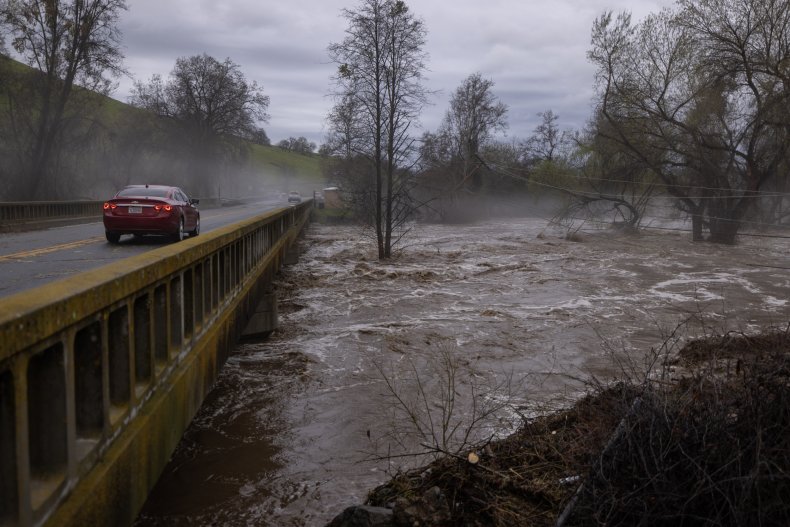 The current storm, known as a 'Pineapple Express' because it dragged subtropical moisture across from Hawaii, first hit on Thursday. It has caused landslides and avalanche fears, as well as flash flooding. Rainfall was intensified by an atmospheric river, a term used for a narrow channel in the atmosphere that is able to carry a large quantity of water.
Ahead of the storm's arrival, Tom Corringham, a research economist at the Scripps Institution of Oceanography at University of California San Diego, told Newsweek that the storm's strength would depend on the temperature of the atmospheric river.
Corringham said: "How these coming atmospheric rivers will affect drought and flooding depends, in part, on temperature. Colder atmospheric rivers could add to our near-record snowpack. Hopefully this snow will melt gradually, further replenishing our reservoirs."
On Saturday morning, more than 45,000 customers were without power across California, according to the PowerOutage.us website, while 10,000 people have been evacuated.
Footage shared on social media from Springville, which had a population of 965 in 2019, shows buildings being battered by storm water. Roads and yards had been completely submerged.
Aerial video from the town, shared by WeatherNation, revealed fast-moving floodwater making its way along a number of properties. One van was almost submerged by the deluge, and a road closed by authorities.
Another clip, shared by Twitter user Robby Gillett, showed flooded fields. These, he tweeted, used to be "cow pasture." Now there was a "big melt coming down the Sequoia National Monument."
Michael Andrew posted videos from his father's back deck, showing a usually small river that had swelled into a raging torrent.
On Saturday, the federal National Weather Service warned Californian residents to expect further flooding over the weekend and into Monday.
The NWS said: "Onshore flow will produce coastal rain and highest elevation snow over parts of California through Monday. Heavy rain and snowmelt will continue widespread considerable flooding impacts below 5,000-foot elevation along the central California coast, San Joaquin Valley, and southern Sierra Nevada foothills into early Saturday.
"Heavy, wet snow will continue at higher elevations in the Sierra Nevada. Rain in low elevations and foothills, and snow at high elevations, will refocus in the northern half of California, northwest Nevada, and Oregon through Monday, with a slightly lower intensity."