A video of Republican Representative Marjorie Taylor Greene saying that an Illinois elementary school received $5.1 billion to push critical race theory (CRT) has been viewed more than 4.7 million times on Twitter.
The video posted by user @Acyn features an exchange between the Georgia congresswoman and Gene Dodaro, the comptroller general of the U.S. and head of the U.S. Government Accountability Office (GAO) during the House Oversight and Accountability Committee's first hearing of the new congressional term.
The hearing centered on COVID-related federal aid allegedly used for waste or fraudulent spending.
Greene, a new member on the committee, spent most of her time questioning Dodaro about federal funding potentially used for abortion services at Planned Parenthood or spent on drag queen story hours.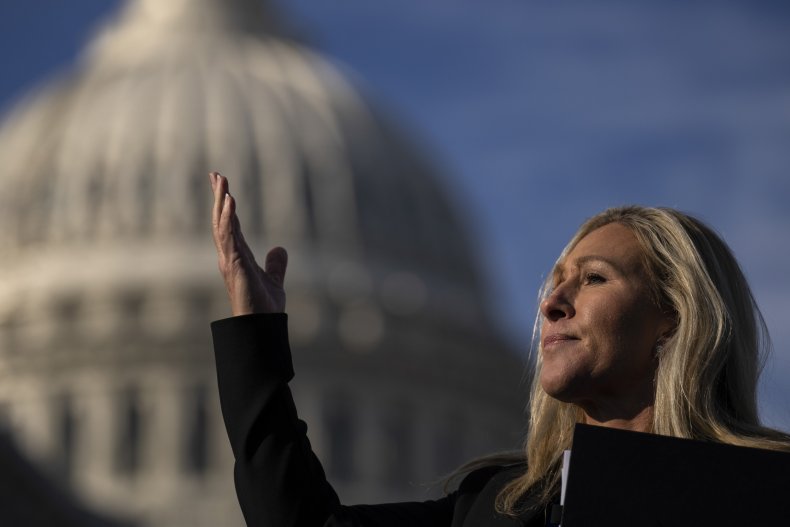 When asked by Greene how much was spent federally toward CRT-based curricula, Dodaro seemed uncertain on the meaning of CRT.
"It's a racist curriculum used to teach children that somehow their white skin is not equal to black skin and other things in education," Greene said.
"I don't really know [how much is spent on CRT], but I do know that there's provisions that federal funds generally are supposed to be used for curriculum," Dodaro responded.
"Oh, Mr. Dodaro. I have to tell you that in Illinois they received $5.1 billion at an elementary school that used it for equity and diversity," Greene said. "So, it's being used for these things."
When asked about the $5.1 billion figure mentioned by Greene, her communications director, Nick Dyer, told Newsweek that the congresswoman misspoke and was referring to "the entire Illinois elementary and secondary school system."
Greene is also a member of the Committee on Homeland Security. She was removed from committee roles in the previous Democratic-controlled Congress due to extremist views espoused on social media.
Jackie Matthews, executive director of communications for the Illinois State Board of Education (ISBE), told Newsweek that Greene's financial figure was completely fabricated.
"The state of Illinois did not spend $5 billion on CRT and we certainly didn't do so at a single elementary school," Matthews said.
The ISBE website hosts a public spending dashboard that shows how Elementary and Secondary School Emergency Relief (ESSER) funds are distributed statewide.
Each school district is allocated three types of ESSER funds: Coronavirus Aid, Relief and Economic Security Act ESSER (ESSER I); Coronavirus Response and Relief Supplemental Appropriations Act ESSER (ESSER II); and American Rescue Plan ESSER (ESSER III).
Visitors can view allocations per school district, in addition to how much of the funds districts have spent and have remaining.
Illinois' receipt of three rounds of pandemic-related relief grants totaled about $8 billion, with about 90 percent distributed directly to school districts. The remaining 10 percent of the funding is directed by ISBE in alignment with goals presented in its strategic plan, including student learning, learning conditions and elevating educators.
Funding of scholastic ventures within that remaining 10 percent goes toward an array of educational objectives: reducing the technological divide; providing real-time statewide data of students between grades three and eight regarding performance in English language, arts, and mathematical studies; improving students' mental health by implementing trauma-responsive policies and practices; and developing policy recommendations to retain teachers of color by examining causes of attrition.
"Equity drives all of our investments, especially our investments of federal pandemic relief funds into high-impact tutoring, closing the digital divide, summer and afterschool programs, and mental health community partnerships," Matthews said. "Equity means providing all schools with the funding and support they need for all students to meet high expectations, which is a strange and troubling thing to see anyone criticize."