Ukraine War Live Updates: Defense Leaders Meet as Zelensky Calls for More Weapons
Western defense leaders are meeting in Germany to discuss their continued support for Ukraine as the one-year mark of Russia's invasion approaches.
U.S. Defense Secretary Lloyd Austin called ithis a "crucial moment" for the Ukraine Defense Contact Group as the war approaches a "turning point."
Ukrainian President Volodymyr Zelensky reiterated the need for more weapons defend against Russian "terror" in an address to the contact group. Ukraine's defense minister emphasized the need for air-defense systems, tanks and ammunition.
Germany has not made a decision yet whether to send tanks to Ukraine, Defense Minister Boris Pistorius said.
Secretary Austin and Chairman of the Joint Chiefs of Staff General Mark Milley will hold a press briefing on Ukraine defense later this morning.
This comes after the Biden administration announced a $2.5 billion defense package to support military education, training and other assistance to Ukraine Thursday.
Follow Newsweek's live blog for the latest updates.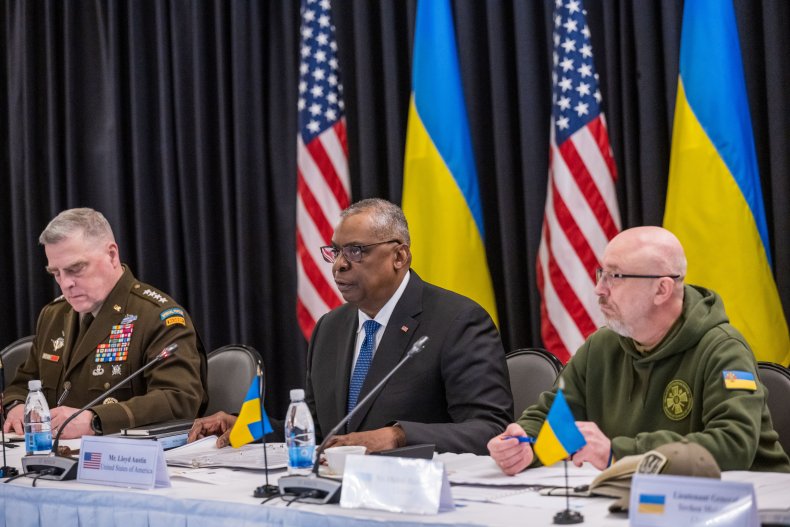 Germany Still Undecided on Sending Tanks to Ukraine
During the Ukraine Defense Contact Group meeting in Berlin, German Defense Minister Boris Pistorius said Germany has not yet made a decision on whether to send tanks to Ukraine.
He told reporters that "we all cannot say today when a decision will be made and what that decision will be on Leopard tanks."
Pistorius said that Germany doesn't "fear anything" but has to "balance all the pros and cons" before they decide.
"I am very sure there will be a decision in the short term," he said, adding that he doesn't "know how the decision will look."
German officials indicated that they won't send their Leopard tanks to Ukraine unless the United States also agrees to send its M1 Abrams tanks.
"If America will decide that they will bring battle tanks to Ukraine, that will make it easier for Germany," German Vice Chancellor Robert Habeck told Bloomberg at the World Economic Forum in Davos, Switzerland earlier this week.
The Pentagon said Thursday that it "just doesn't make sense" for the U.S. to provide M1 Abrams tanks "at this moment."
"Ultimately this is Germany's decision. It's their sovereign decision on what security assistance they will provide," Pentagon Deputy Press Secretary Sabrina Singh said Thursday. "So we won't be able to speak to them but I think that we are certainly doing what we can to support Ukraine in what they need."
Pistorius said Friday that Germany is "ready to move quickly" once a decision is reached.