Ukraine Outlines Three 'Priorities' for Ramstein Meeting
Ukraine's Ministry of Defense on Friday outlined three priorities for its meeting with allied ministers in Ramstein, Germany regarding the war with Russia.
United States Defense Secretary Lloyd Austin and Chairman of the Joint Chiefs of Staff General Mark A. Milley, as well as military chiefs and defense ministers from 50 other countries, met with the Ukrainian Defense Contact Group on Friday at Ramstein Air Base. The leaders will discuss Russia's war in Ukraine, and how Kyiv can defend itself against its neighbor. It was the eighth such meeting at the German base between Ukrainian and other defense officials.
In a tweet on Friday morning ahead of the talks, Ukraine's defense ministry tweeted: "There are three priorities of Ukraine at #Ramstein 8: More air defence systems; Weapons for the offensive operations (tanks, howitzers, ammo); Systematic ammo supplies +service&repair for armament and machinery."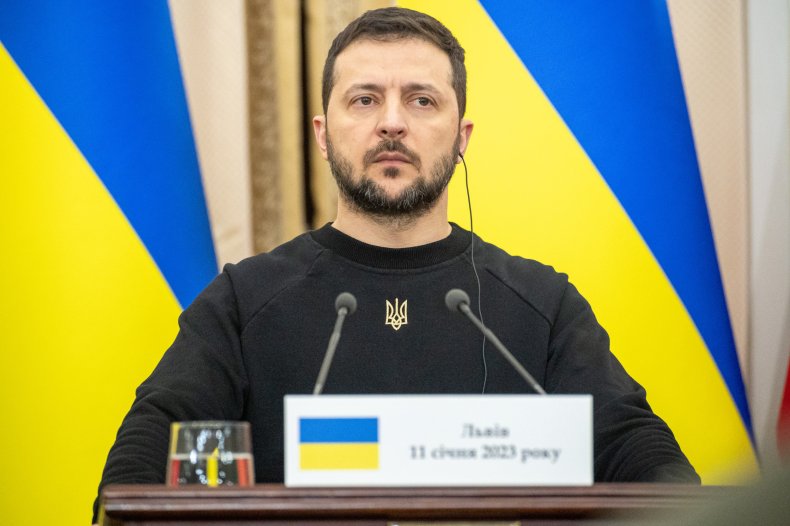 Kyiv has made repeated calls for Western allies to provide heavy artillery to use against Russia. Ukrainian President Volodymyr Zelensky also addressed the defense leaders via video call on Friday, making an impassioned plea for more military aid, including battle tanks.
"The war started by Russia does not allow delays and I can thank you hundreds of times for all that you have already done, but, hundreds of thank yous are not hundreds of tanks," Zelensky said.
"I am truly grateful to all of you for all the weapons you have provided. Every unit helps to save our people from terror but time, time remains a Russian weapon. You and I have to speed up. We have to do it."
Last week, the United Kingdom said it would provide a small number of Challenger 2 tanks to help deter Russia's invasion, making Britain the first Western power to supply the Ukrainians with main battle tanks. Germany has deferred a decision on sending armed tanks to support Ukraine's war efforts, despite increasing pressure from Kyiv and other Western allies. German Defense Minister Boris Pistorius said his ministry would check stocks of the Leopard 2 tank for possible delivery.
"There are good reasons for the delivery, there are good reasons against it," Pistorius said.
Last week, Poland said it would send Leopard 2 tanks to Ukraine and Finland also indicated that it was prepared to supply Kyiv with the tanks.
Austin said in opening remarks before the talks that Russian President Vladimir Putin did not count on the "courage" of the Ukrainian people when he launched the unprovoked attack on the country last February.
He said that the West would continue to support Ukraine's military "for as long as it takes." Austin added that there will not be a monthly meeting of "nations of goodwill" to focus on "winning today's fight and the struggles to come".
At the start of the conflict, which began on February 24, 2022, Putin believed he would take the Ukrainian capital Kyiv in just a matter of days, but the Russian Army was met with tough opposition. Russia has captured parts of southern and eastern Ukraine, but Kyiv has since won back some of those areas in counteroffensives.
Newsweek reached out to the Pentagon for comment.