The U.S. will announce on Friday it is sending Ukraine Ground Launched Small Diameter Bombs or GLSDB, significantly improving the country's ability to strike targets behind Russian lines, according to media reports.
Ukraine has been pushing for longer-range missiles, particularly the Army Tactical Missile System (ATACMS) which has a range of 185 miles, in a bid to disrupt Russian command posts and supply chains ahead of an expected spring offensive.
Washington has been refusing to hand over ATACMS to the Ukrainians, fearing this would be seen as too provocative by Moscow, as they could be used to hit targets deep within Russian territory.
However, the Financial Times reported Kyiv will be sent the smart bombs, which have a range of 94 miles and can be fired from Ukraine's HIMARS rocket launchers.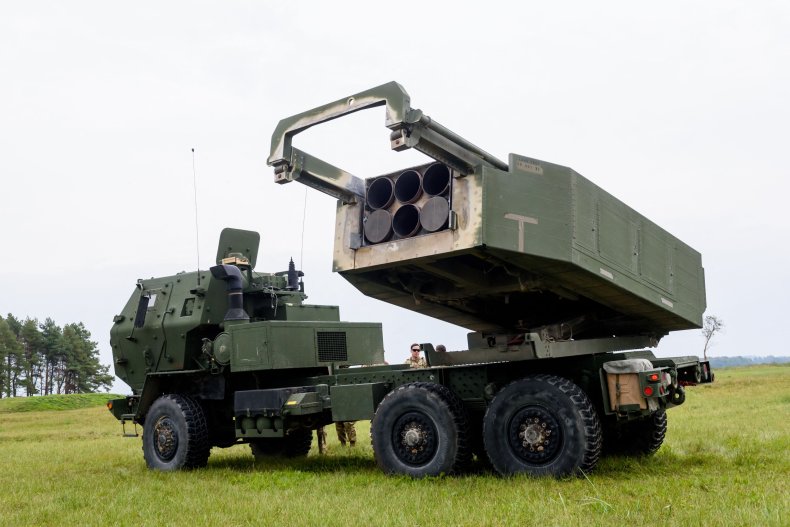 A new $2.2 billion support package for Ukraine will be unveiled later on Friday, according to the paper, citing "people familiar with the matter."
The new bombs have nearly double the range of the Guided Multiple Launch Rocket System, which can hit targets 53 miles away and are also launched by HIMARS.
Newsweek has asked the Pentagon whether it can confirm the report.
Russian foreign minister Sergei Lavrov reacted angrily to reports the U.S. could send Ukraine longer ranger artillery, arguing his country will have to push deeper into Ukraine in response.
Speaking to RIA Novosti, he said: "Now we are striving to push away [Ukrainian] artillery to a distance that will not threaten our territory.
"The longer the range of weapons supplied to the Kyiv regime by the West, the further away we need to move them from Russian borders."
Ukraine has been using HIMARS to devastating effect since they were first supplied by the U.S. back in June.
On New Year's Day, the rocket launchers were used to hit buildings housing Russian troops in Makiivka, situated in the eastern Ukrainian region of Donetsk. Ukrainian newspaper Ukrainska Pravda said the strike killed 400 Russian soldiers, with hundreds more injured, though Moscow gave a lower figure of 63 fatalities.
In a major blow to Russia in January, the German government said it would provide Ukraine with Leopard 2 main battle tanks, whilst the U.S. is sending its M1 Abrams and the U.K. 14 of its Challenger 2s.
Speaking on Wednesday to French media outlet BFM TV, Ukrainian Defense Minister Oleksii Reznikov suggested the Russians could launch another offensive on February 24, which would mark the one-year anniversary of Russia's invasion.
He said: "We think, given that they live in symbolism, they will try to try something around February 24.
"We do not underestimate our enemy. Officially, they announced 300,000, but when we see the troops at the borders, according to our assessments, it is much more."