U.S. General Warns 'Ejecting' Russia From Ukraine Will Be 'Very Difficult'
Fully ousting Russian forces from Ukraine over the course of 2023 would be an extremely challenging task, Chairman of the Joint Chiefs of Staff General Mark Milley warned Friday.
Speaking at a news conference at the Ramstein Air Base in Germany, Milley said that he believes Russia's war in Ukraine will conclude with negotiations rather than on the battlefield.
"From a military standpoint, I still maintain that for this year it would be very, very difficult to militarily eject the Russian forces from…every inch of Russian-occupied Ukraine," Milley said. "That doesn't mean it can't happen—doesn't mean it won't happen, but it'd be very, very difficult."
The war in Ukraine is now approaching its one-year anniversary after Russian President Vladimir Putin launched his invasion on February 24, 2022. Despite some initial predictions that Russia would achieve a quick victory in Ukraine, experts believe that Russia's conflict capabilities were overestimated.
Still, neither side has been able to completely topple the other on the battlefield as fighting continues throughout eastern and southern Ukraine. Milley's comments on Friday indicate that a total battlefield victory on Ukraine's part likely won't come within the current calendar year.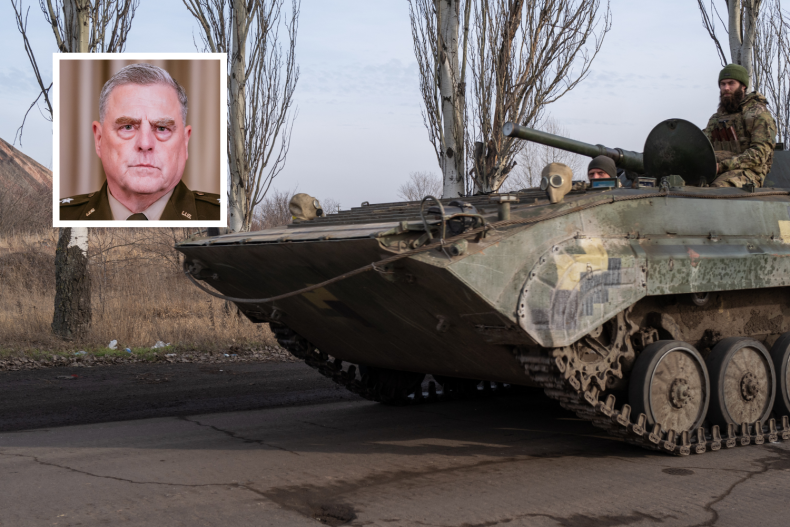 "I think what can happen is a continued defense stabilized in the front," Milley said. "I think it's possible to clearly do that, and I think it's, depending on the delivery and training of all of this equipment, I do think it's very, very possible…for the Ukrainians to run a significant tactical [or] even operational-level offensive operation to liberate as much Ukrainian territory as possible."
The equipment Milley referenced was the new $2.5 billion defense package for Ukraine that the Pentagon announced on Friday. The package includes munitions for National Advanced Surface-to-Air Missile Systems (NASAMS), eight Avenger air defense systems, 59 Bradley Infantry Fighting Vehicles and 90 Stryker Armored Personnel Carriers.
Looking forward, one area where experts and officials believe Ukraine could make significant progress this year is Crimea.
Retired U.S. Lieutenant General Ben Hodges predicted this month that Ukraine will retake the Russian-occupied peninsula by the end of August. Dan Soller, a former U.S. Army intelligence colonel, also told Newsweek on Friday that he believes the end of the summer of 2023 is when the situation in Ukraine will "come to a head."
Additionally, Kyrylo Budanov, chief of the Defense Intelligence of Ukraine, told ABC News in an interview earlier this month that he expects Ukraine to make a significant push against Russia in the spring.
"This is [when we will see more] liberation of territories and dealing the final defeats to the Russian Federation," Budanov said. "This will happen throughout Ukraine, from Crimea to the Donbas."
Newsweek reached out to Ukraine's Defense Ministry for comment.