The Pentagon has dismissed Russian threats of escalation over the U.S. decision to send 31 M1A2 Abrams main battle tanks to Ukraine, with a spokesperson suggesting that Moscow is peddling the same rhetoric it has throughout its 11-month-old invasion of the country.
The U.S. and several other NATO nations this week committed dozens of main battle tanks of various types to Ukraine, which has for months been calling for expanded Western support to facilitate its planned spring counter-offensives.
Russian officials met the Western announcements with anger. Russia's Ambassador to Germany Sergei Nechayev said in a statement Wednesday that the "extremely dangerous decision takes the conflict to a new level of confrontation," framing the step as a "permanent escalation."
Russia's Ambassador to the U.S. Anatoly Antonov said the step was "another blatant provocation against the Russian Federation," while Kremlin spokesperson Dmitry Peskov said Abrams and other Western tanks "would burn up just like all the others."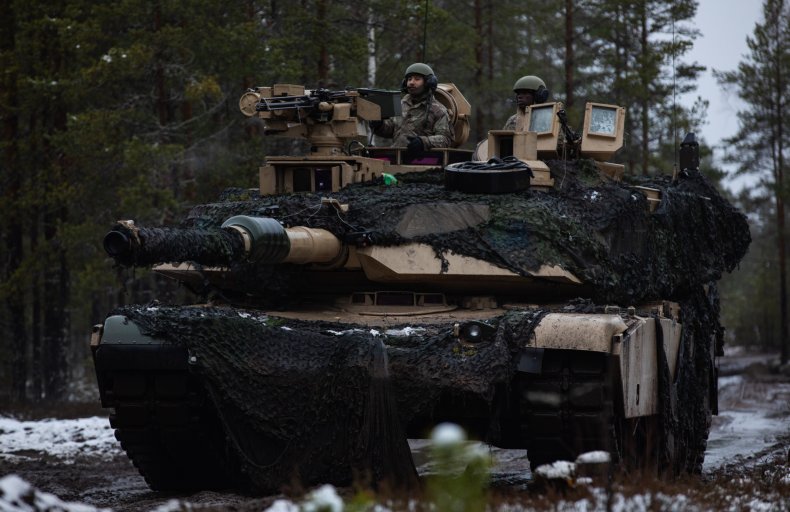 On Thursday, Pentagon deputy spokesperson Sabrina Singh said the Russian vitriol was nothing new.
"I feel like I've heard that talking point before from them, whether it was the Javelins that we were giving or the HIMARS and then the Patriot," she told reporters. "Everything seems, I guess, to be an 'escalation.' I don't view it as that."
"This is a war that Russia started, invading a sovereign state," she added. "What is escalatory is them continuing this war each and every day…[Russian President] Vladimir Putin could make the decision tomorrow to end it."
NATO nations hesitated on providing tanks for several months, partially due to fears such a step would be considered escalatory by the Kremlin.
Western leaders including President Joe Biden, German Chancellor Olaf Scholz, French President Emmanuel Macron, and NATO Secretary-General Jens Stoltenberg have made clear their priority is to avoid direct—and potentially nuclear—confrontation with Russia.
But Singh told reporters on Thursday the Pentagon has seen no indication that Russia is planning nuclear escalation. "We of course take what Russia says seriously," she said. " I think we've just heard that line before that every time we announce a new round of security assistance they always seem to say, 'Well, this is escalatory.'"
"We've seen no indication that Russia intends to use a nuclear weapon," she added, refusing to comment on suggestions from Moscow that Washington, D.C. and its allies have crossed a "red line."
"All we can continue to do is to continue to support Ukraine with what it needs on the battlefield," Singh said. " And that's why you're seeing immediate support flowing in right away to the country and then also seeing long-term commitments."
"In terms of what Russia says, again, we do take seriously their threats against Ukraine, against any of our partners and allies."