U.S. forces and local partners conducted a helicopter raid in northeastern Syria, resulting in the death of a leader of the Islamic State militant group (ISIS) and the wounding of four U.S. soldiers and a working dog.
"Last night, during a partnered U.S. and Syrian Democratic Forces [SDF] helicopter raid in northeastern Syria, an explosion on target resulted in four U.S. servicemembers and one working dog wounded," U.S. Central Command [CENTCOM] said in a statement published Friday.
"The targeted ISIS senior leader, Hamza al-Homsi, was killed," the statement added. "The U.S. servicemembers and working dog are receiving treatment in a U.S. medical facility in Iraq."
The news comes just days after CENTCOM announced an early raid conducted alongside partners on February 10 in which weapons and ammunition were seized and another ISIS official said to be involved in attacks on detention centers in Syria was killed.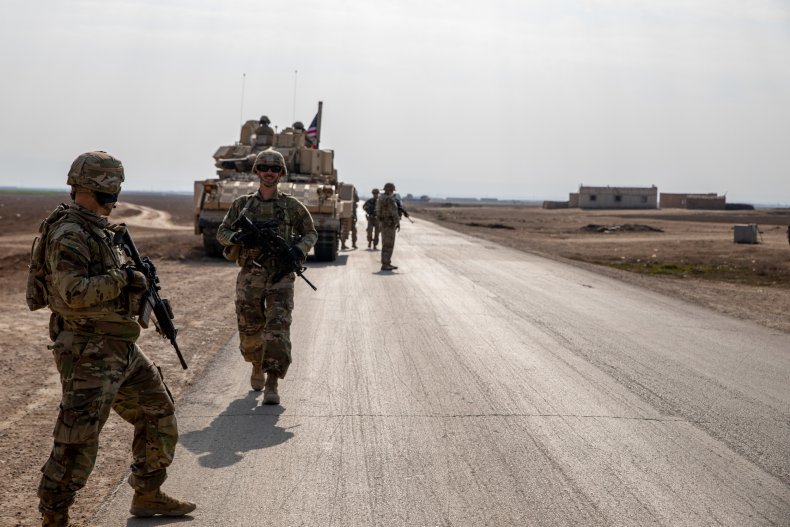 "A partnered D-ISIS raid on Feb 10th resulted in the seizure of multiple weapons, ammo, and a suicide belt," CENTCOM stated in a February 15 statement. "We can confirm Ibrahim Al Qahtani, an ISIS official associated with planning ISIS detention center attacks, was killed in the raid. 10,000+ ISIS detainees are held in Syria."
Having first emerged out of the instability in post-U.S. invasion in Iraq, the group that would become ISIS took advantage of unrest surrounding the civil war in Syria to spread to the neighboring country in 2013. The following year, the U.S. launched a multinational coalition to defeat the group in both Iraq and Syria, where the U.S. had already been involved in supporting insurgent groups fighting to overthrow Syrian President Bashar al-Assad.
In 2015, the Pentagon shifted its focus to backing the Kurdish-led SDF in the fight against ISIS. The same year, Russia launched a direct intervention in support of Assad as he battled both rebels and jihadis.
Since then, three successive heads of ISIS have been killed in Syria—two in U.S. raids in October 2019 and February 2022 in the northwest, and the most recent in a mid-October 2022 clash with former members of the rebel Free Syrian Army that had aligned with the Syrian government in the south. The current ISIS chief, Abu al-Hussein al-Husseini al-Qurashi, was announced last November.
Since then, campaigns led by the U.S.-led coalition and the SDF, as well as by the Syrian government and its Russian and Iranian allies, have continued to target the group.
This is a developing news story. More information will be added as it becomes available.