Far-right political commentator Nick Fuentes had his Twitter account restored by the platform on Tuesday, but he's apparently already been subjected to another suspension.
Fuentes, a Holocaust denier who caused controversy for former President Donald Trump when he joined Kanye West for a dinner with the Republican leader at Mar-a-Lago in November, received a permanent ban from Twitter in 2021. A Twitter spokesperson told Newsweek at the time that the ban was for "repeated violations" of the company's rules.
Fuentes was allowed back on Twitter on Tuesday, and he celebrated the news by posting an image of the cartoon character Patrick Star from the show SpongeBob SquarePants pushing open a set of doors.
The image and the rest of Fuentes' account was not available as of publication time. On Wednesday, a notice was attached to Fuentes' official @NickJFuentes account that stated it had been suspended. No other information has been made available for why Fuentes was again punished by the platform.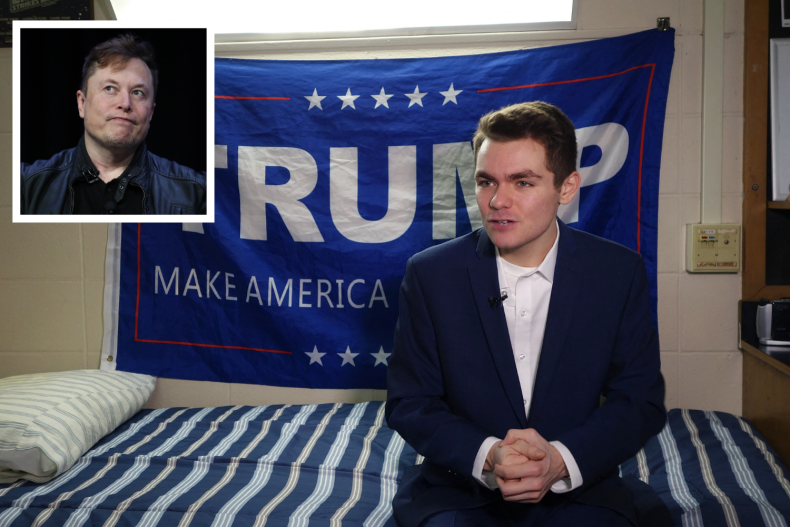 News of Fuentes' reinstatement on Tuesday was met with backlash against Twitter CEO Elon Musk from users of the platform.
Liora Rez, executive director of StopAntisemitism, also denounced the move in a statement provided to Newsweek.
"There is no excuse or reason why someone as antisemitic as Nick Fuentes has been rewarded with exponential reach to spew his bigotry on Twitter," Rez wrote. "Someone who's been known to incite real acts of violence and spread misinformation about a marginalized group of people should never be given a platform, period."
Speculation for why Fuentes was suspended includes that his account was subjected to mass flagging by people angry about his reinstatement. Other Twitter users also reported that he made comments on Twitter Spaces on Tuesday about Adolf Hitler and domestic terrorist Ted Kaczynski, aka the Unabomber.
On his Telegram channel, Fuentes addressed his suspension by encouraging his followers to tweet #FREENICKFUENTES and tag Musk, Ella Irwin (Twitter's head of trust and safety) and Esther Crawford (Twitter's director of product management).
Fuentes asked his fans to "[b]e nice" in their messages to Twitter.
Ali Alexander, who organized the Stop the Steal campaign in support of Trump's efforts to fight the 2020 president election results, was reinstated on Twitter this month after he was banned following the January 6, 2021, Capitol riot. His account was also found to be suspended on Wednesday.
Newsweek reached out to Twitter for more information and comment.