Tucker Carlson Rips Menthol Cigarette Bans, Says Nicotine 'Frees Your Mind'
Fox News host Tucker Carlson has claimed that nicotine "frees your mind" while lashing out at bans on menthol cigarettes.
During the Friday night edition of his popular opinion show Tucker Carlson Tonight, Carlson argued that it was "a human right" to purchase any kind of cigarette. He suggested that menthol cigarette bans were being pushed by those seeking "power" rather than over concerns the products are killing people by causing cancer and other illnesses.
Carlson also said that an unspecified "they" who "hate tobacco" were trying to push THC, the primary psychoactive ingredient in marijuana, on children because it makes people "compliant and passive."
"Why do they hate tobacco?" said Carlson. "It's not because they hate that it causes cancer, they don't care about your health … They hate nicotine. They love THC. They're promoting weed to your children but they're not letting you use tobacco, or even non-tobacco nicotine devices, which don't cause cancer."
"Whey do they hate nicotine?" he continued. "Because nicotine frees your mind. And THC makes you compliant and passive, that's why. They hate it! It's a real threat to them."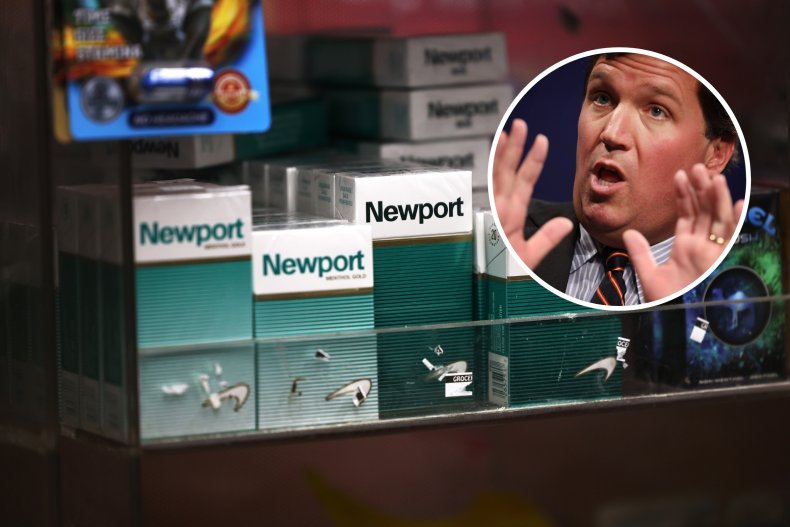 The Food and Drug Administration (FDA) proposed a nationwide ban on menthol cigarettes last year. State-level bans on flavored tobacco products including menthol cigarettes have been enacted in California and Massachusetts, while other states have been mulling similar regulations.
There is no evidence that nicotine, which is highly addictive, "frees your mind" or offers any other benefits. Cigarette smoking is the leading preventable cause of death in the U.S., accounting for over 480,000 deaths per year, according to the Centers for Disease Control and Prevention (CDC).
Nicotine alone does not cause cancer, although it has been conclusively shown that dozens of other carcinogenic chemicals found in tobacco do. Vaping nicotine also poses health risks, with additional research still needed to understand the potential long-term effects, according to the CDC.
Although the link between cigarettes and cancer is well established, Carlson argued that "a lot of things cause cancer" while speaking against limits on tobacco, pointing out items that could "potentially" be causes.
"Of course a lot of things cause cancer," Carlson said. "Probably more than we know. Potentially, cell phones cause cancer. Potentially, diet soda causes cancer. They do in rats. They're not banned. How come?"
Carlson said that cell phones and diet soda, neither of which have been credibly shown to cause cancer in humans, remained available due to "campaign contributions to keep them legal."
He went on to argue that the menthol cigarette bans were aimed at powerless "poor people" who "don't have a lot of pleasures," while lamenting the impact on small businesses that sell the cigarettes.
"Nobody cares what menthol smokers think," said Carlson. "They're at the bottom of our caste system, they're poor. So no more pleasure for them! Menthol cigarettes are out, along with the many small businesses that sell them."
Carlson's defense of menthol cigarettes was part of a larger segment that focused on reactions to recent conservative outrage over false claims that President Joe Biden's administration is planning a national ban on gas stoves.
Carlson said that smoking menthol cigarettes and cooking on gas stoves were part of "the promise of America" during the show.
Newsweek has reached out to Fox News for comment.