Tucker Carlson Calls Jacinda Ardern the 'Lady With the Big Teeth'
New Zealand Prime Minister Jacinda Ardern was described as "the lady with the big teeth" by Fox News host Tucker Carlson, shortly after announcing her intention to resign.
Addressing journalists on Thursday, the 42-year-old Labour politician said she no longer has "enough in the tank" to stay in post, and "would be doing a disservice to New Zealand to continue."
Carlson interrupted his show to give viewers the news, though he stumbled on the pronunciation of Ardern's surname.
He said: "A Fox News alert and some rare good news, the appalling Prime Minister of New Zealand Jacinda Ardern, that's the lady with the big teeth…has just announced she is leaving office."
Carlson was fiercely critical of the measures Ardern introduced to combat coronavirus, during the peak of the pandemic.
In August 2021 the New Zealand government announced a new lockdown after the country recorded its first community transmission case of coronavirus in six months.
Reacting to the news on his Fox News show, Carlson said: "How far can they go? Well, for the answer, look to New Zealand, a famously placid outpost in the fast-shrinking Anglosphere.
"A single COVID case in New Zealand, not a death from COVID, but a case of COVID has shut down the entire country."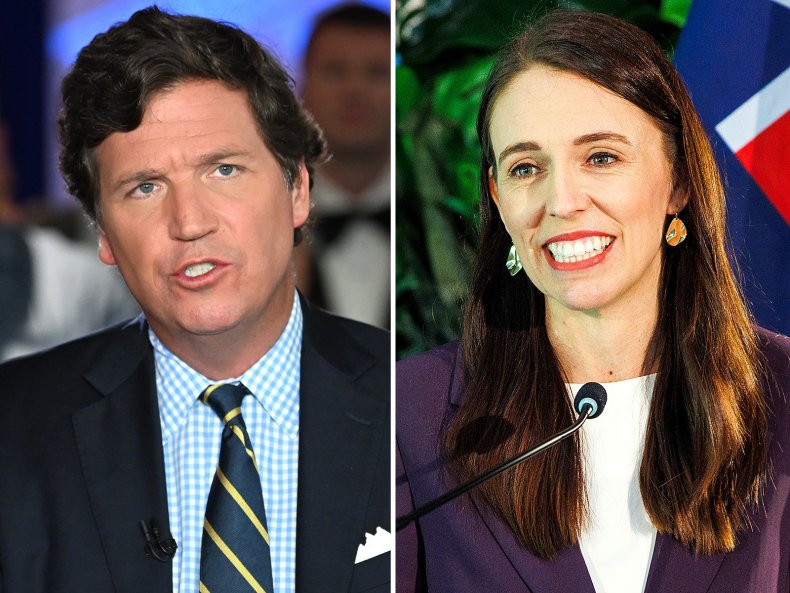 Carlson went on to criticize Ardern for urging New Zealanders not to "talk to your neighbors," and to "keep to your bubble."
He added: "Do you hear that? By the way, the lady with the teeth is very popular with people like Michael Hayden. She is considered super impressive, visionary really."
Hayden was director of the CIA between 2006 and 2009, after which be became a CNN national security analyst in 2017.
New Zealand introduced some of the world's toughest restrictions to combat COVID-19, which was largely kept out of the country until the end of 2021.
On March 19, 2020, non-residents were banned from travelling to New Zealand, and even those who could enter were required to quarantine for 14 days.
New Zealand has had a significantly lower coronavirus death toll per capita than other advanced Western democracies, recording just 2,437 COVID-19 related deaths in since the pandemic began in a population of just over 5 million according to the World Health Organization. During the same period the figure for the U.S. was 1,088,854 out of a population of nearly 332 million according to the body.
During her announcement Ardern said she would formally step down as prime minister no later than February 7, with her party meeting to select a new leader on January 22.
The next New Zealand general election is due to take place on October 14.
Both Jacinda Ardern and Tucker Carlson have been contacted for comment.