Republican Representative Ronny Jackson of Texas, former White House doctor to ex-Presidents Donald Trump and Barack Obama, has claimed that President Joe Biden's most recent physical exam was "a cover up."
Dr. Kevin O'Connor, physician to the current president, on Thursday issued a summary of Biden's health status following a "comprehensive review" of his medical history and "detailed physical examination" at Walter Reed National Military Medical Center in Bethesda, Maryland.
O'Connor concluded that Biden "remains a healthy, vigorous, 80-year-old male, who is fit to successfully execute the [duties] of the Presidency, to include those as Chief Executive, Head of State and Commander in Chief."
The physical notably included skin cancer surveillance, with one small lesion being removed from the president's chest and sent for a biopsy. It also included an "extremely detailed" and "reassuring" neurological exam that found no "cerebellar or central neurological disorder."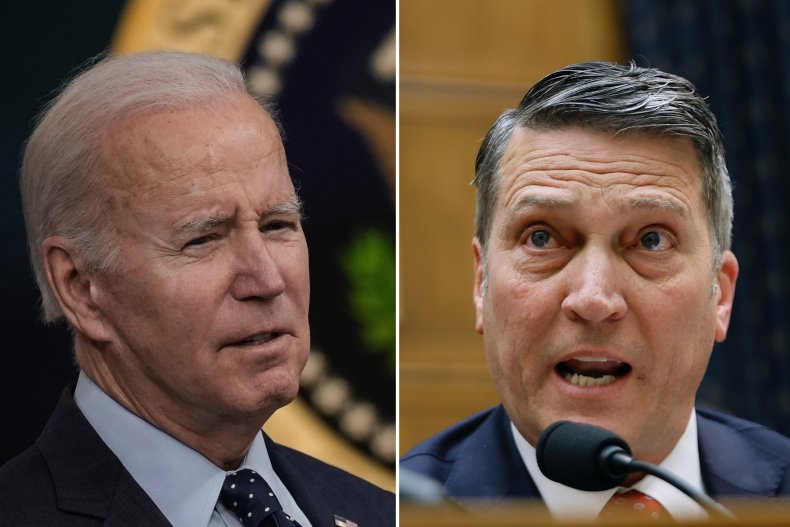 Jackson lashed out at O'Connor's report and his conclusions on Twitter a short time later, claiming without evidence that there was a "cover up" to hide that Biden was actually suffering from a "cognitive issue" and "mental decline."
"We learned NOTHING from Biden's physical exam," Jackson tweeted. "How bad is his cognitive issue? Is he on ANY drugs to treat his mental decline? This exam was a JOKE. COVER UP!!"
"WHY ON EARTH did Biden not get a cognitive exam?" he added. "Trump had one, why not him? Biden's ability to think and reason is GONE! He SHOULD NOT be President!!"
Jackson went on to complain that the "media is SILENT about the LACK of a cognitive exam for Biden."
"The American people want to know this information, and the media is doing NOTHING," he tweeted. "They're letting this incompetent buffoon drive our country over a cliff!!"
Earlier in the day, the Texas Republican claimed that the "majority of Americans think Biden is cognitively impaired" and demanded to see the "FULL RESULTS" of a cognitive exam, maintaining that anything less would be evidence that "they're COVERING SOMETHING UP!!"
Jackson began his medical career in 1995 at Naval Medical Center Portsmouth in Virginia, where he completed his internship and graduated with honors at the Navy's Undersea Medical Officer Program.
In 2006, he became a White House doctor during the administration of former President George W. Bush, being promoted to become physician to the president under Obama in 2013.
During the Trump years, Jackson's assessments of the president's health raised some eyebrows for including excessively flattering rhetoric and a preposterous claim that "if [Trump] had a healthier diet over the last 20 years he might live to be 200 years old."
"He loved looking at my body. It was so strong," Trump said of Jackson while speaking at the Conservative Political Action Conference in Dallas in August. "But he said I'm the healthiest president that's ever lived. I was the healthiest. I said, 'I like this guy.'"
In more recent years, Jackson has become an outspoken advocate for conspiracy theories popular among those on the political right, including false claims that Trump "won" the 2020 presidential election and a theory that the Omicron variant of COVID-19 was created by Democrats.
Newsweek has reached out to the White House for comment.