Lawyers for former President Donald Trump argued in a new filing on Thursday that the Trump Organization does not exist "for legal purposes" as they fight against a sweeping fraud lawsuit in New York.
In September, New York Attorney General Letitia James sued Trump, the Trump Organization, senior management and other involved entities for what her office alleged were years of financial fraud. The lawsuit accused Trump, with the help of several of his children and senior executives, of falsely inflating his net worth by "billions of dollars" to obtain a variety of economic benefits.
"For too long, powerful, wealthy people in this country have operated as if the rules do not apply to them. Donald Trump stands out as among the most egregious examples of this misconduct," James said in a statement at the time.
The New York attorney general's investigation into Trump and his business practices had been taking place for years as the Trump family sought to have the probe dismissed and pushed back against the office's attempts to obtain evidence and testimony. After James announced the lawsuit, the Trump Organization said in a statement shared with Newsweek that the case was filed for political reasons and "has nothing to do with the facts or the law."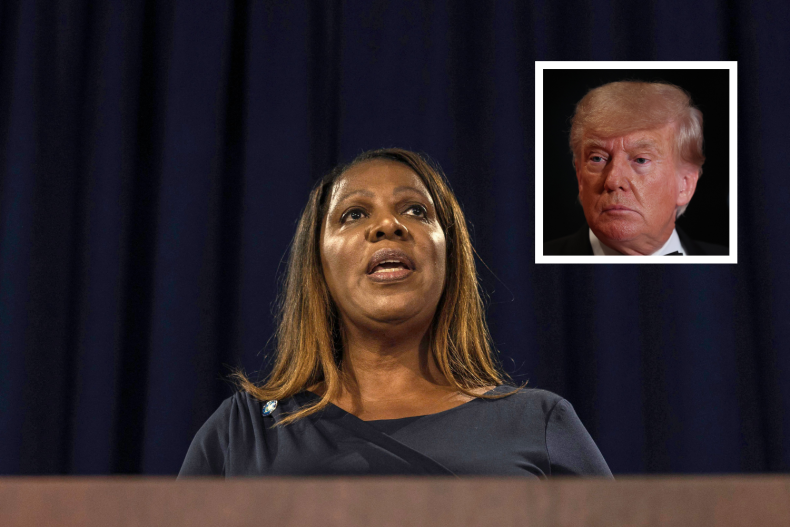 In the new filing responding to the lawsuit's allegation, Trump's lawyers repeatedly argued that they rejected the definitions for the Trump Organization and "defendants" in the suit.
"While the shorthand 'Trump Organization' is utilized by Defendants for branding and business purposes, no entity as such exists for legal purposes," the filing read. "The definitions of 'Trump Organization' and 'Defendants,' as used by the Attorney General, improperly group Defendants together, without regard to the nature or discrete legal identity of each Defendant, and fails to specify to which named Defendant or Defendants the conduct alleged is attributed."
It added that this failed to satisfy a section of New York law that requires statements in a pleading to be "sufficiently particular to give the court and parties notice of the transactions, occurrences…intended to be proved and the material elements of each cause of action or defense."
The filing came shortly after Trump dropped two of his own lawsuits against James.
On Tuesday, a filing indicated that lawyers for Trump and James had agreed to end a lawsuit in which the former president sought to block the New York attorney general's probes into him and his businesses, according to The Hill.
Last week, Trump's attorneys voluntarily dismissed another lawsuit that sought to block James from accessing materials from his private trust.
Newsweek reached out to a lawyer for Trump and James' office for comment.