Trump's Chance to Make GOP 'Uneasy' About DeSantis in 2024: Analyst
Former President Donald Trump might take the chance to make the GOP feel "uneasy" about Florida Governor Ron DeSantis in a potential effort to win the party's nomination for the 2024 presidential election, according to political analyst Ed Kilgore.
DeSantis hasn't officially announced if he will run in the 2024 presidential election, but he has gained popularity within the Republican Party over the past few months especially among those who want to move on from Trump—who announced his 2024 presidential bid this past November—and focus on a candidate who has the party's best interests.
Kilgore wrote in a Saturday column in Intelligencer that there is a "more pointed way for Trump to make Republicans uneasy about DeSantis's pre-MAGA existence: going after the political stances he took before Trump allegedly saved his career from mediocrity and defeat."
Kilgore added: "In other words, instead of maligning his governor as a RINO [Republicans in Name Only] squish the way he has described most Republican rivals, Trump will go after DeSantis for supporting budget austerity, 'entitlement reform,' and free trade (all positions common among hard-core pre-MAGA conservatives)."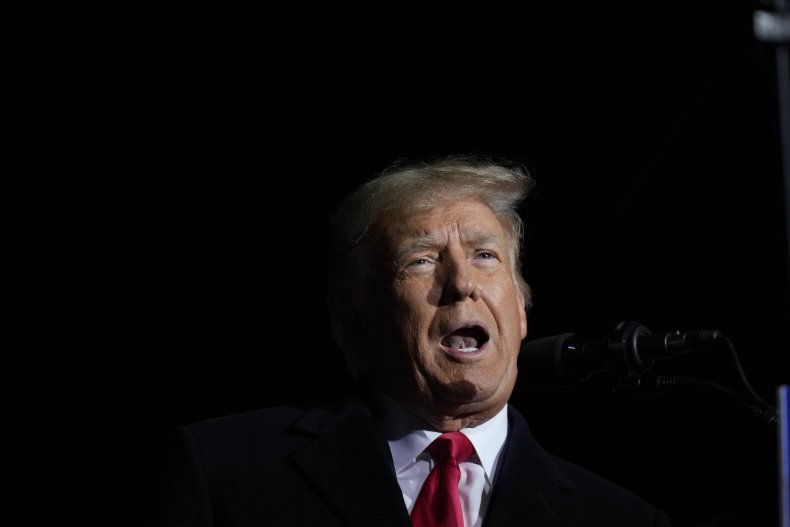 In 2013, DeSantis voted for a proposed resolution that was meant to balance the federal budget in just four years. The budget plan would have raised the eligibility age for Social Security and Medicare to 70, NBC-2 reported in 2018.
"The draconian cuts DeSantis voted for would have raised the eligibility age for Social Security and Medicare to 70. It would have weakened Medicare by offering seniors 'premium support' instead of comprehensive health coverage. And it would have eroded Social Security by giving recipients miserly annual adjustments for inflation," Kilgore wrote in his column.
Craig Agranoff, an adjunct professor at Florida Atlantic University where he specializes in political marketing and campaigning, told Newsweek on Saturday that Trump is "certainly going to try" to show that DeSantis is not the right candidate for the 2024 presidential election, even though the Florida governor's trajectory is already "trending upward."
"I just feel at this point that Trump should try to focus not on what's wrong with DeSantis, but that he believes that his own ideas will be better represented and have a better chance of success," Agranoff said, adding that the former president might be able to regain the trust of his followers who might favor another candidate at the moment because of Trump's "antics."
Trump has repeatedly bragged about how he allegedly helped DeSantis win the Florida gubernatorial election in 2018, and said on Monday that he will "handle" him when it comes to the 2024 election, but didn't provide details about how he intends to do so.
"Most people thought he couldn't do that, but I thought he could. I got him elected, pure and simple," Trump said during a segment on The Water Cooler podcast.
"He would have never [won]…if I said I wasn't going to endorse you. And there was no reason to go wild about endorsing him," the former president added. "So, now I hear he might want to run against me. So we'll handle that the way I handle things."
Agranoff explained that Trump might try to create divisions in the party to "harm" DeSantis' chances of being elected, but the Florida governor would still have an "easy" chance to become the GOP's preferred candidate.
However, Agranoff thinks DeSantis would still face criticism from some Republicans who don't agree with his conservative values.
"DeSantis has taken a very hard line on some specific social issues. And there is a good faction of the Republican party that does not believe or support a lot of the far-right wing values and beliefs, especially when it comes to conspiracy," Agranoff said.
What the Polls Show
Though it remains unknown whether or not DeSantis will run in 2024, he has been favored over Trump as a candidate among members of his party, according to recent polls. A FiveThirtyEight report in November revealed that the majority of polls showed DeSantis beating the former president.
Meanwhile, a YouGov poll conducted between November 13 and 15, with a sample size of 432 adults, put DeSantis ahead by 7 points at 46 percent compared to Trump's 39 percent. In addition, a Seven Letter Insight poll, conducted between November 10 and 15, with a sample size of 543 likely voters, had a similar victory for DeSantis. In this poll, DeSantis led by 8 points at 34 percent to Trump's 26 percent.
Despite polls pointing out the winning chances of each candidate, Agranoff said that polling figures "are going to be wrong."
"It's too early to decide who's winning [and] who's not winning and a lot of that stuff is meant to just distract people and try to keep them away from the actual issues and what's happening," he said. "I'm not a believer in the polls, but the one thing we know for sure, DeSantis made a statement with his [midterm election] win in Florida….and I don't think we want to see him [Trump] up at the podium anymore."
Newsweek reached out to DeSantis' press office for comment.