Former President Donald Trump is facing online mockery after touting his gift of "Trump Water" to the residents of East Palestine, Ohio.
Trump offered his own branded bottled water, along with water of "much lesser quality," to those impacted by a major train derailment during a visit to the village of East Palestine on Wednesday. The Norfolk Southern-operated train derailment on February 3 prompted evacuation orders due to the release of toxic chemicals.
Despite the Environmental Protection Agency (EPA) having said that local public water supplies were not contaminated by the derailment, many have expressed concerns that water in the area may be unsafe to drink. Authorities have warned against drinking water from private wells while testing continues.
Trump, who is seeking to regain the presidency in 2024, played into concerns about the water by bringing multiple pallets of bottles to distribute to residents during his visit. The former president boasted that "most" of the bottles were of his own brand while speaking in the village on Wednesday.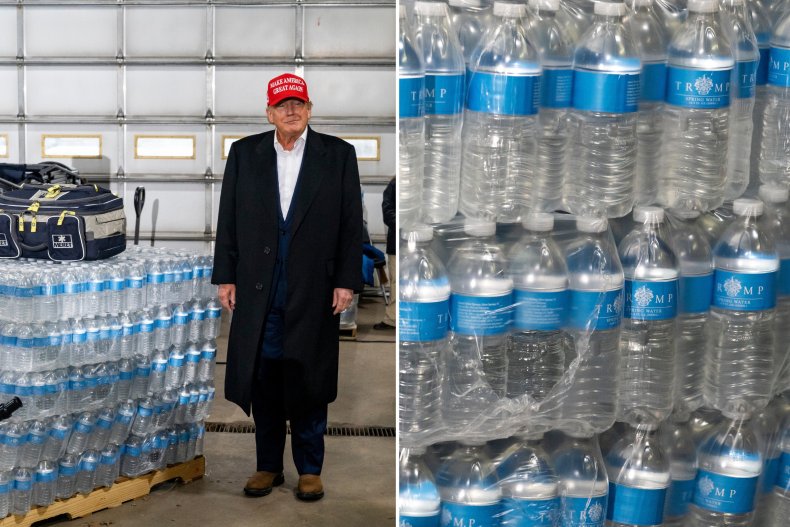 "We're bringing thousands of bottles of water—Trump Water, actually," said Trump. "Most of it. Some of it, we had to go to a much lesser quality water. You want to get those Trump bottles, I think, more than anybody else."
Trump critics on social media were less than impressed by the former president's water delivery and promotion of his brand.
"Don't drink it, Ohio," tweeted Ahmed Baba, co-founder and president of Rantt Media. "Side effects of Trump water include a sudden urge to say the word 'tremendous' and incite coups."
"His administration repealed safety rules for high-hazard cargo trains," journalist Morten Øverbye tweeted. "Now he wants to turn a toxic derailment into a political branding show for Trump water."
"Is Trump Water like Trump Steaks?" tweeted MSNBC host Katie Phang. "The people in East Palestine don't need bottled water with a splash of grift."
"Handing out Trump Water in East Palestine, Ohio – after creating the deregulation that likely caused this disaster – will not wash away Trump's moral stain," former federal prosecutor Michael J. Stern tweeted.
Some suggested that the former president was handing out 13-year-old bottles of "Trump Ice" water, a brand that was discontinued in 2010.
"So Donald Trump shreds the rail safety rules that would have prevented the East Palestine disaster, then he goes to East Palestine and brings them Trump Water that might actually be at least 13 years old (the business went under in 2010)?" tweeted lawyer Tristan Snell. "Got it."
"I looked it up on a site called 'Greener Choices,'" comedian Paula Poundstone tweeted. "The water in the Trump water will not expire, but the plastic bottle will leach chemicals into the water over time. Drinking water of 2-3 years old is not recommended. Trump Water was discontinued in 2010."
However, images from the former president's visit clearly show that the water taken to East Palestine was not "Trump Ice." Instead, the bottles were labeled "Trump Spring Water"—a brand that is still bottled and usually available only at Trump properties.
Trump supporters on social media praised the East Palestine visit and took the opportunity to blast President Joe Biden and Transportation Secretary Pete Buttigieg for not having already visited the derailment site. Some also joined the former president in touting the "Trump Water" brand.
"Man of the moment!" former Trump adviser Jason Miller tweeted. "Trump delivers 13 pallets of food and Trump Water to East Palestine as he tells families they've been betrayed by Biden administration – and makes a pitstop at McDonald's"
"Trump Water is the BEST water!" author and anti-Muslim activist Brigitte Gabriel tweeted.
"Trump Water is the purest water known to man," tweeted self-proclaimed "alpha male" Nick Adams. "After a brutally difficult and nightmarish three weeks, the people of East Palestine can finally enjoy a drink of water without fear of contamination."
"President Trump cast a lifeline to the people Joe Biden left to drown in the ocean of toxicity Pete Buttigieg left behind," he continued.
Train derailments are relatively common in the U.S., although the vast majority do not result in death or injury. There were a total of 54,539 train derailments in the U.S. from 1990 to 2021, an average of 1,704 per year, according to the Bureau of Transportation Statistics.
The spilling of toxic chemicals in a derailment is also far from unprecedented. Over the past 10 years, between 10 and 20 derailments per year have involved hazardous materials, according to PolitiFact.
Newsweek has reached out to Trump's office for comment.