Former President Donald Trump has spoken out on the recent collapse of Silicon Valley Bank (SVB), issuing a strongly worded warning in a post to social media.
SVB, the premier financial institution for startup businesses in the United States, collapsed on Friday after the uncertainty surrounding its risky investments led to a run on deposits. Once the 16th largest bank in the country with over $200 billion in assets only a few months ago, it has now been taken over by the Federal Deposit Insurance Corporation (FDIC), which is working to auction off its assets and repay depositors for their uninsured funds.
On Sunday, Trump posted about the collapse of SVB on his social media platform, Truth Social, blaming the situation on the economic policies of President Joe Biden, adding that further financial calamities are on the horizon.
"With what is happening to our economy, and with the proposals being made on the LARGEST AND DUMBEST TAX INCREASE IN THE HISTORY OF THE USA, TIMES FIVE, JOE BIDEN WILL GO DOWN AS THE HERBERT HOOVER OF THE MODRRN [sic] AGE," the former president wrote. "WE WILL HAVE A GREAT DEPRESSION FAR BIGGER AND MORE POWERFUL THAN THAT OF 1929. AS PROOF, THE BANKS ARE ALREADY STARTING TO COLLAPSE!!!"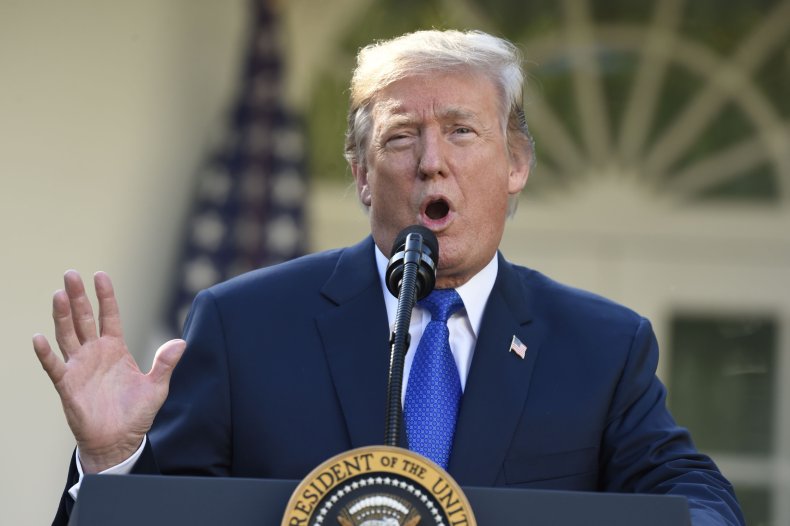 Trump's communications team also issued a statement to Fox News Digital a few hours after his post to Truth Social, reiterating the claim that the collapse was caused by Democratic policies.
"Out-of-control Democrats and the Biden administration have pathetically continued to try to blame President Trump for their failures with desperate lies, such as the CCP (Chinese Communist Party) spy balloons, the train derailment in East Palestine, and now the collapse of SVB," Trump spokesman Steven Chueng told the outlet.
Since the collapse on Friday, many have claimed that the collapse was a longer-term result of a bill Trump signed into law in 2018 that cut regulations for mid-level and regional banks, like SVB. The bill allowed banks with assets of over $250 billion to avoid mandatory oversight from the Federal Reserve that kept a check on their stability, up from the previous limit of $50 billion in assets, which was set in the wake of the Great Recession. The changes were lobbied for by many in the financial sector, including SVB CEO Greg Becker.
The claims about Trump's deregulations were echoed by various finance experts, as well as congressional Democrats like Alexandria Ocasio-Cortez and Katie Porter, the latter of whom said that she is working on legislation to reverse Trump's 2018 bill. Cheung's statement to Fox News Digital was specifically made in response to an inquiry about those claims.
Newsweek reached out to the White House by email for comment.