Former President Donald Trump enjoys a substantial lead over his potential rivals for the 2024 Republican presidential nomination and is far ahead of Florida Governor Ron DeSantis, a new poll has found.
Morning Consult's 2024 GOP Primary Tracker found that Trump led the field of likely Republican primary candidates with 48 percent support as of Thursday, giving him a 17-point lead over DeSantis.
The Florida governor was in second place and enjoyed 31 percent support, outpacing former Vice President Mike Pence at 8 percent and former Representative Liz Cheney at 3 percent.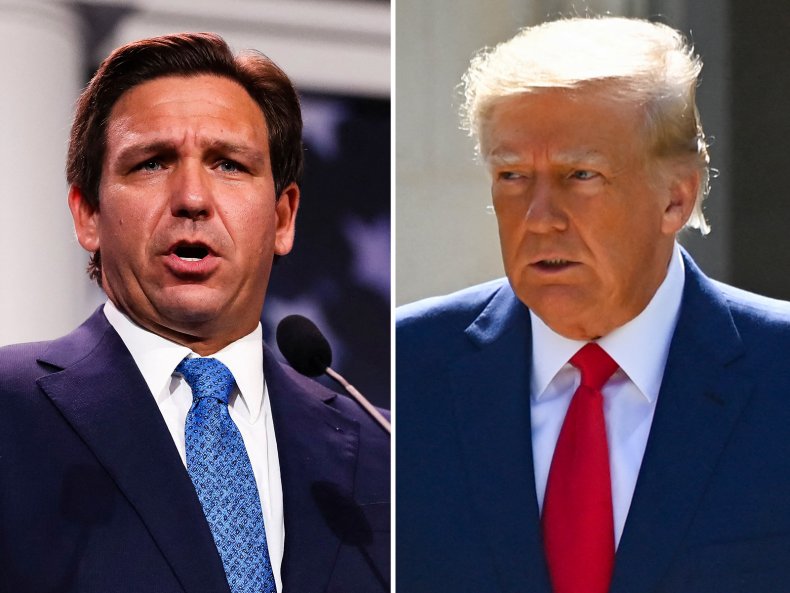 The survey was conducted from January 14 to 16 among 3,763 potential Republican primary voters and had a margin of error of plus or minus 2 percent.
Trump is the only Republican to have officially declared that he's seeking the 2024 nomination so far. He made the announcement shortly after the November 2022 midterm elections.
However, DeSantis has long been seen as a rising star in the GOP and a future presidential candidate. Trump has been critical of DeSantis as the governor has emerged as a potential rival.
A video showing Trump saying he would "handle" DeSantis went viral earlier this week. The former president told conservative podcast The Water Cooler on Monday: "I got him elected, pure and simple."
"So, now I hear he might want to run against me. So we'll handle that the way I handle things," Trump went on.
Though DeSantis has not yet declared his candidacy for 2024, Morning Consult also found that he is performing better than Trump in hypothetical matchups against President Joe Biden.
DeSantis leads Biden with 44 percent to the president's 41, while 8 percent of respondents said they didn't know who they'd back and 7 percent favored someone else.
The poll found Biden defeating Trump in a hypothetical rematch in 2024 with 43 percent support to the former president's 40 percent, while 6 percent answered "don't know" and 11 percent supported someone else.
Morning Consult surveyed a representative sample of more than 6,000 registered voters from January 10 to 12 on the question of a potential 2024 matchup. The poll had a margin of error of plus or minus 1 percent.
Recent polling has been mixed when it comes to DeSantis and Trump's chances in a GOP primary but the two men have remained the leading contenders for their party's nomination.
A poll from YouGov/The Economist conducted from January 14 to 17 among 472 registered voters showed Trump leading with 44 percent to DeSantis' 32 percent.
A YouGov/Yahoo News poll conducted between January 12 and 16, with a sample size of 450 registered voters, saw DeSantis ahead by 3 points at 45 percent compared to Trump's 42 percent.
Newsweek has reached out to the offices of Ron DeSantis and Donald Trump for comment.