Ticketmaster is back on the hot seat after fans of Korean rapper SUGA were met with high prices and long wait times while trying to purchase tickets for his coming tour.
Pre-sales for SUGA's U.S. tour in August went live Wednesday for fans who had an Army member access code. General fan ticket presale is set for Thursday should any tickets remain. According to a tweet from Ticketmaster on Monday, the tour's organizers made 100 percent of the tickets available for the Army member presale.
Ticketmaster also warned fans on Monday that due to the high demand for SUGA's tour, it was "expected that many interested fans will not be able to get tickets." The entertainment company also warned that fans who received a presale access code are still not guaranteed that tickets will be available when it's their time to purchase.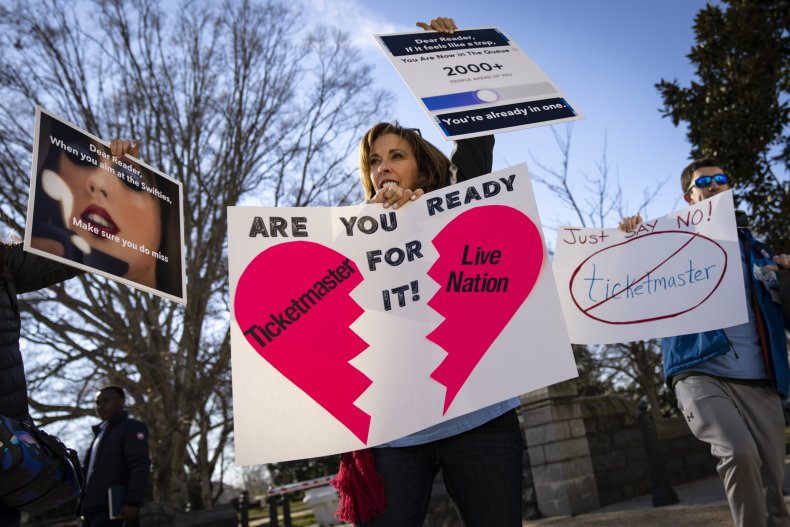 According to fans on Twitter, however, those with access to the presale that began Wednesday were already experiencing a variety of problems reminiscent of the fiasco fans faced in the fall while trying to purchase Taylor Swift tickets, a conundrum that eventually led to a lawsuit against Ticketmaster's parent company, Live Nation.
Entertainment reporter for The US Sun, Rachael Ellenbogen, tweeted Wednesday that the company's "verified fan lotteries, insane dynamic pricing (~platinum~ to make it look like some special, packaged ticket when it's not), & sky-high fees have ruined ticket-buying for me."
"I pretty much have to buy everything last minute now," she added. "I'd go too broke & mad, otherwise."
Tiffany Vogt, freelance entertainment reporter, echoed Ellenbogen's sentiment, replying, "Totally understand. Ticket prices through Ticketmaster have gotten insanely high. Slowed down my 2023 concert wishlist for sure."
Other users poked fun at Ticketmaster's rough couple of months. Meteorologist for KWTV in Oklahoma City Andrew Adams noted on Twitter that "Ticketmaster has upset Swifties and Kpop fans in the matter of a couple months."
Freelance writer Cate Young added, "I feel like if you're this publicly bad at your job three times in a row you should let someone else do the work. *glares at @Ticketmaster*"
Newsweek has reached out to Ticketmaster for comment.
In November, thousands of Swift fans were stuck waiting hours on Ticketmaster's website, followed by the company canceling the general sale of tickets for Swift's tour due to "extraordinarily high demands on ticketing systems and insufficient remaining ticket inventory to meet that demand."
A handful of dissatisfied customers eventually filed a lawsuit in Los Angeles, accusing the company of violating antitrust and consumer protection laws. Plaintiffs in the suit claim that the 2010 merger of Ticketmaster and Live Nation eliminated competition within the market, allowing the companies to raise prices.
Live Nation owns about 70 percent of the concert market, including some of the America's major venues, according to Minnesota Senator Amy Klobuchar, who chairs the antitrust subcommittee that scrutinized Live Nation in its hearing in January.
The ticketing company also received backlash in February while fans scrambled to secure tickets for Beyoncé's Renaissance world tour. Reports from HuffPost and The Atlantic noted that some fans were paying a couple thousand dollars for tickets, on top of a few hundred dollars in fees.