Republican Representative Thomas Massie took his criticism of the U.S. national debt to a new level on Tuesday when he was pictured wearing his own national debt counter.
A photo of Massie wearing a small debt clock on the left breast pocket of his jacket was shared to Twitter by CNN Capitol Hill reporter Melanie Zanona on the same day that Massie was named to the powerful House Rules Committee.
"@RepThomasMassie built himself a national debt counter," Zanona wrote.
Massie has long been critical of the level of U.S. national debt and has indicated that he's likely to oppose raising the debt ceiling later this year. The debt ceiling will have to be raised by Congress to pay for spending that has already been approved.
"Democrats argue we must raise the debt limit because we've already spent the money and we must pay our bills. That's not true," Massie tweeted on Monday.
"It's true that Congress voted to spend the money. However, the money hasn't been spent yet. You can't spend money you don't have or haven't borrowed," he added.
The Republican, who represents Kentucky's 4th congressional district, has made the national debt a major issue throughout his time in Congress. He was first elected to the House in 2012 and took office that year after winning a special election.
In 2018, Massie spoke to Spectrum News 1 about the fact that he had installed a national debt clock when he became a member of Congress.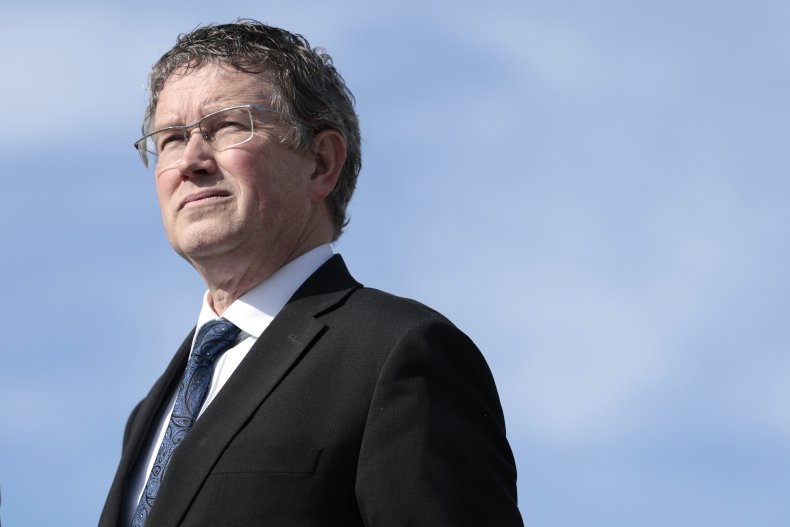 "When I came to Congress six years ago, the first thing I did was put a debt clock on the wall out there in my lobby. It was $16 trillion, now it's over $21 trillion," Massie said at the time.
The U.S. hit its debt limit of $31.4 trillion last week, leading the Treasury Department to adopt "extraordinary measures" to cover the nation's debt. Congress will need to raise the debt ceiling by June to avoid a potential default, which could have major economic consequences in the U.S. and worldwide.
On Monday, Massie pointed to the fact that in 2019, he had forced a vote on whether to rename the debt limit suspension bill "A bill to kick the can down the road and for other purposes."
"They've since changed the rules of the House to keep me from doing this again…" Massie added.
Speaker of the House Kevin McCarthy named Massie to the House Rules Committee on Tuesday—a role that will give him an opportunity to question committee chairs on proposed bills. Massie has often been critical of the GOP leadership but he supported McCarthy in all 15 rounds in the election for speaker.
Massie has also been appointed to the Select Subcommittee on the Weaponization of the Federal Government, which is likely to probe a variety of matters relating to the Biden administration.
Newsweek has asked Representative Massie's office for comment.