Vox Machina is back, and the troupe of plucky heroes have their work cut out for them in the second season of The Legend of Vox Machina.
Prime Video's new R-rated series tells the story of Vox Machina, a traveling group of misfits turned swords-for-hire who help rid the land of Exandria of evil, and the second season premieres on Friday, January 20 with its first three episodes.
Now in its second season, the show has an array of new and returning guest stars joining its lead cast and creators Sam Riegel, Travis Willingham, Taliesin Jaffe, Laura Bailey, Liam O'Brien, Marisha Ray, Ashley Johnson and Matthew Mercer.
Here is everything that you need to know.
'The Legend of Vox Machina' Season 2 Cast: New and Returning Guest Stars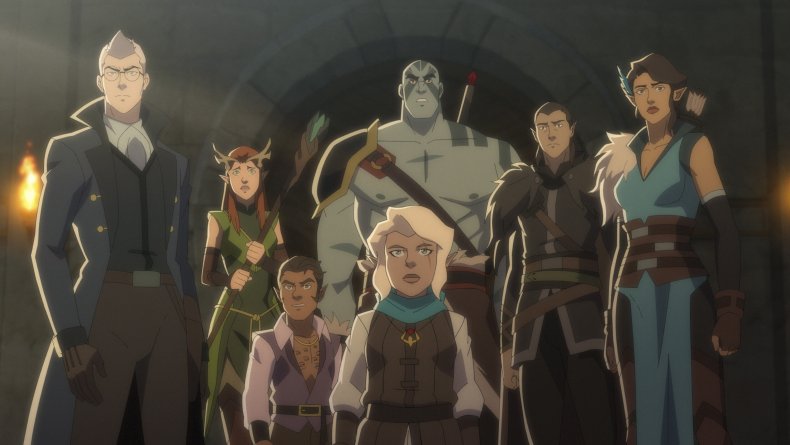 Critical Role began when Riegel, Willingham, Jaffe, Bailey, O'Brien, Ray, Johnson and Mercer got together in 2013 for a one-off playthrough of Dungeons & Dragons (D&D) to celebrate a birthday, and two years later they shared their campaign with the world.
The campaign, which consists of weekly videos, podcasts and so much more, sees the voice actors continue to play D&D together as the characters they created all those years ago, and it has quickly become a worldwide phenomenon.
The Legend of Vox Machina is an adaptation of Critical Role, and it began as a Kickstarter project made by the group who intended to make a one-off 22-minute animated special for Critters (the name of their fanbase).
The campaign blew up and was so incredibly popular that fans donated more than $11 million to the cause, leading to The Legend of Vox Machina becoming a series for Prime Video that was greenlit for multiple seasons from the get-go.
Vox Machina is comprised of Scanlan Shorthalt, Grog Strongjaw, Percival de Rolo, twins Vex'ahlia and Vax'ildan, Keyleth and Pike Trickfoot.
In Season 2, Riegel (Scanlan), Willingham (Grog), Jaffe (Percival), Bailey (Vex), O'Brien (Vax), Ray (Keyleth) and Johnson (Pike) reprise their roles as the troupe while Mercer will also continue to voice Vex's grizzly bear companion Trinket and a variety of other characters.
Guest stars for the new season include Troy Baker, Will Friedle, Billy Boyd, and Henry Winkler. While Stephanie Beatriz, Indira Varma, Gina Torres, Kelly Hu and Esmé Creed-Miles will return after appearing in Season 1.
Every New Guest Star in 'The Legend of Vox Machina' Season 2:
Will Friedle as Kashaw
Henry Winkler as Wilhand Trickfoot
Lance Reddick as Thordak
Cree Summer as Raishan
Mary Elizabeth McGlynn as Zahra
Billy Boyd
Alanna Ubach
Cheech Marin
Troy Baker
Sendhil Ramamurthy
Ralph Ineson
Every Returning Guest Star in 'The Legend of Vox Machina' Season 2:
Stephanie Beatriz as Lady Kima of Vord
Indira Varma as Lady Allura Vysoren
Gina Torres as Keeper Yennen
Kelly Hu as Dr. Anna Ripley
Esmé Creed-Miles as Cassandra de Rolo
The first three episodes of The Legend of Vox Machina Season 2 are out on Prime Video now, and a further three episodes will be released each week.