This Sunday marks the 50th anniversary of the Supreme Court's ruling on Roe v. Wade, which paved a path for women to choose to have an abortion across the U.S., without fear of legal reprisal. In a 7-2 ruling, the highest judges in the land held that the act was protected under the constitution, as the fourteenth amendment provides a fundamental right to privacy.
It is a ruling that remained controversial for many people for many years. It prompted what claimed to be the longest-running annual demonstration in the world. And of course, in June 2022, the same court—albeit with very different judges—overruled Roe v. Wade by 6 to 3. The majority opinion held that abortion was not protected by the constitution as it "makes no express reference" to it, returning the "authority to regulate" the act back to individual states.
Since that ruling was handed down, 13 states, including Texas, Idaho and Alabama, have brought in full bans on abortion. Georgia has enacted a six-week ban. Bans on abortions taking place later on in the pregnancy have been passed in four states, including Florida and Arizona. Many of the total bans do not include exceptions for pregnancies conceived through rape or incest.
"Now, the people once again have the power to enact, through their elected representatives, compassionate laws that protect moms and unborn children," Jeanne Mancini, president of the March for Life, an annual anti-abortion demonstration, told Newsweek ahead of their fiftieth march in Washington, D.C. on Friday.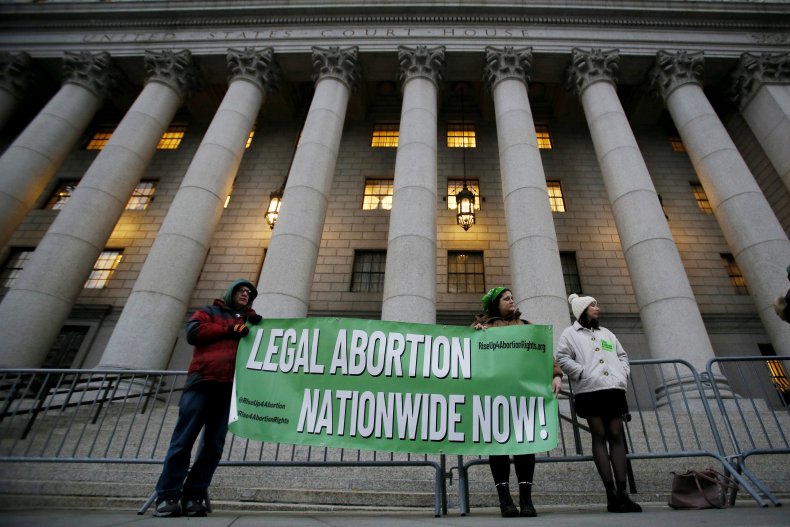 However, pro-abortion activists in areas that have outlawed the practice say the states were eyeing a total ban well before June 2022. "On September 1, 2021, Senate Bill 8, Texas's near-total abortion ban went into effect," said Blair Wallace, a policy and advocacy strategist at the American Civil Liberties Union (ACLU) in Texas. "And what the Supreme Court did was, despite Roe being the law of the land at that time, they allowed this near-total abortion ban to go into effect, and so unfortunately Texas has been dealing with the fallout of Roe being overturned well before it was technically overturned."
She told Newsweek that since the ban had taken effect, 99 percent of abortions had ceased in the state, and all abortion clinics have been forced to close. "The effect has been horrendous," Wallace added. "Not only are people being forced into pregnancies, there are people who are facing near death before they are able to get the medical care they need, and oftentimes having to travel to other states to receive that care."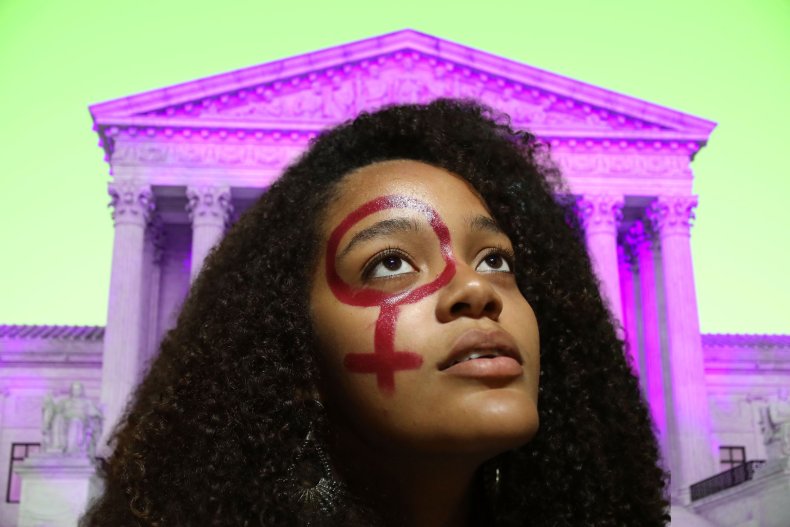 Other states are in a similar situation: for instance, Jackson Women's Health Organization, Mississippi's only abortion clinic, whose legal battle with the state ultimately led to Roe v. Wade being overturned, closed its doors on July 6 last year, not long after the Supreme Court ruling.
"There are still states where you can still get abortion care, but they might be thousands of miles from where you live," Reverend Katey Zeh, CEO of the Religious Coalition for Reproductive Choice (RCRC), said. "And if you don't have the resources to get yourself there, how are you going to get one? I think our bodily autonomy, our ability to make moral decisions, is a sacred right that can't be taken away by a legal system. However, the inability to access what you need rules that out."
Now that Roe v. Wade has been overturned, March for Life said this year's demonstration and the overarching aim with its activism would be to attempt to bring about a "cultural" shift along with the legal shift.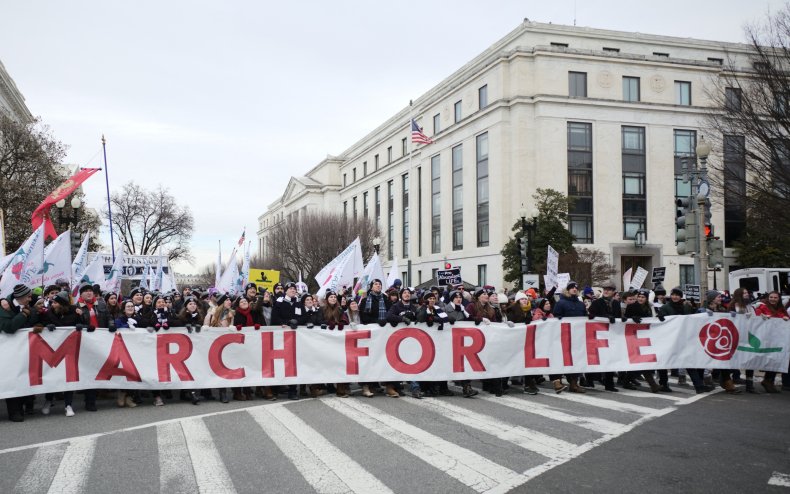 "Our organization's mission is to unite, equip and mobilize pro-life Americans in the public square at the national and state level," Mancini said. "Our goal is making abortion unthinkable. We work to change hearts and minds and laws."
"What you see in the March for Life and other anti-abortion religious organizations is what I would call a weaponization of Christianity for political gain, and they've been quite successful with it," Zeh said. "Christianity itself is not monolithic on this issue, and it certainly doesn't speak for the plurality of religious traditions that people are part of in this country."
She added: "What we call 'white Christian nationalists' have done such a good job politically in pushing their point of view that we almost just conflate being a person of faith with being anti-abortion because of how successful they've been with that messaging. The truth is that within the scriptures of Christianity, there is no mention of abortion—there's very little attention paid to fetal life at all. So when folks claim that there's a biblical grounding for being anti-abortion, that is a theological interpretation that has no grounding in the text whatsoever." March for Life was contacted for further comment.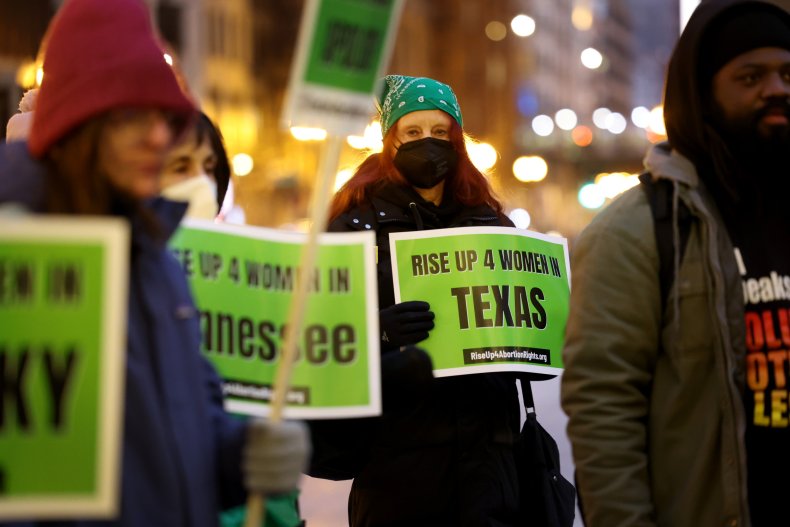 Organizations such as March for Life may have their work cut out, if ACLU polling, which shows only around 11 percent of Texans agree with the abortion ban, is to be believed.
"I think there's a real misunderstanding about Texans' views on abortion," Wallace said. "Texas is not the extremist Republican state that people often look at it [as]." She noted that many people were struck by the overturning of Roe v. Wade, adding that the decision has "really woken up a lot of people".
"A lot of folks in the general public were not prepared for the decision to come down in the way that it did," Zeh agreed. "And so the conversation has broadened to people who were not really paying attention before, who now are seeing the devastating impacts of what a lack of abortion looks like at a scale that we have not seen, at least during my lifetime."
Another 50th anniversary this year is of the RCRC's founding. It originated in a network of clergy who supported women who sought abortions prior to 1973's ruling, when abortion was illegal across the U.S., but morphed into an advocacy group not long after Roe v. Wade came into effect.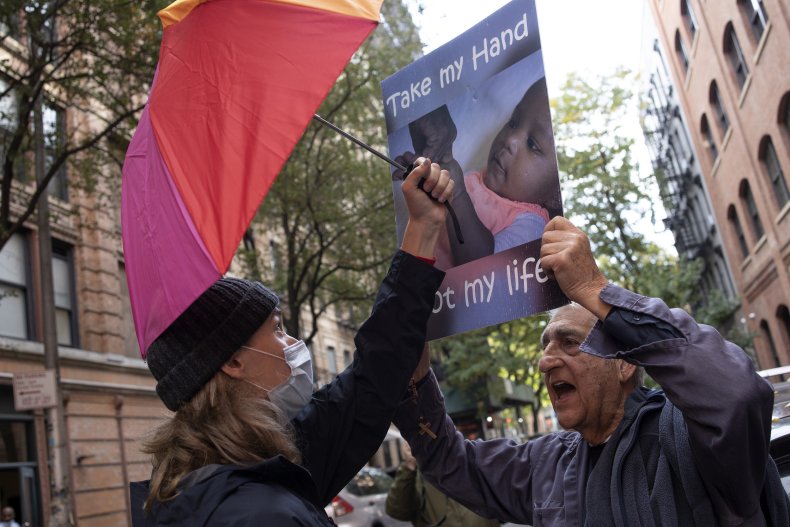 Now that abortions are much harder to come by in many states, though, how does the fight for abortion rights continue? Abortion-rights organizations have bold hopes.
"We know that Roe was the floor and not the ceiling," Wallace said. Part of ACLU's "long-term agenda" includes "the Supreme Court actually upholding precedents and things like that," she added. "Maybe that's a little bit of magical thinking for now, but it's something that's going to be part of our decade-long plan, rather than something overnight."
"The damage that has been done in this ruling is going to take many years to heal" Zeh responded. "I don't think there's an overnight fix for this because of the damage that's already been done. However, I think moments like this give us a real opportunity to reimagine what we're trying to create: what is the world we want to live in?"
Referencing the results of November's midterm elections, Wallace argued that people are voting on the issue again; analysis of the results shows a majority voted in favor of abortion rights. She added: "I feel really renewed and excited for the fight."
Newsweek contacted the Supreme Court for comment.