No one said it was going to be easy. Our mission to cannonball (but drive at a reasonable and respectable rate) a trip from Disneyland in Anaheim, California, to Walt Disney World in Orlando, Florida in a Kia EV6 electric car was tougher than anticipated, but not because of seat time.
The route required stops to charge the car at 20-ish locations along the way. Along the road, we learned some tough lessons about electric vehicle (EV) infrastructure as well as the bits of EV life that are beneficial.
Many of these issues are universal, but using a different charging network, like Tesla's Superchargers, may relieve some of the stress.
Some of the issues we were prepared for ahead of time, having gotten hundreds, of hours behind the wheel of EVs over the last decade, and knowing the ins and outs of best practices for fueling with electrons.
Here are our biggest takeaways.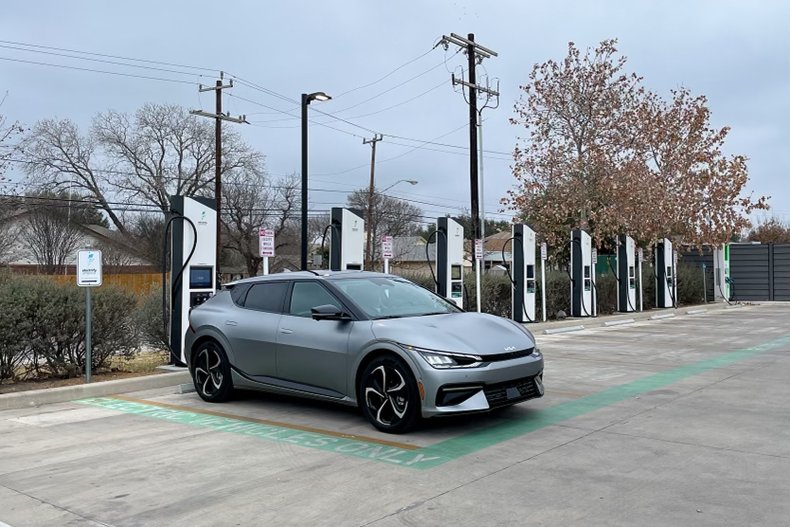 Plan to be disappointed.
No charging speed ever met what the Kia EV6 is capable of handling. Twice it came close, and only two other times did the charger actually deliver anything close to its maximum charging speed.
At times, the flow out of a fast charger was slower than what you'd typically get out of a 110-volt socket at home.
While the cold weather didn't help, the temperatures along the route weren't extreme, never dipping below 30 degrees and never getting higher than 70 degrees. We even used the EV6's Winter Mode during the coldest times to improve driving and charging performance.
This lack of capability slowed the entire journey. Not knowing how long you're going to have to sit at a stop is a stressor, especially when you know you're traveling to a less than desirable location after dark.
Alternatives aren't always available
Along the Interstate 10 route traveled, there were long swaths of highway where there was no alternative public charging source other than one provider at one charging depot.
The next one would be about 200 miles away, so topping off was necessary. Not only did that lengthen time between stopping and starting, but it also produced a fair amount of range anxiety.
Additionally, there would be challenging landscapes along the way – mountains, rolling hills, and rough roads.
There was one stretch where we drove for about three hours in near freezing temperatures in the middle of the night, without climate control on, just to get to the next location due to range anxiety from the distance between charging points, combined with mountainous terrain.
We were not beholden to any one charging provider and tried out ChargePoint, Electrify America, EVgo and Duke Energy chargers during the trip.
Garbage bins aren't present like at gas stations
Only a few of the charging locations were near businesses where trash bins were available, unlike at a gas station where they seem to be at every pump.
While most locations were clean, there were a few that were downright disgusting, complete with rats, masses of ants, litter (including a half-used and open jar of peanut butter teeming with insects) and beer bottles.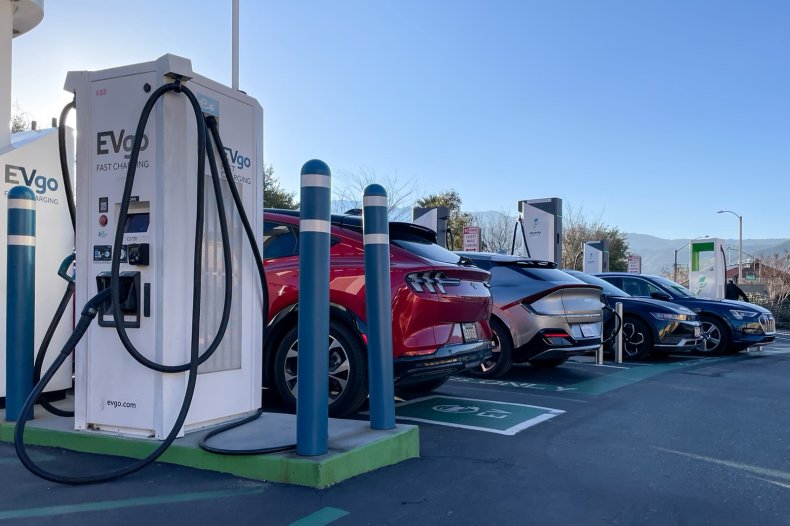 Wheels, tires and rain matter more than you may have realized
Added into the electric vehicle charging location challenge is what happens when the vehicle encounters inclement weather. Torrential downpours didn't just cause us to have to drive slower, it caused the on-demand all-wheel drive system in the EV6 to activate, propelling the tires through plenty of water resistance.
We found that this, along with the necessary use of front defrost climate control and windshield wipers, combined to decrease range more than terrain or speed had throughout the entire journey.
You can't always pick your charging speed
Sure, a location may have three 150 kilowatt chargers, but only the 50 kilowatt charger off to the side may be the only one that's available. When you're in a pinch, beggars can't be choosers.
Thankfully, most fast chargers allow you to see what percentage someone is charging at. If a vehicle only has a few percentage points left to charge, it may be worth waiting to see if they're moving away soon, freeing up the space.
It's worth noting that higher charging speeds also typically cost more.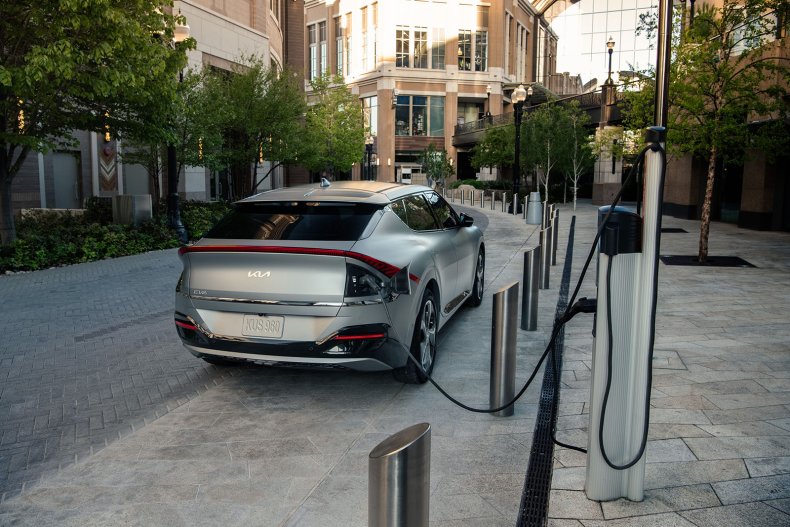 Charging locations aren't ideal
Sure, some charging locations are perfect with easy in/out, facilities and food nearby, plenty of chargers. Others are not. In fact, most are far from it.
Many locations we experienced had challenging parking situations with the chargers located within a diagonal pull-in space with narrow curbs and parking space block that didn't easily work with the EV6's charge port location.
However, we also experienced some really good setups that allowed pull-through over a larger space, similar to a gas station. Many were well-lighted.
A few positioned the power supply units for the chargers in a location that limited surround visibility, which left us feeling like our personal safety may have been compromised.
Bathroom breaks often require another stop
This issue is similar to the garbage bin one. If you stop to charge at a Walmart or Target, the facilities and what we'll call "entertainment factor" are higher than if you're parked in front of a deserted Econo Lodge.
If you're not going on your road trip without stops like we were, the experience becomes easier because you're able to stop for meals, which usually come with the benefit of a restroom nearby.
Extra space in an EV's cabin offers a road trip win
The beauty of an electric powertrain is that it doesn't require a transmission tunnel running through the center of the vehicle, taking up cabin space. This allows for flat floors and more a more spacious cabin design.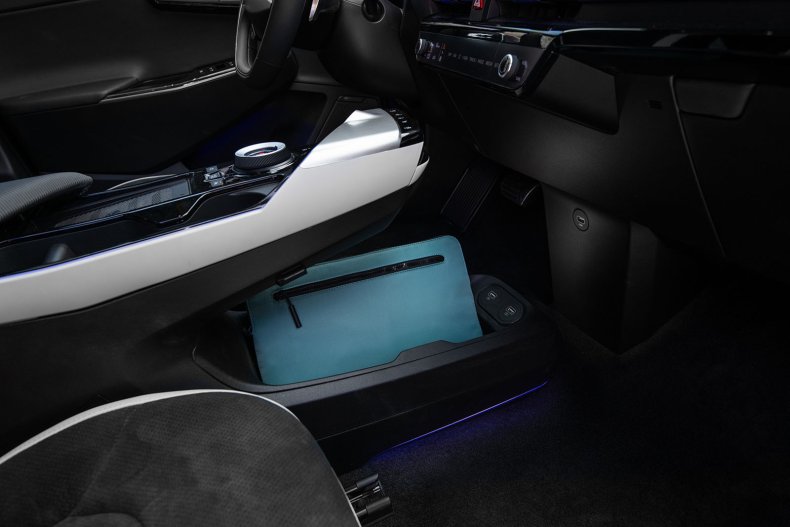 In the EV6, designers opted to allow the car's center console to have minivan-like characteristics, with a deep covered storage area and a lower bin-like space that's perfect for storing snacks, wallets, purses, unopened drinks, brochures, and a garbage bag. We made full use of the area and are happy to report that it was truly a highlight of the car.
Charging session fees aren't always apparent up front
Unlike when you fill up with a gallon of gas, the charge for filling up on electrons isn't always a per kilowatt-hour charge. Sure, that's a part of it, but there's also a taxes, sometimes a session fee and charges for staying past your charging time (usually there's a window of forgiveness).
One station we stopped at did not advertise the session fee up front. We only found out via the reviews on the ChargePoint app. But, because there were no other charging locations
Always be ready to find a backup charger, if possible
In this era, EV roadtripping still requires a fair amount of planning. That means finding your next charging station before you leave the last, and discovering if there are any alternative charging locations nearby.
It also means having a buffer zone for range to hit any alternative location if necessary, and having plans if none of that works out so you're not stranded.