Dozens of civilians have reportedly been killed as the Sudanese military and a powerful paramilitary group battled for control of the country for a second day on Sunday.
Fighting broke out between the army and its rival, the Rapid Support Forces (RSF), on Saturday following months of tensions. The country has been run by generals since the two sides joined forces to oust president Omar Hassan al-Bashir in 2019.
Diplomatic pressure for a cease fire is mounting, with the United States, the United Kingdom, China, Russia, Saudi Arabia, the European Union and others calling for an immediate to end hostilities.
At least 56 civilians have been killed in the clashes, according to the Central Committee of Sudan Doctors. The organization said almost 600 people have been injured, including civilians and fighters.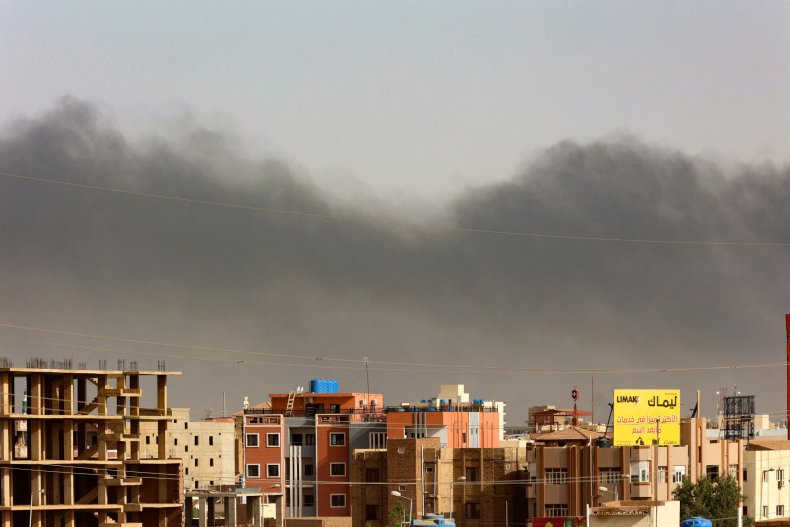 The fighting, reported in the capital of Khartoum, the adjoining city of Omdurman and in flash points across the country, intensified on Sunday.
Reuters reported that the army struck a base belonging to the RSF in Omdurman on Saturday night.
Both the army and the RSF have claimed to be in control of Sudan's airport and other strategic locations in the capital. Those claims could not be independently verified.
Flights to Khartoum have been suspended, neighboring Chad has closed its border with Sudan and Sudan's MTN telecommunications company has blocked internet services on the orders of the government telecommunications regulator.
The fighting comes after tensions over the RSF's integration into the army, which has delayed a deal with political parties to facilitate the country's transition to democracy.
General Abdel Fattah Abdelrahman, the head of the military, has reportedly ruled out negotiations until the dissolution of the RSF.
General Mohammed Hamdan Dagalo, the head of the RSF, told the satellite news network Al Arabyia that he had ruled out negotiations. Dagalo called on Burhan to surrender.
John Godfrey, the U.S. ambassador to Sudan, said on Saturday that he "woke up to the deeply disturbing sounds of gunfire and fighting."
He said he was "sheltering in place with the Embassy team, as Sudanese throughout Khartoum and elsewhere are doing."
In a statement, the U.N. Security Council said its members "urged the parties to immediately cease hostilities, restore calm, and called on all actors to return to dialogue to resolve the current crisis in Sudan."
U.S. Secretary of State Antony Blinken said he had consulted with the foreign ministers of Saudi Arabia and the United Arab Emirates.
"We agreed it was essential for the parties to immediately end hostilities without pre-condition," he said in a statement. "I urge General Abdel Fattah Abdelrahman al-Burhan and General Mohamed Hamdan Degalo to take active measures to reduce tensions and ensure the safety of all civilians.
"The only way forward is to return to negotiations that support the Sudanese people's democratic aspirations."