Steve Bannon Issues Warning to Donald Trump
Former President Donald Trump has received a stern warning over a supposed addition to his leadership team from his one-time advisor, Steve Bannon.
Trump recently announced that he will be launching his presidential campaign staff in South Carolina, a key early primary state, on Tuesday with a special event in Columbia. Among those tipped to appear at the event are the state's Republican Governor Henry McMaster, who has already spoken out in support of Trump's 2024 bid, and Senator Lindsey Graham, who is expected to endorse him soon, according to the Washington Post.
This latter addition to the event appears to have raised alarms with Trump's former adviser, as Bannon took to his War Room program on the conservative news network, Real America's Voice, to denounce the Senator as a "snake" and to urge the former president against having him around.
"I have no earthly idea why [Graham's] around [former] President Trump," Bannon said. "He's a cancer. He is a cancer, that's metastasizing. President Trump's gotta be warned. There's nothing good that comes from having [Senate Minority Leader] Mitch McConnell's mini-me, the snake, Lindsey Graham around you at all."
Graham's support is expected to be significant for Trump in South Carolina, where two Republican lawmakers, Senator Tim Scott and former Governor Nikki Haley, are considering 2024 runs against him.
"Nikki Haley is probably our first South Carolinian since we voted for George Washington that has really had a chance of being president of the United States," former South Carolina GOP chair Katon Dawson told the Post. "And I think the Trump folks are going to run into that history."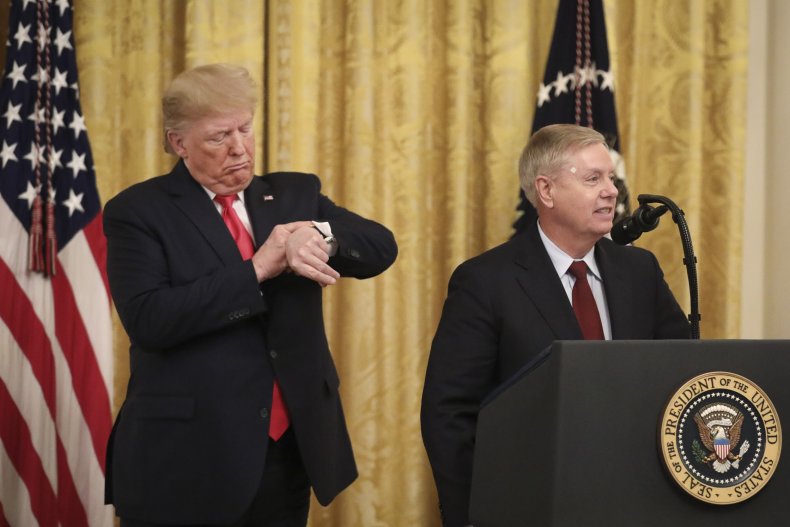 This latest attack is far from the first time that Bannon has gone after Graham for alleged failure to sufficiently support Trump. In January of last year, Bannon accused Graham of being among the group of five Republicans who had secretly agreed to support parts of President Joe Biden's political agenda, while not speaking out in fear of losing voter support.
"The five traitors—and this is Republicans and this is the scumbags and slime balls you have here in the nation's capital… they agree with what [Biden] is doing and they would actually vote and support him but they are afraid of, wait for it, the War Room posse," Bannon said during another War Room broadcast. "They're afraid they will get primaried… And they'd be off the money train, they'd be away from the trough. The hog would be away from the trough.
"We need those five senators to have enough guts to step up, we're going to find out who you are. Have enough guts to step up and tell us, Lindsey Graham, who you are. You five, we need you guys to step up to the plate, Lindsey Graham, and tell us who you are."
Newsweek reached out to Trump and Graham's offices for comment.