Shock as Mom Laughs After Realizing She'd Left Friend's Son Alone by School
A mom who's mad at her friend for leaving her child outside the school gates instead of walking him to class has sparked a debate online.
And, while some people think she's right and her friend endangered the boy, others think she should just be grateful to her friend for helping her out.
In a post shared on Mumsnet earlier in January, under the username Bubblegirly, the mom explained that because she is a working mom and her home is not so far from her five-year-old son's school, her friends pick up the boy every morning and leave him to school.
According to the National Fatherhood Initiative, about 72 percent of moms and 93 percent of dads in America have a career outside of their home, and only about 28 percent of moms and seven percent of dads stay at home full-time.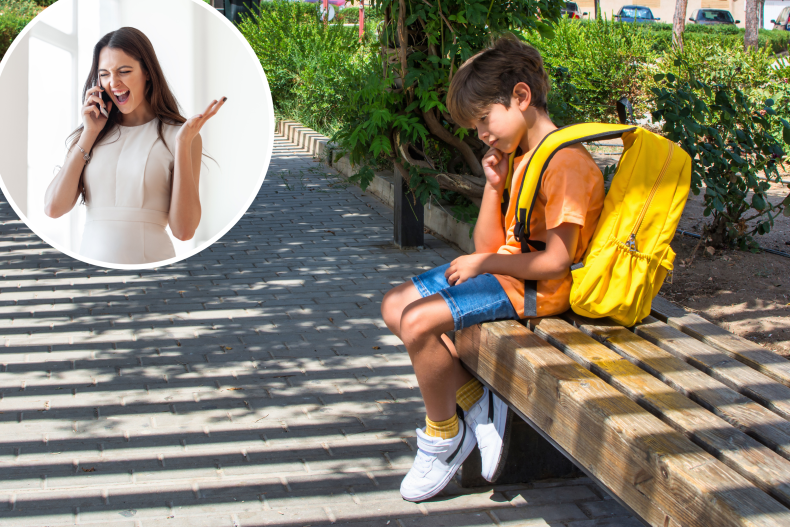 The poster said that recently one of her friends brought the child to school but forgot about him and only walked her own child to school, while the boy was left alone outside the school gates.
She explained that because he is so young and because his class is on the other side of the building, he is not capable of walking there on his own and needs to be walked by an adult.
When the child realized he was left alone, he asked another mom to walk him to class, and she didn't hesitate to help him and then call the boy's mom and tell her everything.
According to the poster, the mom who walked the boy to school told her that her friend phoned her around 2.45 and said she had just realized she didn't drop the child to class and when she reassured her that she did, the friend laughed it off saying she was "miles away."
She wrote: "Friend hasn't told me any of this. I'm feeling really upset and can't stop thinking about what if something had happened. What if he hadn't thought to ask someone to take him in or walked in the road etc and she didn't realize till over five hours later[?] My child could have been potentially missing or lost for five hours and I wouldn't have known."
Florence Ann Romano, personal growth strategist, and author of Build Your Village: A Guide to Finding Joy and Community in Every Stage of Life, told Newsweek that they should talk it out.
She said: "She could simply call her and say: I appreciate you helping me out, but I am afraid I wasn't more clear regarding my drop-off instructions. It was relayed to me today that he wasn't properly escorted to his classroom, and had to rely on another mom to do so. As you can imagine, it must have been scary and awkward for him to have to seek out another parent (though I am very happy he had the conviction to do so).
"As moms, I know we depend on one another when support is needed. This support should bring peace of mind, but this situation wasn't executed in a manner that did so. Therefore, in the future, could we please agree on the instructions ahead of time to avoid any miscommunication?"
Most of the 1740 users who voted on the Am I Being Unreasonable poll, agreed the poster was not being unreasonable, with a majority of 71 percent of votes.
One user, NeverDropYourMooncup, said: "I'd probably leave it and just never ask her for anything again."
And LordSugarTits added: "Well, she's laughed it off because the alternative is to make it into a massive deal with her at the center of it. Who will be taking him instead? It's a lot to expect every morning from your friends. Although obviously, she should've made sure he got into school today!"
Comedycook said: "I wouldn't trust her ever again."
And brillianthopefulness wrote: "Yikes. I just can't imagine forgetting someone else's child! I just would never trust her again. But I feel like she should know that you know. Though I'm guessing the mutual friend doesn't want dropping in it. I think you might want to consider a childminder to do drop-offs."
On the other hand, rwalker commented: "She made a mistake sure she won't do it again. [if you're] not happy do it yourself."
Newsweek was not able to verify the details of the case.

Are you and your friend stuck in an argument? Let us know via life@newsweek.com. We can ask experts for advice, and your story could be featured on Newsweek.