Russia's 'Paranoia' on Full Display As Kremlin Preps For Attack on Moscow
Air defense systems were reportedly installed on top of several buildings in Moscow recently in what experts believe could signal that Russia is paranoid about the safety of its capital amid the war in Ukraine.
Pictures and videos were circulating on social media Thursday of Pantsir-S1 air defense systems that were spotted on top of a couple Moscow buildings, including one used by the Russian Defense Ministry.
While neither the Kremlin nor the Russian Defense Ministry seems to have publicly confirmed or commented on the installation, the bolstering of Moscow's air defenses came as Russia continues to warn the West against providing Ukraine with munitions that could give it the capability to strike deep inside the country.
Kremlin spokesperson Dmitry Peskov said Thursday that it would be an escalation if Western countries provided Ukraine with long-range weapons, per India's NDTV. While President Joe Biden said last year that the U.S. would not send rocket systems to Ukraine that can strike into Russia, Ukraine may have the capability to do so without Western help.
The Kyiv Independent reported last Friday that the Ukrainian defense company Ukroboronprom announced it had completed testing of a long-range drone. The drone has a range of more than a thousand kilometers, equivalent to more than 620 miles, and a payload of roughly 165 pounds, according to the news outlet.
Additionally, Russia blamed Ukraine for strikes last month on two airfields hundreds of miles inside Russia's border. Ukraine did not officially claim responsibility for the attacks, which Russia alleged had been carried out by drones.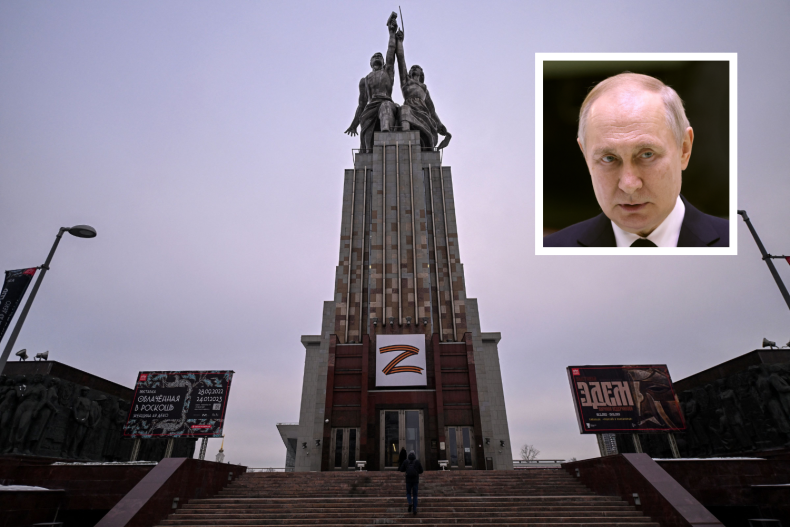 Sean Spoonts, a U.S. Navy veteran and editor-in-chief of Special Operations Forces Report (SOFREP), told Newsweek that the reported Pantsir-S1 installations in Moscow could reflect "Russian paranoia." However, he said that he was "skeptical" that Ukraine would actually choose to attack the city, mentioning that other targets would be more tactically beneficial for Ukraine in the war.
Spoonts also noted that the bolstering of air defenses in Moscow could be "theater" on Russia's part, since they could frame the installations as a response to purported fears that Ukraine will attack the Russian capital.
"Putin would love for Ukraine to shoot a cruise missile at Moscow so that they could frame themselves as the victims of this attack," Spoonts said.
He added that the air defense additions could also be attributed to Ukraine putting out false information suggesting that they intend to hit targets in Moscow in an attempt to draw Russian attention and resources away from another front.
Dan Soller, former U.S. Army intelligence colonel, said that if it was confirmed that the Pantsir-S1 systems were newly deployed in Moscow, a fact that has yet to be verified by Russia, this would suggest that "Russia is finally recognizing that Ukraine does have the ability to strike deep inside of Russia." He cited Ukraine's alleged involvement in the Russian airbase strikes last month.
Soller told Newsweek that he believes Moscow and the Kremlin are beginning to understand that "they can be targeted."
"So it would be a natural extension for them to actually put up these defenses," he added.
William Reno, professor and chair of the political science department at Northwestern University, told Newsweek that Russia's installation of the air defenses in Moscow could be politically motivated.
"I suspect capital city air defenses are more about mitigating the risk of tactically insignificant but politically damaging attacks," he said. "Such events would challenge the narrative that Russia's government protects its citizens and that its military defenses are impregnable."
He also noted the December strikes on Russian airfields and other points inside of Russia's border in recent months that have been blamed on Ukraine.
"It may simply be that officials are taking precautions to avoid an incident that could cause them a gigantic headache, were it to occur," Reno said.
The significance of the newly-spotted Pantsir-S1 systems is lessened by the fact that Ukraine does not currently have long-range missiles "that could do real damage," he added. And there have been no definitive indications at this point that the U.S. or other Western countries intend to provide them.
"If they were to get such weapons from the west, we would hear a huge reaction from Russia's government," Reno said. "Putin has made clear that he would regard that as crossing a red line."
Newsweek reached out to Russia's Defense Ministry for comment.