Russian state television aired its latest nuclear threat amidst the war in Ukraine, with former Russian Army commander Andrey Gurulyov suggesting nuclear weapons should be used following a series of military setbacks.
Gurulyov, currently an MP in the State Duma, has not been shy in referring to Moscow's nuclear capabilities during his appearances on the program Evening with Vladimir Solovyov.
Last month, he said that Russia should use atomic weapons to attack the United States to avenge its support, both military and financial, for Ukraine and that Americans "won't come to their senses" until they "get hit with a nuke on their skull."
On Monday's program on the channel Russia 1, he revisited the nuclear theme, this time advocating for the use of the weapons to achieve the Kremlin's war aims.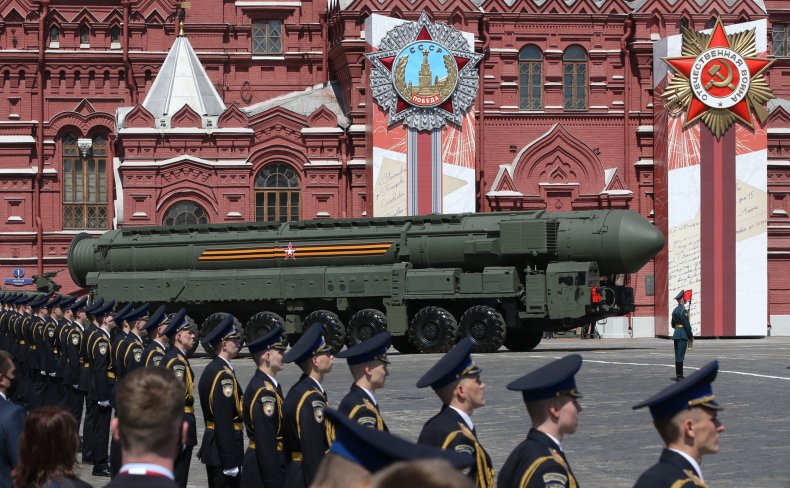 "We should not be afraid of what is unnecessary to be afraid of," Gurulyov said in a clip tweeted by Ukrainian internal affairs adviser Anton Gerashchenko. "We need to win, that is all. We have to achieve this with the means that we have. I would remind you that a nuclear weapon is not just a bomb, it is the heritage of the whole Russian people.
"We have the right to use it to defend our homeland," he said, advocating "changing the doctrine" which was "just a piece of paper."
"It is worth making a decision," he added.
Russian doctrine calls for the use of nuclear weapons that could threaten Russia's very existence, although this is not clearly defined.
The specter of nuclear weapons has hung over the war since the start of Vladimir Putin's invasion on February 24, 2022, with rhetoric about Russia's capabilities being a regular feature of Russian state television.
However, analysts have downplayed the prospect of Moscow resorting to nuclear weapons, in part because they would not deliver any advantage for Putin. Meanwhile, U.S. intelligence officials consider the nuclear threat to have abated—for the time being, at least.
This is due to a more stable battlefield, warnings from Beijing and better communication between Moscow and Washington, The New York Times reported this month.
But last week, former Russian President Dmitry Medvedev raised the notion that Moscow could use nuclear weapons if Ukraine tried to retake Crimea, the peninsula that the Kremlin illegally annexed in 2014.
Currently the deputy chairman of the Security Council of Russia, Medvedev told a Russian journalist in an interview published on Telegram that any Ukrainian attacks on Crimea would be met with "retaliation strikes."
He added that the Kremlin is prepared to deploy "all types of weapons," including nuclear, depending on the "nature of the threat."
Newsweek reached out to the Kremlin for comment.