Russian Politician Snaps At State TV Guest After Awkward U.S. Question
A former Russian spy was involved in a tense exchange with a fellow guest on Russian state television, after the latter questioned the belief that people in Russia were better off than those in the U.S.
Maria Butina was jailed in the U.S. in 2018 after admitting to conspiring to act as an unregistered foreign agent, before being deported back to Russia. She now serves as a Russian parliamentary deputy.
She was also accused of trying to establish ties between Russia and the administration of former President Donald Trump and has used her appearances on Russian television to take swipes at the U.S.
But on Friday's edition of Mesto Vstrechi (Meeting Place) on the NTV channel, Butina took exception to being interrupted while she was criticizing the U.S.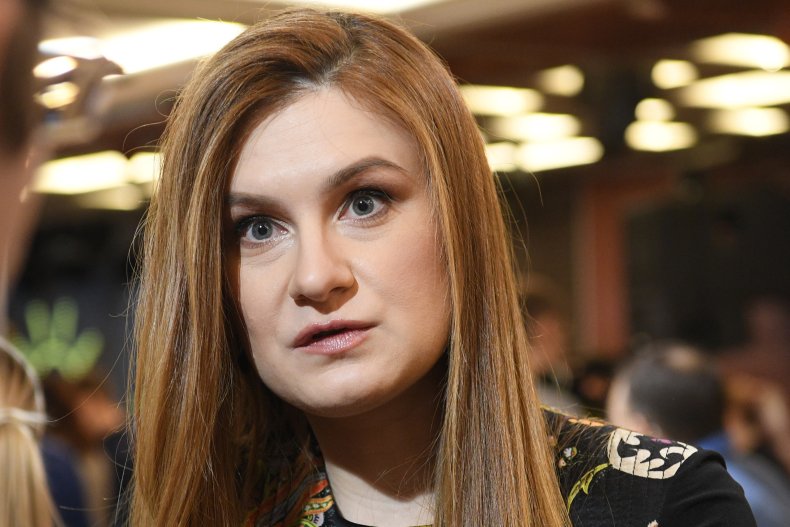 She said that the "average American…blindly believes their government" before launching into a critique of its justice system.
"Americans are so hard-headed about believing the government that their percentage of acquittals by a jury is only 0.3 percent," she said, comparing it to Russia's acquittal rate of "30 percent, if we are talking about jury trials."
It is not clear where she got her figures as conviction rates are very high in Russia, with one report saying that in 2018, only 0.25 percent of court cases ended in acquittal. Meanwhile, the Kremlin's clampdown on dissent has seen many opponents of the invasion of Ukraine face sentences of up to 15 years.
Figures by the Pew Center from 2019 showed that fewer than 1 percent of federal cases in the U.S. the previous year resulted in acquittals.
Butina continued: "we have seen plenty of American ignorance, in comparison, ours is a cultured nation" and described how there were "problems and grudges" in the U.S. and that "regarding their divisions, we are sitting pretty by comparison."
But then fellow guest Viktor Olevich interrupted to paint a less flattering picture of Russia. "Maria, are hundreds of thousands leaving the U.S. in a span of several months?" he asked.
Butina snapped back, "will you allow a woman to finish," before Olevich, a political commentator, trailed off.
Olevich's comments appear to be in reference to an exodus of Russian citizens since the start of the war in Ukraine. As of October 2022, around 900,000 Russians were estimated to have left the country, the number spurred by many fearing being mobilized.
"Maria Butina, who fancies herself a leading expert on America," Davis tweeted, faced "a true mic drop fashion, she was suddenly asked an inconvenient question she couldn't answer."
Olevich had previously told Russian state TV that Moscow was powerless to stop Ukrainian attacks on Russia's infrastructure.