One of Russia's "elite" units, the 155th Naval Infantry Brigade, was made "combat ineffective" at least twice in the last six months, according to the latest intelligence update by the U.K. Ministry of Defence. The report signals that, as previously covered by Newsweek, Russia's top units might actually not be as "elite" as Moscow would suggest.
The Russian Ministry of Defense has recently been running "a deliberate information operation" to revive the reputation of the 155th Naval Infantry Brigade, "which has become synonymous with recent Russian failures in Ukraine," the British intelligence update states.
The 5,000-strong brigade, which gained the elite label of "guards" only during the war in Ukraine, has recently attracted attention for three military failures. These have added to a long list of undistinguished performances from the Russian military since Russian President Vladimir Putin launched the full-scale invasion of Ukraine on February 24, 2022.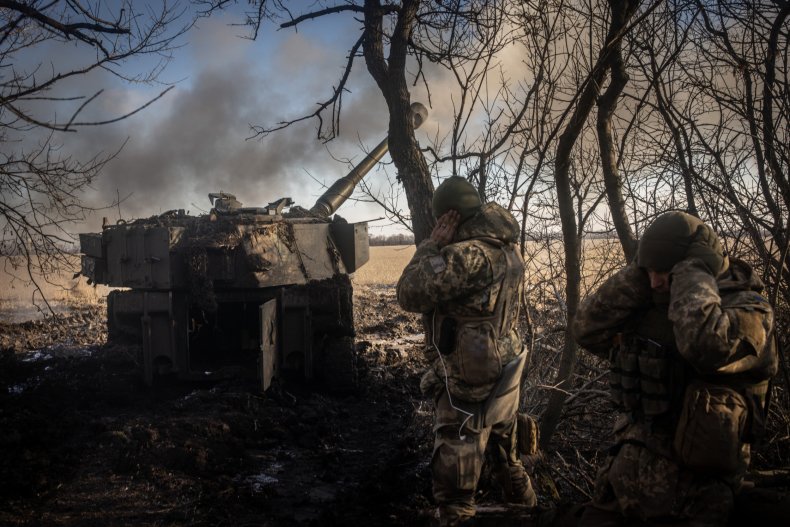 In February 2023, Russian media reported that the 155th Naval Infantry Brigade, primarily made up of mobilized troops, had lost nearly all its combat strength in fighting near the eastern Ukrainian town of Vuhledar in January. In comments to Politico, Ukrainian defense forces claimed that up to 300 marines per day were killed in the assault on the town, while many survivors were taken prisoner.
According to the British Ministry of Defence, Moscow has actively tried to restore the unit's reputation and public confidence in its capability.
"Throughout March 2023, the activities of 155th Naval Infantry Brigade were highlighted via some of the most extensive Russian helmet-cam combat footage yet released, as well as a televised visit by a prominent Russian TV host, Vladimir Solovyov," said the update from the British ministry.
"There were also public announcements that the formation is in 'high spirits [with] a strong determination to achieve the set goals', as well as images showing the 155th being re-equipped with modified tanks," it said.
But these efforts are masking the fact that the unit has suffered a series of significant failures in recent months.
"In reality, the 155th has likely been reduced to combat ineffective status at least twice in the last six months, due to being committed to tactically flawed frontal assaults near Vuhledar in Donetsk Oblast," the British Ministry of Defence wrote.
"The [Russian] MOD's effort to revive the brigade's image likely reflects concern about the way in which its failures were being increasingly associated with Russian senior military leaders," it said.
The British defense ministry recently reported that Putin will be recruiting an additional 400,000 service personnel but it's unlikely that these will be "genuine volunteers."