The Russian military will respond by forcing Ukrainian President Volodymyr Zelensky's troops further away from its borders, a top Kremlin official said Thursday regarding reports that the United States will supply Ukraine with longer-range weapons.
Russian Foreign Minister Sergey Lavrov made the statement during an interview aired by the Russian state-owned news agency Sputnik. While discussing how Kyiv could soon receive new weapons capable of reaching farther distances, Lavrov said Russian President Vladimir Putin's military will react accordingly.
"If now we are seeking to move the artillery of the Ukrainian Armed Forces to a distance that will not pose a threat to our territories, then the more long-range weapons are supplied to the Kiev regime, the further they will need to be moved away from Russian territory," Lavrov said.
On Tuesday, Reuters reported that the United States is readying a new package for Ukraine that is said to contain more than $2 billion worth of military aid. Longer-range Ground-Launched Small-Diameter Bombs (GLSDB) are expected to be part of the new package, which Reuters said is expected to be announced in the coming days.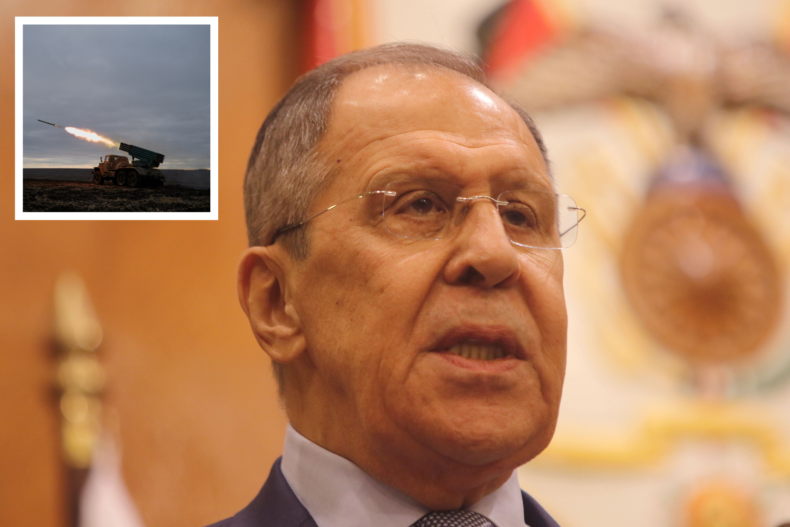 According to a Reuters report in November, GLSDB's 94-mile range would allow Ukraine's forces "to strike far behind Russian lines."
Zelensky has asked for long­-range missiles multiple times, and the GLSDBs represent the farthest-range weapons that the U.S. has provided. Still, the Biden administration has thus far denied Ukraine's requests for 185-mile range Army Tactical Missile System (ATACMS) surface-to-surface missiles.
On Wednesday, Kremlin spokesman Dmitry Peskov addressed speculation that the U.S. would supply Ukraine with longer-range missiles. He said that while such a move could result in Russia responding with an escalation in the war, the main objective of Putin's invasion would remain the same.
"Yes, this [supplying longer-range weapons] is a direct way of fanning tensions and of increasing the level of escalation. We see that. This requires we exert additional efforts," Peskov said, according to the Russian state news agency TASS. "But let me say once again: It will not change the course of events. The special military operation will continue."
In his comments to Sputnik, Lavrov also said the war was escalating due to Western nations giving supplies to Ukraine.
"The fact that the West cannot calm down—and, as in the infamous fairy tales, with every step it gets stuck even more in the swamp—this plays an important role in the course of the [Russian] operation. This escalation…is snowballing," Lavrov said.
Newsweek reached out to the Russian Ministry of Foreign Affairs and the U.S. Department of Defense for comment.