Russia's newly appointed top commander in Ukraine has described the campaign he now heads as a fight with the collective West and said that NATO had spurred his country's military expansion.
Chief of the Russian General Staff, Valery Gerasimov was appointed by President Vladimir Putin on January 11 to head his invasion of Ukraine in a surprise reshuffle, taking over from Sergey Surovikin.
Having taken a less public role in the war over the last few months, he gave an interview to Russian newspaper Argumenti i Fakti published on Tuesday in which he said that modern-day Russia "has never known such a level and intensity of hostilities."
"Our country and its armed forces today are opposed by practically the entire collective West," he said, reiterating the Kremlin position that the war it started was a proxy battle with Ukraine's allies.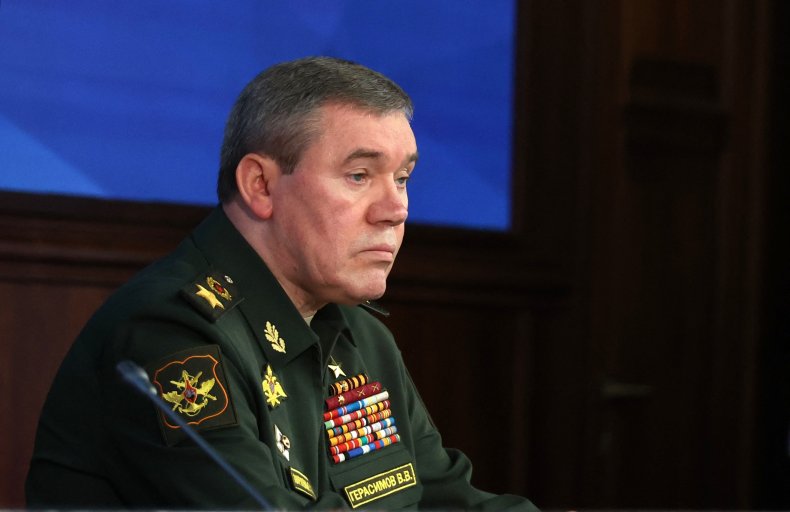 He said that the mobilization announced by Putin in September was "to stabilize the situation, protect new territories and carry out offensive operations."
However, he said that the system to mobilize citizens "was not fully adapted" to a modern economy, "so I had to fix everything on the go." He went on to praise the process that enabled an estimated 300,000 citizens to be called up after Putin announced the partial mobilization in September 2022.
On January 17, Russian Defense Minister Sergei Shoigu announced Putin's plans to expand Russian military personnel to 1.5 million, up from an estimated 1.35 million now.
The changes, scheduled to take place between now and 2026, will also see 12 new regiments be formed, and military districts created in the Moscow and Leningrad regions. There will also be an army corps in the Russian Republic of Karelia bordering Finland, which has declared its intentions to join NATO in light of the threat posed by Russia.
Gerasimov said that Putin's plan may be adjusted in response to "new threats to the military security" of Russia.
These include "the aspirations" of the alliance "to expand at the expense of Finland and Sweden." He also said that Ukraine was being used "as a tool for waging a hybrid war against our country." Newsweek has contacted NATO for comment.
Michael Kofman, director of Russia Studies at the CNA (Center for Naval Analyses), told the War on the Rocks podcast on Monday that Gerasimov had likely taken over from Surovikin because he had the opportunity to "sell a vision for a return to the offensive to achieve Putin's political objectives."
Kofman said that he believed following mobilization, Gerasimov made the argument that while Surovikin had conducted an effective defense, "this is not going to get you the Donbas, you are need to go on the offensive."
The former NATO deputy supreme commander Europe (2011-2014) Sir Richard Shirreff recently described Gerasimov as a general "out of Soviet central casting" telling Newsweek "he will take a sledgehammer to smash a nut."
In another reshuffle among Putin's top brass was the reported dismissal of Colonel General Mikhail Teplinsky who had helped drive Russia's withdrawal in November from the west of the Dnieper River that bisects the Kherson region.