Russia's supply of Iranian-made drones that have been hitting targets in Ukraine has likely dried up, according to British defense officials.
In its daily update, the U.K. Ministry of Defense described reports that the Shahed-136 unmanned aerial vehicles (UAVs), also known as kamikaze drones, had not been used by Russian forces since February 15.
Although Tehran has denied supplying them, the UAVs have been key for Russia's air campaign targeting civilian and energy infrastructure in cities across Ukraine.
British defense officials noted how Ukrainian armed forces were shooting down at least 24 of the UAVS per day between January and February. But a lack of deployments of the drones probably shows that Russia "has run down its current stock" and would seek a "resupply."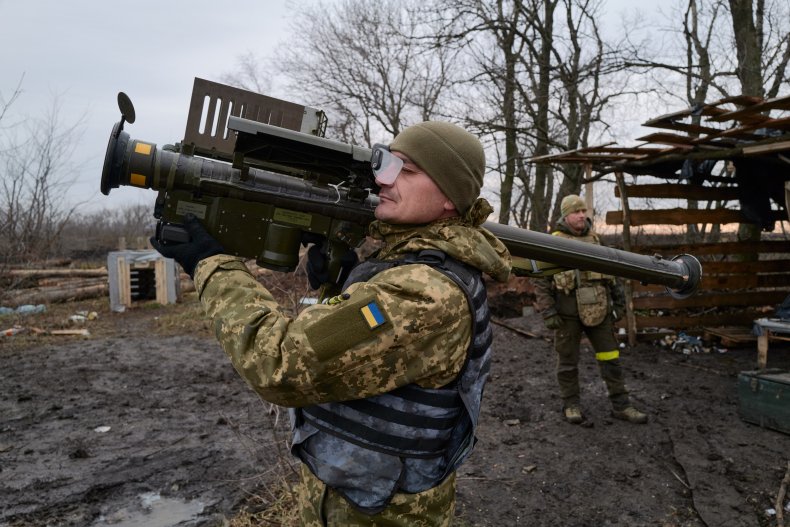 The U.K. MOD said that the weapons did not have a good record in destroying their intended targets, but Moscow probably considers them to be "useful decoys which can divert Ukrainian air defenses from more effective Russian cruise missiles."
Newsweek has contacted Russia's defense ministry for a response to the British assessment, which emphasizes Russian losses and Ukrainian gains.
It comes amid reports that Russia is looking to China to source drones similar to the Shahed-136s. U.S. Secretary of State Antony Blinken said Chinese firms were providing "non-lethal support" to Russia and new information suggested Beijing may soon give "lethal support". Beijing has rejected the accusations as false.
CNN reported on Friday that Chinese officials had not made a final decision on lethal aid but are discussing the price and scope of the supply of attack drones and ammunition with Moscow.
Meanwhile, German outlet Der Spiegel reported on Thursday how Moscow is negotiating with Chinese drone manufacturer Xi'an Bingo Intelligent Aviation Technology to produce and deliver 100 ZT-180 drones to Russian forces by April.
Sources told the publication that the design of the unmanned aerial vehicle may be similar to the Shahed-136 kamikaze drone.
In a response to the report, a contractor for Xi'an Bingo told VICE World News that the company had no business relationships with Russia. Newsweek has contacted Xi'an Bingo Intelligent Aviation Technology for comment.
In its daily update, the Institute for the Study of War (ISW) said on Friday that Moscow officials are likely to be looking to Chinese defense manufacturers due to restrictions that sanctions have placed on Russia's defense industry.
But President Joe Biden told ABC News that the U.S. "would respond" if Beijing gave Moscow lethal weapons.
"We've imposed severe sanctions on anyone who has done that," Biden said, although he added, "I don't anticipate a major initiative on the part of China providing weaponry to Russia."
Newsweek has contacted China's foreign ministry for comment.