Russia lost three drones that were key to defending its front line against Ukrainian advances, Kyiv's military said Tuesday, as the Russia-Ukraine war approaches its one-year mark.
The General Staff of the Armed Forces of Ukraine wrote in an operational update early Tuesday morning that its troops shot down three Russian drones, known as ZALA Lancet unmanned aerial vehicles, on Monday. These UAVs offered Russia both surveillance and strike capabilities and mark the latest loss suffered by Moscow's troops just three days before the anniversary.
"During the day, Ukrainian Air Force conducted 16x air strikes against concentrations of Russian troops and military equipment, and attacked 1x anti-aircraft missile complex on its firing position," the update reads. "Moreover, Ukrainian forces shot down 3x "Lancet-type" unmanned aerial vehicles.
Ukrainian missile and artillery troops attacked 2x positions of enemy air defense systems and Russian MLRS battery."
Russia's latest losses come nearly one year after President Vladimir Putin launched the Ukraine "special military operation," initially aiming for a quick, sweeping victory over his Eastern European neighbor, which was perceived as having a relatively weaker military.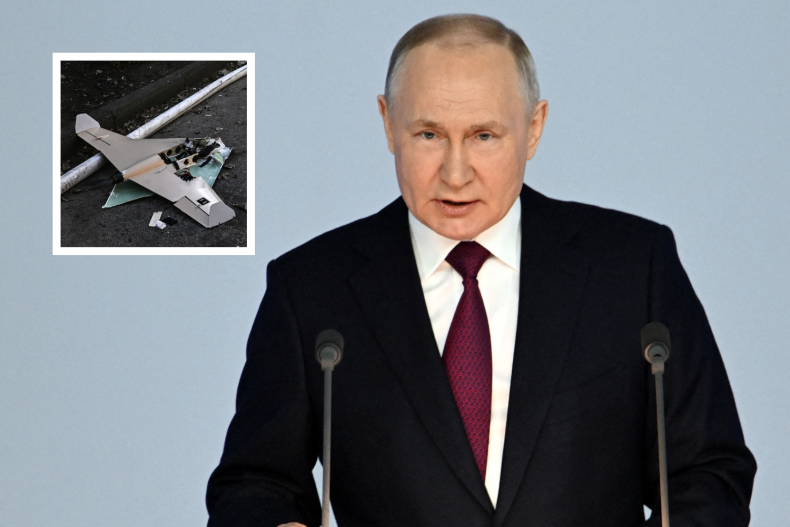 But Ukraine responded to the Russian invasion with a stronger-than-expected defense effort, that has been bolstered by billions of dollars in Western military aid that has blunted Russian military gains. Ukraine launched its own counteroffensive last fall, retaking thousands of square miles of formerly occupied territory.
As Ukraine continues to hold off Russian advances, Russia has experienced its own difficulties on the battlefield, including a lack of motivation among troops. Ukraine has also claimed to have destroyed substantial amounts of Russian military equipment throughout the conflict, including the downing of these three lancet drones.
What Are ZALA Lancet Drones?
ZALA Lancet drones are a Russian-produced UAV that first entered service in 2019, according to Military Today. They travel at a maximum speed of roughly 186 miles per hour and are used for both reconnaissance and attack missions.
Russia first announced the drone's use in Ukraine in June 2022 and has used it to strike Ukrainian targets including air defense systems, Military Today reported.
According to Starshe Eddy, a Russian pro-war Telegram channel, Lancets played a "very important role in the defensive phase" for Russia on the Svatovo-Kremennaya frontline in eastern Ukraine.
Russia used Lancets to conduct counter-battery flights and to knock out "dozens of" Ukrainian artillery systems, according to Starshe Eddy.
Ukraine has previously claimed to shoot down other Lancet UAVs. In December, the 121st Terrodefense Brigade of Kirovohrad Oblast shared photographs appearing to show two downed Lancet drones.
How Many Drones Has Russia Lost in the Ukraine War?
Throughout the war, Ukraine has provided daily estimates as to how much Russian equipment they have destroyed, but these figures have not been confirmed by Russia and have not been independently verified.
As of February 21, Ukraine claims they have destroyed 2,023 operational-tactical level UAVs, according to the Ukrainian Ministry of Defense. It remains unknown exactly how many drones remain in Russia's arsenal. However, Moscow received a boost from Iran, which has supplied its military with Shahed-136 drones.
Newsweek reached out to the Russian and Ukrainian defense ministries, as well as military analysts, for comment.