Ukraine's Ministry of Health said on Wednesday that Russia has targeted more than 1,200 medical facilities since the war began almost a year ago. Of those, more than 170 were destroyed.
Oleksandr Komarida, the first deputy of the Minister of Health, said Russia's aggression has ruined 1,206 medical facilities, and that about $1 billion will be needed for repairs, according to the health ministry's website.
"Every day, we receive figures from each region on the destruction and damage of medical infrastructure. Unfortunately, these numbers are growing almost every day, especially in the front and near-front territories. Our hospitals, maternity hospitals and dispensaries continue to become targets for Russian missiles and projectiles. But Russia will not break us with any such "attacks. We are already rebuilding the destroyed hospitals so that our patients have full access to the necessary medical care," Komarida said.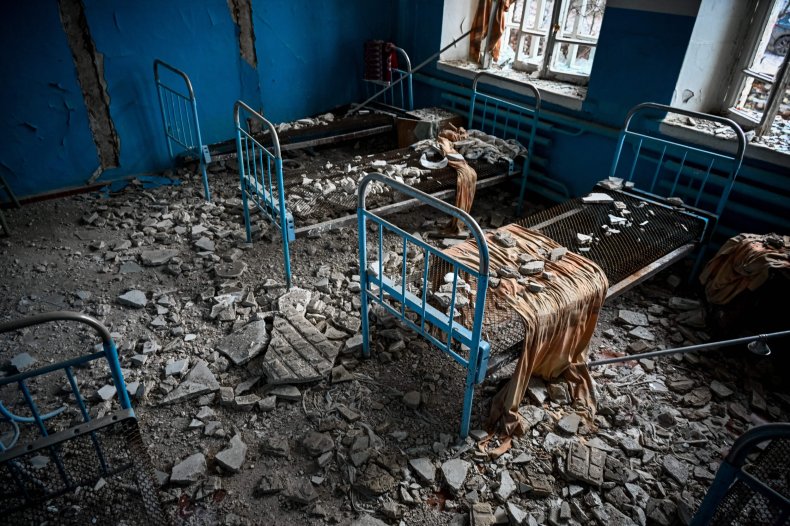 Komarida said that 171 medical facilities have already been destroyed but added that 143 facilities of medical institutions that suffered minor damage or destruction as a result of shelling were completely restored. These include maternity wards in some Ukrainian hospitals. More than 250 medical facilities have been partially restored, Komarida said.
Newsweek reached out to the Ukraine Ministry of Health for further comment.
Most of the medical facilities that have been rebuilt are in the Kyiv, Chernihiv, Zhytomyr and Dnipropetrovsk regions, the health ministry stated.
The World Health Organization last year, shortly after the war began, said Ukraine had seen two to three attacks on health care per day of which the WHO "condemns these attacks in the strongest possible terms."
"Attacks on health care are a violation of international humanitarian law, but a disturbingly common tactic of war — they destroy critical infrastructure, but worse, they destroy hope," Dr. Jarno Habicht, a WHO representative in Ukraine, said then. "They deprive already vulnerable people of care that is often the difference between life and death. Health care is not — and should never be — a target."
The war between Russia and Ukraine hit its 11-month mark on Tuesday, and Russia's losses have piled higher in the last few months. With averages of 500-700 losses per day, Russia could possibly lose another 15,000-21,000 losses over the next 30 days, which could put its losses between 140,000-150,000 casualties since the war began on February 24, 2022.
The defense ministry on Wednesday listed 910 Russians killed, which brought the 336-day total to 123,080 Russian casualties.
Ukraine President Volodymyr Zelensky during his New Year's address to the nation said Russia is "afraid" and that he senses "fear."
"They are afraid. You can feel it. And they are right to be afraid. Because they are losing. Drones, missiles, anything else will not help them. Because we are together. And they are together only with fear," Zelensky said.
Russia's war of aggression in Ukraine has now entered its 12th month, they but failed to take the capital of Kyiv, getting pushed back by Ukrainian fighters. Ukraine fighters have also shown a staunch defense in northern cities like Kharkiv, where they pushed Russian troops back toward the nearby border.
Ukraine has been given a myriad of battle tanks from Western allies that will arrive in the next few months, including 31 Abrams tanks from the United States.