Florida Governor Ron DeSantis' endorsement of Harmeet Dhillon to chair the Republican National Committee (RNC) has proved futile, while a rivalry with his potential 2024 opponent former President Donald Trump is heating up.
Incumbent Chairwoman Ronna McDaniel secured another term after RNC members cast secret ballots during an annual meeting in California on Friday. McDaniel secured 111 votes, more than doubling the 51 ballots that committee members cast for Dhillon. Long-shot candidate Mike Lindell, who told Newsweek earlier this week that he was feeling "really good" about his chances, received four votes.
During a Thursday interview with conservative activist Charlie Kirk for Florida's Voice, DeSantis said that it was time for a "change" at the RNC and threw his support behind Dhillon, an attorney and California Republican Party official.
"I think we need a change," DeSantis said. "I think we need to get some new blood in the RNC. I like what Harmeet Dhillon has said about getting the RNC out of D.C."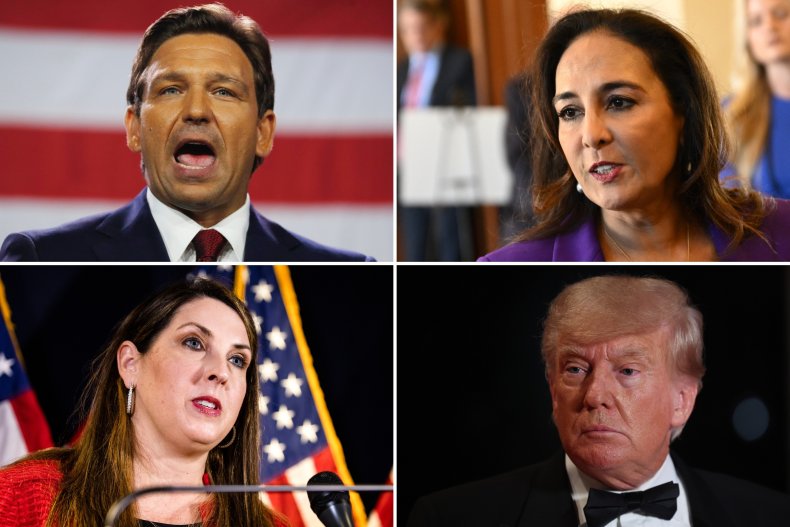 Following an unexpectedly poor showing for Republicans in November's midterms, particularly among high-profile Trump-endorsed candidates in competitive races, some observers had expected the RNC chair election to be more competitive.
A poll released by Rasmussen Reports on Wednesday found that a majority of Republican voters did not want McDaniel to retain her position as RNC chair. Lindell, favored by 30 percent of respondents, was the top choice to replace her.
However, GOP voters do not choose the RNC chair and Dhillon being easily crushed by McDaniel on Friday suggests that Republican officials favor the status quo, regardless of the party underperforming in each of the last three major national elections.
The result also highlights the relatively modest influence that DeSantis, who many speculate is weighing a 2024 presidential run, may currently have over party elites, especially in comparison to the former president.
The Florida governor is performing well in some polling of a hypothetical GOP primary matchup against Trump, who in November announced that he would be seeking a nonconsecutive second term.
Having handpicked McDaniel to become RNC chair in 2017, he was reportedly backing her in private to retain the position on Friday, something of which RNC insiders were likely aware.
The former president refrained from making a pubic endorsement for the RNC chair election at the request of McDaniel, according to a Friday Associated Press article that cites anonymous sources with direct knowledge of the situation.
Trump did congratulate McDaniel for her victory in a Truth Social post, while repeating unsubstantiated allegations that Democrats were "cheating" in elections.
"Congratulations to Ronna McDaniel on her big WIN as RNC CHAIR," Trump wrote. "Now we have to STOP THE DEMOCRATS FROM CHEATING IN ELECTIONS!"
Newsweek has reached out to the office of DeSantis for comment.