Rian Johnson has always loved a good detective story, and he shows his passion for it through his work, whether that's his powerful debut movie Brick, mega-hit franchise Knives Out, or his new drama Poker Face starring Natasha Lyonne.
Johnson told Newsweek that he doesn't want to mix his two most-recent works together, despite the similarities, not unless he wants to "sell out."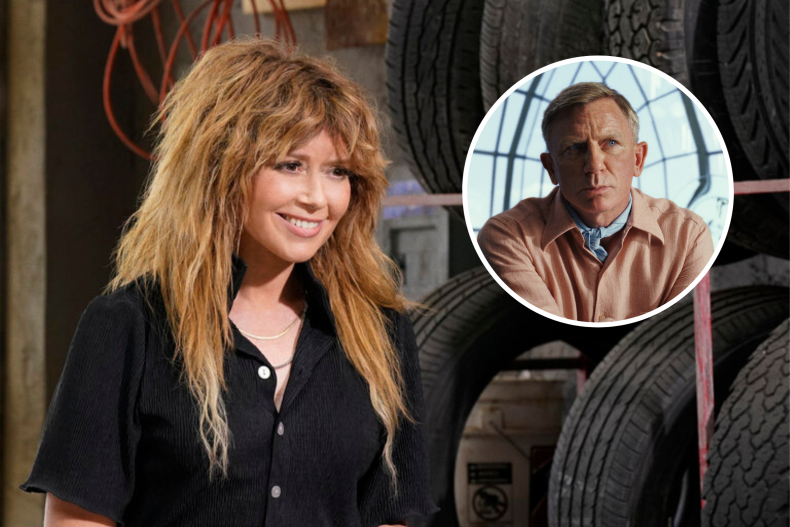 Poker Face sees Lyonne play Charlie Cale, a would-be detective who is able to tell immediately if someone is lying, just by looking at them. This helps her solve a number of cases when she is forced to go on the run across America.
While Johnson said he thinks Charlie and his other quirky detective Benoit Blanc (Daniel Craig) would make "a formidable crime-solving couple," he would prefer not to have them interact together on screen.
Rian Johnson Won't Mix 'Poker Face' With 'Knives Out' Unless He 'Sells Out'
Craig has portrayed Benoit Blanc in two films so far, Knives Out and Glass Onion, with a third on the way for Netflix, and Lyonne appeared in the second film as herself in a brief but memorable cameo.
But, even though Johnson has had the same actors portray multiple characters in his work, including the Knives Out franchise, it doesn't seem like Lyonne will be portraying Charlie opposite Craig's Benoit Blanc anytime soon.
"I feel like that they would be a formidable crime-solving couple," the director said of the characters. "I highly doubt it just because, for me, they're just such different genres, just because Glass Onion and Knives Out [are] whodunnits, where you have a group of suspects in which one did it, and this [show] I'd call it the 'howcatchem'.
"It's like the Columbo style of [show.] You see who's done it and then it's, 'How is Natasha going to catch them?'" said Johnson.
"But also, the tone of the two things is slightly different, and, yeah, I don't know, church and state. Let's keep it [separate], at least for now, until we have a Christmas special, and I sell out and throw the Muppets in there, too. Why not?"
Lyonne told Newsweek that she would be open to it, but only if Johnson decided it was something he wanted to explore.
"Listen, one can dream, you know?" the actor shared. "I mean, I love Daniel Craig in those movies so much, and I just don't have the answer for you. But I'm tech-avail as they say in the biz, so I'm just waiting for a text message."
Rian Johnson and Natasha Lyonne Created Charlie Cale Together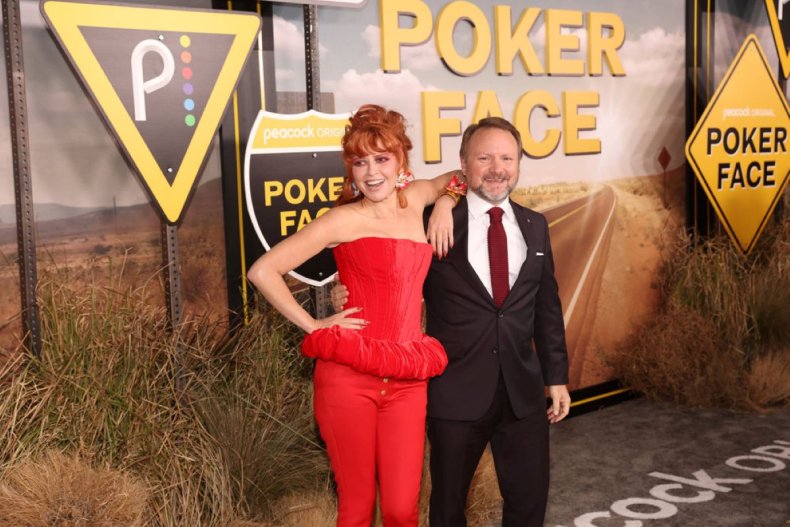 Charlie Cale was a creation of both Johnson and Lyonne, who became fast friends after being introduced to each other by the director's wife, Karina Longworth, and knew that they wanted to work together.
Lyonne said: "We just started kicking around ideas and when he sent me a script, about a year later, I was really blown away by how beautifully he executed the whole thing.
"You know, he's just such a funny person and he's so brilliant, and he really knows how to create a puzzle box just impeccably.
"I think we just really shared a love of Elliott Gould's portrayal of Philip Marlowe in [Robert] Altman's The Long Goodbye. It was something that was really a key way in, also for me in creating Nadia Vulvokov in the show I created, Russian Doll, and that's where you get Oatmeal the cat from, and stuff," said Lyonne.
"So, here we were looking at […] how does this noir-archetype also marry Jeff Bridges as The Dude in The Big Lebowski? Someone who's kind of got the sun on their back and sort of smiles at people, and this idea of really fighting for the underdog, and that just when she sees a puzzle, or something not right, she's got to go all the way in and see that through to the end. So it was pretty fun."
Johnson also referenced several classic detective dramas as inspiration for Poker Face, as he added: "The start of the whole thing was me kind of liking the idea of doing the sort of TV show I grew up watching, the kind of thing that was on, like, four times a day on re-runs, like The Rockford Files, Columbo, Magnum P.I.
"The thing about those shows that I quickly realized is, I don't really come back and watch them for the mystery. I come back to hang out with Peter Falk, or to hang out with James Garner. And, so, what they really need is a presence at the center of it that is charismatic and just so watchable that you want to come back and see that person catch a bad guy every single week," added Johnson.
"And when I became friends with Natasha and saw her work in Russian Doll, I realized this is a collaborator who could bring that to the table.
"I think, for Charlie, the thing that we kind of found that's a little unique is Charlie really likes people. She's got an openness and a sunny curiosity to her, and that was kind of a new thing for Natasha. She was like, 'Oh, I think this character likes people. That's a new thing for me,'" The Last Jedi director added.
"Not that she doesn't like people, but the people she's played have tended to be more cynical, so I think the acidity that Natasha has [and] brings to the screen, combined with a sunny character, makes this really interesting mixture that is just like, 'Oh, yeah. I want to hang out with this person every week.'"
Poker Face premieres on Peacock with its first four episodes on Thursday, January 26, and the show will air weekly Thursdays thereafter.