A dog named Smile has drawn emotional reactions online after a video of her reaction to her foster family coming home after two days away went viral on social media.
In the video shared Sunday on TikTok by Smile's foster family, under the username Stephsayitall, the terrier mix can be seen smiling at her rescue family and waving her tail as she lies on their bed, overjoyed to see them again.
The heartwarming post comes with a caption that says: "We were gone for a couple of hours and we came back to Smile laying in our bed! Pssssttttt she's out of quarantine early!!!!!" This was followed by: "I don't know how I'm going to be able to let her go!"
About 3.1 million companion dogs enter U.S. animal shelters nationwide every year, a decline from approximately 3.9 million in 2011, according to the American Society for the Prevention of Cruelty to Animals.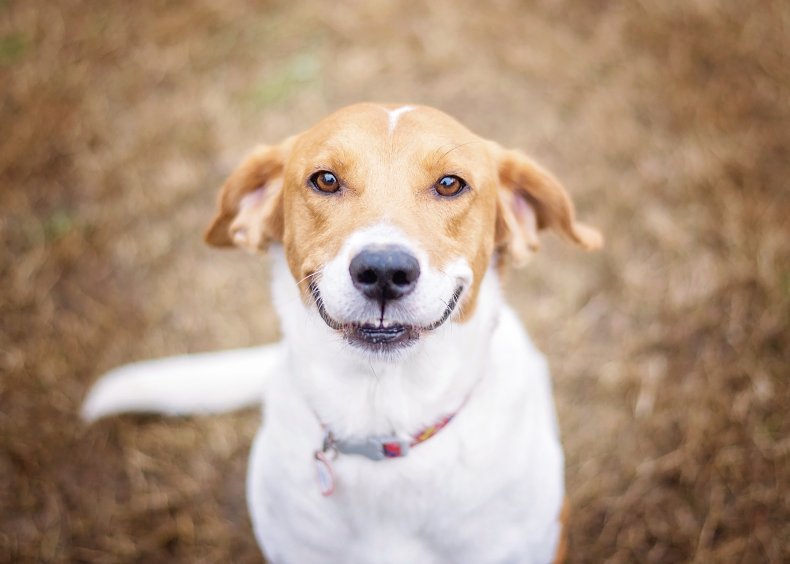 Each year, approximately 390,000 shelter dogs are euthanized, but this number is also declining, partially because of a rise in the number of animals adopted and an increase in the number of stray animals successfully returned to their owners.
Moreover, about 2 million shelter dogs are adopted each year, and approximately 710,000 dogs that enter shelters as strays are returned to their owners.
The TikTok video has quickly attracted animal lovers, receiving over 117,200 views and 29,000 likes so far.
One user, Bookluver, commented: "There is no way I would give up this dog." And Meaghan_theee_scallion said: "I will take a bakers dozen of her please!!!"
Rick Wimmer wrote: "Dogs just make our lives so wonderful don't they."
Elizabeth Ramos6573 said: "Omw, that would equal a foster fail for me & worth it too!" Chicosma added: "Oh how precious. She is a keeper for sure!! She is home."
Another user, Stacy Miller, commented: "Oh man. You have to keep her. She has chosen you Steph." Grandmachickie said: "Such a cutie and that happy smile…she is so." And hanabrodeur18 wrote: "The most precious baby."
Lori KC said: "I'm sobbing." And Andrea wrote: "She is the most precious thing ever. I would do anything for her sweet soul."
Mammabear wrote: "Her smile brings me to tears!" And Cookie49 simply said: "The smiles."
Newsweek could not verify the details of the case and reached out to Stephsayitall for comment.
Do you have funny and adorable videos or pictures of your pet you want to share? Send them to life@newsweek.com with some details about your best friend and they could appear in our Pet of the Week lineup.