Top GOP officials are encouraging West Virginia Governor Jim Justice to run for Joe Manchin's Senate seat in 2024, but their strategy of recruiting GOP governors for Congress has failed in the past, according to political experts.
Republicans predicted a "red wave" to overtake Congress in the 2022 midterm elections, but instead, the party narrowly secured the House and lost the Senate to Democrats. Despite their Senate win, Democrats hold a slim majority that could be challenged in the 2024 elections. Manchin, a Democrat, may be the party's key to maintaining its majority in 2024, especially in the traditionally red state of West Virginia.
Neither Manchin nor Justice, a Republican, have announced a run for Senate, but both have considered the idea. As an incumbent, Manchin has an advantage over Justice, but Justice—a former Democrat—is well-loved in the state, securing his gubernatorial reelection bid in 2020 by 33 points. Manchin also has sided with Republicans on certain issues, which has angered his Democratic colleagues. Justice could be the GOP's best chance at turning West Virginia back to their favor, and the governor is confident in his ability to win if he seeks the seat.
The GOP has a history of slating Republican governors as potential Senate candidates, but the ideal candidates don't also follow through with the GOP's plan. The strategy failed in 2022 when three Republican governors backed by the GOP declined to run for Congress.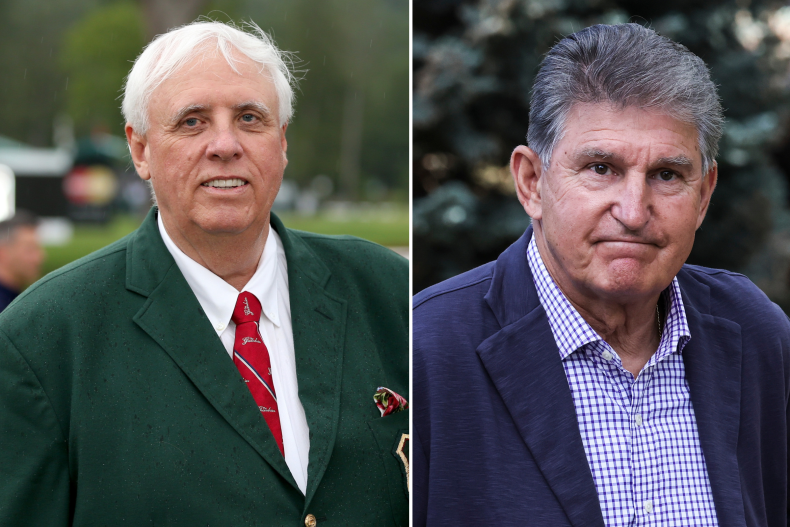 In New Hampshire, a battleground state that can set the tone for the 2024 election since its one of the first states to vote, Republican Governor Chris Sununu chose to run for a second term as governor instead of challenging Democrat Maggie Hassan for Senate, despite GOP backing. Sununu won his reelection bid easily and Hassan secured the Senate seat.
The GOP also repeatedly attempted to urge Doug Ducey, Arizona's Republican governor who was bound by term limits, to run for Senate. Ducey also declined, and Democrat Mark Kelly won the state's Senate seat. Meanwhile, Democrat Katie Hobbs also secured Ducey's former gubernatorial seat in a close battle against Republican and Donald Trump-endorsed candidate Kari Lake.
Larry Hogan, also a term limited governor, but this time in the blue state of Maryland, also turned down a potential Senate bid. Democrat Chris Van Hollen won over Republican candidate Chris Chaffee by 31 points. Democrat Wes Moore secured Hogan's vacated seat as governor.
However, Jim Burton, a political strategist with PoliticalVIP, told Newsweek on Friday that although Republicans weren't successful with governors running for Senate in 2022, every election cycle is different, and the strategy could be successful in 2024. If Justice chooses to run for the Senate, he has a good chance of securing the seat, Burton said, adding that Justice won his gubernatorial reelection bid by more than 30 points in 2020. Trump secured West Virginia with a 39-point win over Joe Biden during the 2020 presidential election.
Manchin's reelection was a much closer race in 2018 when he won against Republican Patrick Morrisey by roughly 19,000 votes.
"West Virginia is becoming redder each year," Burton said. "If Governor Justice decides to run for U.S. Senate, he will have strong backing from the voters in West Virginia and national Republicans are ready to support his campaign."
If Justice and Manchin decide to run for the seat, David Washington, a political strategist for PoliticalVIP, believes Justice could serve as a strong challenger to Manchin, specifically because of Manchin's failure to ensure the Mountain Valley Pipeline.
Washington told Newsweek on Friday that Manchin attempted to pass a bill that would finalize construction for the Mountain Valley Pipeline through West Virginia. The natural gas pipeline system is roughly 94 percent complete, according to its website. Before Republicans were able to transition into the House in 2023, Washington said Manchin thought he had a window of opportunity to pass the bill.
"Because climate groups put pressure on elected officials, that deal got blown up," Washington said.
Washington added that Justice also poses a threat because West Virginia residents "want a Republican in that seat and not just a Democrat that entertains them every once in a while."
"Republicans don't see a reason why they don't keep control of the house and West Virginia is the pathway to get control of the senate, so [Manchin's] got to go," Washington said.