A puppy named Zora has melted hearts all over the internet after a video showing how "in love" she is with a painter doing work in her house went viral on social media.
The video was shared on TikTok on Saturday by the dog's foster family, under the username Saracarstens. The rescue pup can be seen jumping all over the painter, asking to be stroked, while getting paint all over her fur.
The heartwarming post comes with a caption that reads: "Our new rescue puppy is in love with our painter." All through the video, the poster can be heard saying: "She loves you. Wow! Are you full of paint? Are you a painter dog?"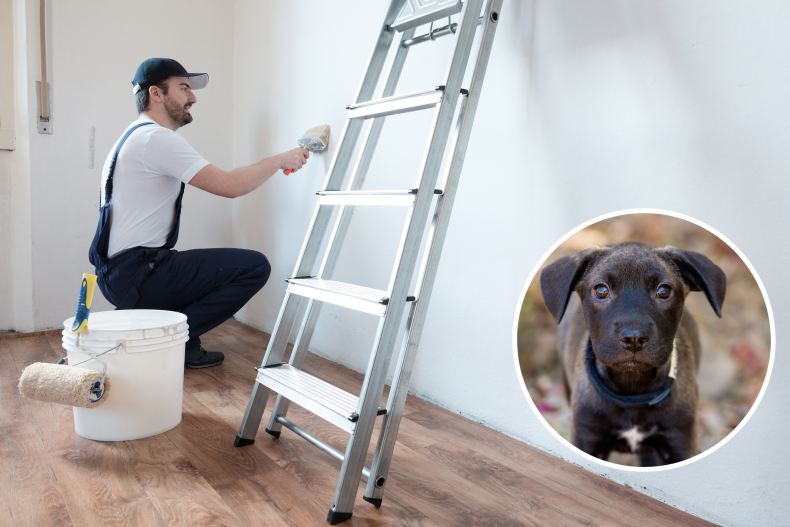 Later, the poster also explained that the puppy has been adopted and will have a new family soon. Zora, a mixed Labrador retriever breed, was rescued from the streets.
According to the American Society for the Prevention of Cruelty to Animals (ASPCA), around 3.1 million companion dogs enter U.S. animal shelters nationwide every year. About 710,000 dogs who enter shelters as strays are returned to their owners, and around 2 million shelter canines are adopted annually.
Moreover, each year, around 390,000 shelter dogs are euthanized but, recently, the number has declined. This is thanks to an increase in the percentage of animals adopted and in the number of stray animals successfully returned to their owners.
The TikTok video quickly gained popularity on social media, attracting animal lovers from across the platform. It has so far received almost 615,000 views and nearly 100,000 likes.
User ecu commented: "marry the painter." And kelkelcas posted: "Lifetime movie in the making! So cute!" Cast wrote: "The tail wiggles cannot be contained."
Dianna commented: "This pup is adorable but the painter." And gabi added: "i am also in love with the new painter." Julie said: "Awww I wish he adopted her." And fishnchips100 added: "I hope so, because she has chosen him."
Another user, Bubba, commented: "Animals are like this with my husband, they gravitate to him and that is because animals can sense kind people." And Jorjahoward2008 wrote: "Maybe she was a painter in her life."
Newsweek reached out to Saracarstens for comment. We could not verify the details of the case.
Do you have funny and adorable videos or pictures of your pet you want to share? Send them to life@newsweek.com with some details about your best friend, and they could appear in our Pet of the Week lineup.