Putin's Critics Are Getting Louder
Almost a year into the Ukraine war, Russian President Vladimir Putin is facing a growing chorus of criticism over his handling of the conflict.
The Institute for the Study of War (ISW), in an assessment published on Wednesday, drew attention to the fact that key Russian figures, including Wagner Group founder Yevgeny Prigozhin, and former Russian commander Igor Ivanovich Strelkov, also known as Igor Girkin, are increasingly vocalizing their discontent with the Russian leader.
Prigozhin, who founded the paramilitary group that provides soldiers for hire, and other notable voices in Russia are "carving out a new space to criticize Russian President Vladimir Putin without fear of retribution," the ISW said.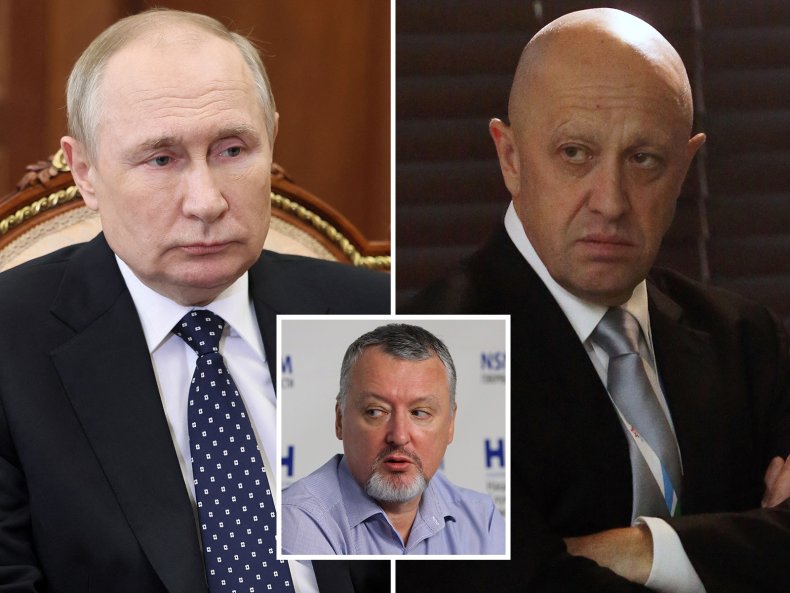 Prigozhin and other notable Russian nationalists such as Girkin, a former Russian militant commander and prominent critical voice, have been "opening a new sector in the Russian information space where certain figures can criticize Putin and the highest echelons of the Russian government without any apparent retribution," the think tank observed.
The ISW made reference to a statement posted on Telegram by Girkin on January 10, in which he heavily implied that he would support the removal of Putin from power.
It marked "his most direct criticism of Putin to date," the think tank said, noting that Putin has so far not decided to censor these voices.
Girkin, who has regularly been critical of Russia's war effort, took to Telegram again late on Wednesday, saying that Russia needs to build up several armies and conduct a mass retraining of its troops as soon as possible in order to avoid an almost inevitable defeat.
The military blogger said he believes General Valery Gerasimov and Russia's defense minister, Sergei Shoigu, are both incapable of "fulfilling any duties assumed."
The ISW said Prigozhin was also becoming "increasingly bold in his verbal attacks against the Russian Ministry of Defense."
Although Prigozhin is an ally of Putin, he regularly criticizes the Kremlin and especially defense officials for setbacks in Ukraine. He made headlines in the fall of 2022 for his criticism of the defense ministry and Shoigu.
Prigozhin recently cast doubt on the defense ministry's latest guidelines for soldiers after officials issued edicts to Russian troops that "restrict the use of certain personal electronic devices in combat zones."
Prigozhin is seeking to "undermine confidence" in Putin's defense ministry and promote himself as the face of the offensive in Ukraine, the ISW said.
TV Pundits
Pundits on Russian state television have also been openly critical of Putin's war in Ukraine, with journalist and commentator Maxim Yusin questioning the official Kremlin line that the conflict "is going according to plan."
During an appearance on the program Pravo Znat (Right to Know) this month, Yusin compared Putin's stated goals for invading Ukraine on February 24, 2022, with the current situation on the front lines.
In justifying his decision to invade Ukraine nearly a year ago, Putin said his forces sought to "demilitarize" and "denazify" the country.
"The Ukrainian army in the opinion of many is now more combat-ready than 10 months ago," having received "Western weapons they had not even dreamt of," Yusin said, adding: "Clearly it's not working out yet with demilitarization."
A Russian official who faced conscription under the leader's partial mobilization decree previously told Newsweek that he believes Putin's reign is now "closer to the end."
Dmitry Baltrukov, 43, a municipal deputy for Smolninskoye in St. Petersburg, appealed to the country's parliament in September 2022 to remove Putin from power on the charge of high treason over the Ukraine war. He said he believes the Russian leader is "definitely closer to the end of his power" since announcing a partial mobilization of the population.
Baltrukov said he sees "a clear trend" toward a decrease in support among Russians for the war.
Russia "has no chance of winning" the Ukraine war, Baltrukov said, adding: "There is no Russian leadership. For them, this is the end of their power."
The mounting criticism comes as Putin seeks to expand his military—beefing it up to 1.5 million personnel, from 1.35 million over a three-year period, beginning in 2023.
Shoigu said on Tuesday that 12 new regiments will be formed, military districts will be created in the Moscow and Leningrad regions and conscript numbers will be boosted.
Newsweek has reached out to Russia's foreign ministry for comment.
Do you have a tip on a world news story that Newsweek should be covering? Do you have a question about the Russia-Ukraine war? Let us know via worldnews@newsweek.com.